A Few More Things for the Adored Vintage Brick & Mortar...
Posted by RODELLEE BAS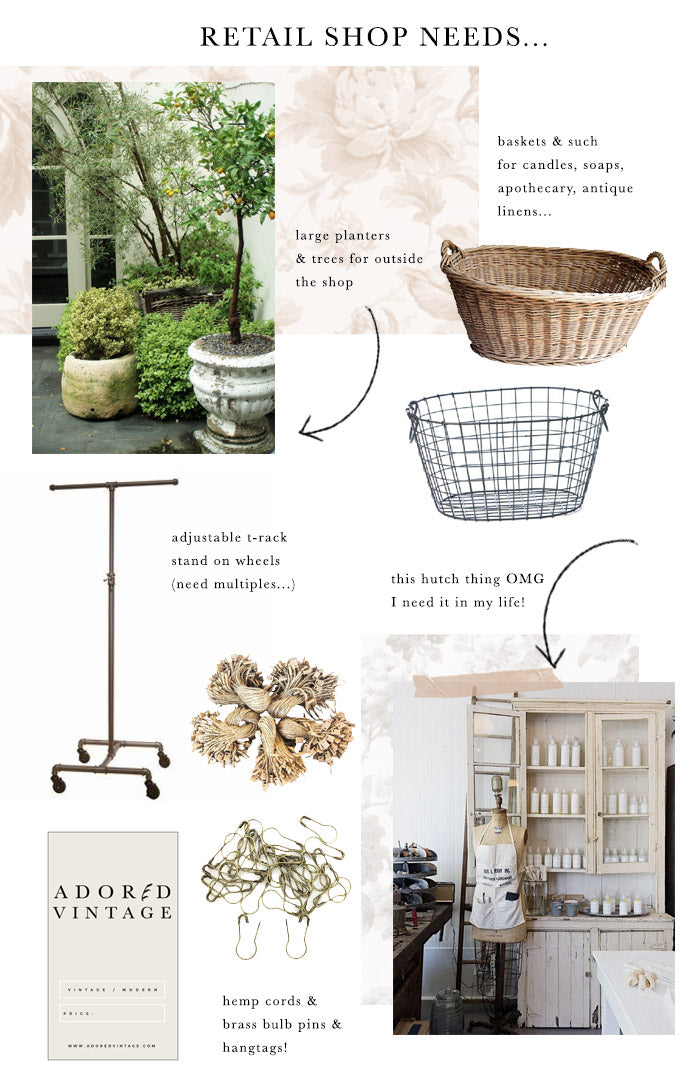 The Adored Vintage brick & mortar is coming together bit by bit, day by day. There are still several things I need for the shop before the official opening date (I'm thinking September 30th) so I thought I'd share some of these needs with you. 
I was able to acquire a large black and terracotta urn at Monticello Antique Marketplace for outside the shop and this afternoon went to Portland Nursery to get a plant for it. I need probably one or two more large plant vessels for outside the shop, but at least I have something to start with! Potting the new shrub will be this week's project. 
Last week I designed hangtags for the shop (the ones pictured) and will be tagging all the vintage and vintage inspired garments in the shop with these pretty hemp cord strings and brass bulb pins. I might get black ones instead though, I'm still undecided on that minor detail. The cord strings and bulb pins you can find on Amazon.
I'm also always on the hunt for more baskets and carry-alls as I like to call them. I usually find lots of them during my vintage hunting days but lately because I'm actually looking for them, they've all decided to play hooky with me. *grrr*
Only one T-Rack stand was ordered last week and I'm already thinking perhaps I should have ordered two. I'm anxious for them to arrive as I don't have racks for maxi length dresses since the racks custom built for the shop are not high enough from the ground and best suited for separates. 
And lastly, I need one giant beautiful vintage/antique hutch like the one pictured here at White Flower Farmhouse a photo from The Shopkeepers Instagram.
A couple of weeks ago I started a spreadsheet of all the supplies and inventory I still need to purchase for the shop and it feels good to start moving things out of the "Need to Buy" to "Bought"... 
It's pretty wonderful to see it all coming together, albeit slower than I would like, but you know...when one doesn't have endless cash flow and employees...well, it's a snail speed process.
Through our stories, imagery, and products we offer, our hope at Adored Vintage is to inspire you live life a bit slower, to celebrate the everyday ordinaries, and to live the life you have always imagined. If our posts resonated with you or you found them inspiring or useful, won't you leave us a comment below? We love knowing you and want to foster connection. Collection 2019 Sale 70% Off Title for image