Sizing & Fit Guide
Posted by ADORED VINTAGE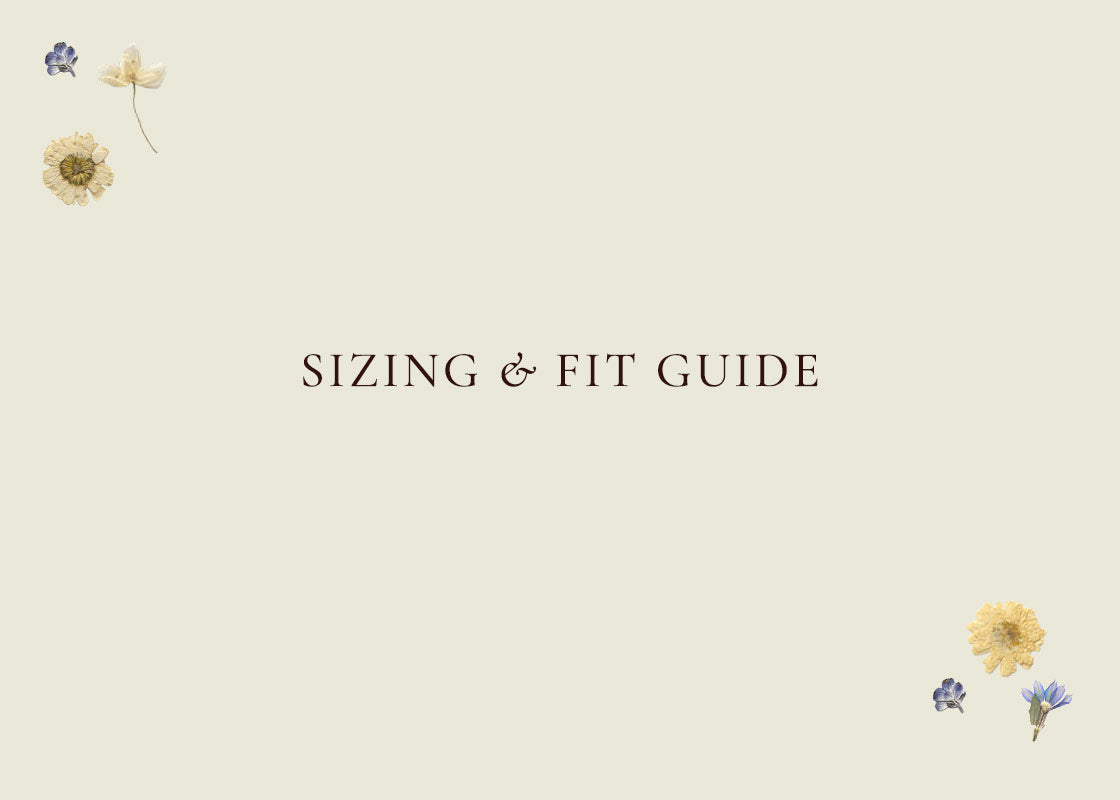 Sizing & Measuring Guide
So you've found something delightful in the shop and are curious about how it might fit you? 
When it comes to the wonderful world of online shopping, sizing guides can be a helpful tool when you can't try on something in person. However, we've noticed that these guides (which you'd think would be consistent) can vary greatly across brands, styles, designers, and even regions. You've probably noticed it too, if your closet is a mixed bag of sizes depending on the garment or the brand. 
That's why we like to hand measure everything that passes through our doors!
After all, it's really about how the garment feels, not how it's labeled. 
How to Take Measurements - AV Style
1. First, we hang our garments up on our measuring rack and take their measurements flat. For round parts of the body (think bust, waist, hip) we then double them. Example: if we stretch the measuring tape across the bust of this dress and it measures 19", we will write 38" in the dress's description.
This dress also has a 34" waist and 40" hip. For length measurements (think bodice, shoulder, leg) we keep the numbers as is. This dress is 46" in length.
2. Then, to show how a body fills out the garment, we take photos of all of our clothing on one of our vintage mannequins. This mannequin is a size 4-6.

3. Sometimes, we even show them on a real person too! We will always try to include the model's measurements for reference on how it may fit you. For instance, Devon pictured here is 5'5" tall, with a 36" bust, 28" waist, 36" hip. Additionally, we try to regularly model items in our 'Try On' Videos on our instagram page.
As a rule, we only ever stretch the garment to its widest (but still relaxed point), and never past, to ensure a most accurate and comfortable fit. In a case of elastic, we stretch a garment's elastic waist only to the point we would think it actually comfortable, and not its forced maximum.
Measurements Matter - Forget the Size 
Vintage enthusiasts will know this, but it applies to modern clothing too: knowing your own measurements off the top of your head is absolutely vital to streamline the online shopping experience and ensure best results. This is particularly true nowadays when so many modern manufacturers employ "vanity sizing" over sticking to universal sizing standards. I'm sure we've all experienced the emotional turmoil of trying on pieces that should technically fit based on their labeled size and just don't. That frustration can be avoided by bringing a handy measuring tape (the self-rolling ones are so convenient!) with you in your purse or tied around your neck like a pro.
Soft Vs. Hard Measurements
We all have our limits. It's just good to know about them!
Let's say Devon is a soft 34" waist, for example, means that you might have some squish room, i.e. you're soft around the edges and know you can squeeze into a 32" for the right garment. But if you're a hard 34", then you won't be browsing skirts that are smaller. Same goes for bust, hip, anywhere that is somewhat flexible due to the nature of your shape and body type. Besides, a number is just that--a number, and nothing more, nothing indicative of the amazing, shining person that you are.
Top 3 Measurements to Remember When Shopping
Now, admittedly, there are a lot of measurements to store up there in your noggin, but if you memorize any, let it be these three: Bust, Waist, Hip. Knowing these three measurements will get you far when looking for blouses, dresses, skirts, and most trousers. 
Of course, since nothing's easy, even knowing your measurements is no guarantee to whether a garment will fit perfectly or not. Maybe you like elastic waistbands, but maybe they have to be thick. Maybe you only choose fabrics with zero stretch, but never velvet since it drapes too bulky on your frame. When it comes to shopping, it pays to be picky. Since, if you're like us, it's not about filling up your closet just to have a lot of things, but having a curated selection of items that each individually make you feel special, beautiful, and timelessly feminine. 
Other Measurements You'll Find In Our Product Descriptions
Top
Bust: the widest part of the garment's bust, or armpit to armpit. 
Bodice: the distance from the top of the garment's seam to the seam that separates the bust from the torso or the rest of the piece. Note, adjustable straps are usually not included in this measurement and will be noted separately.
Waist: either the seam that separates the bodice from the torso of a garment or, if there is no seam, the smallest point in the middle of the torso. 
Hip: the widest point between the navel and the thigh
Shoulder: applicable if there are shoulder seams at the top of a garment's bodice (as in a short sleeve top or a cardigan). This measurement is the length from seam to seam. 
Sleeve: the distance from shoulder seam to the bottom hem of the sleeve.
Bottom
Leg: the length from the top of the trousers (whether it's high waist or low rise) to the bottom hem. Or, in the case or pantsuits and rompers, the length from the waist's seam to the bottom hem of the garment. 
Waist: the smallest point of the torso, usually the top hem of trousers or shorts. Or, in the case or rompers and jumpsuits, the seam that separates the bodice from the lower half of the body.
Inseam: the length from the center of the crotch in a pair of trousers (usually the point where seams intersect between the legs) to the bottom hem of the leg.
Rise: the length from the waist band or waist seam (as in jumpsuits) to the intersection of seams between the garment's legs.
Hip: the widest point between the naval and the thigh
Thigh: the widest point of the upper leg Collection 2019 Sale 70% Off Title for image