12 Small Acts of Self Care To Consider
Posted by RODELLEE BAS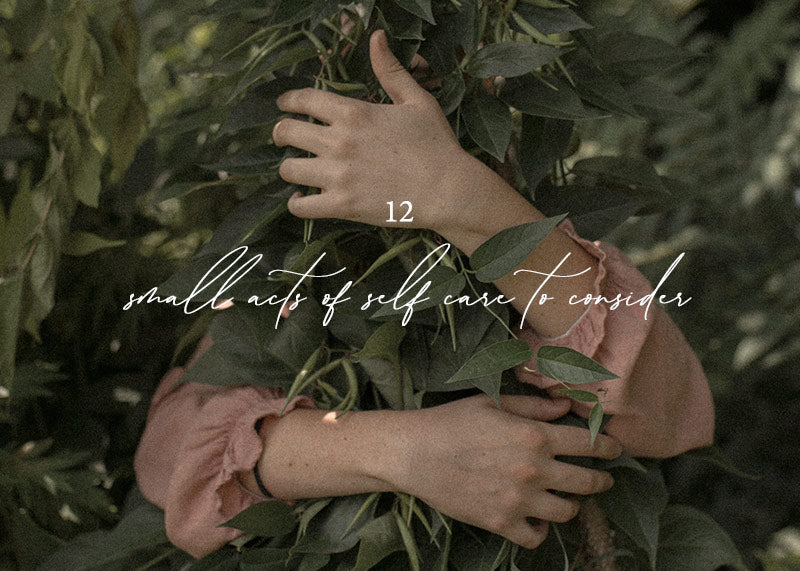 I am finding lately that the definition of self care for me personally means so much more than just exercising, eating well, and drinking enough water. I've found it also means taking the time to live the little things and pursue small moments of beauty because I am able to. 
At the office this week I was setting up a flat lay of vintage inspired lingerie pieces and it hit me that I no longer bought myself pretty little things to lounge around at home in or took the time to have a leisurely long coffee in the morning and read and put on a record or light candles. Always too busy. This saddened me a bit but also motivated me to find little ways throughout the week to add a bit more loveliness in my life and do things that would make me smile.
Self care can also mean giving yourself permission to delight in things that others may find frivolous. For instance, I searched for months to find a beautiful vintage pressed glass water vessel for my bedside table. A regular cup of water would suffice also, but I found no joy in that. Sometimes self care is doing those little things for yourself that lift your spirits. It's taking the time to check in with where you are it mentally, spiritually, physically, and emotionally. 
Yesterday I turned to you gals and asked to chime in on our Instagram Stories: "What small acts of self care & self love have you done for yourself lately?" and below are 12 self care ideas to inspire you to put into practice as soon as you would like!
12 Small Acts of Self Care to Consider
"Bullet journaling and pressing flowers..." by @equinox_._
"Held myself up to my expectations and worked hard -- made me feel so good!!!" by @probablyamber
"5 minute morning meditation..." by @dearellajames
"I'm a mom with little time for myself. Recently started a 5 min face wash routine at night..." - by @mendingwillows
"Wash my face daily..." by @beaujardinrose
"Going to therapy and actually taking my medication consistently..." - by @s.hannonroberson
"Stayed home from school for a mental health break..." - by @anna.zhang_
"Checked out library books and bought myself flowers..." - by @sea_brooks
"Going to yoga class and speaking positive affirmations..." - by @alise_brianna
"Taking a hot shower with the lights off and soothing music..." - by @ideclarevintage_shop
"Painted my nails a deep green color because it reminds me of the forest..." - by @sharon_scarlet
"Actually staying in bed longer rather than finding things to clean or fix..." - by @cozymews
Did these AV Gals inspire you to practice small acts of self care this week? What little things do you do for yourself?
Chime In and leave us a comment below!
Through our stories, imagery, and products we offer, our hope at Adored Vintage is to inspire you live life a bit slower, to celebrate the everyday ordinaries, and to live the life you have always imagined. If our posts resonated with you or you found them inspiring or useful, won't you leave us a comment below? We love knowing you and want to foster connection. Collection 2019 Sale 70% Off Title for image