A First Glance at ATELETTE, Our Own Label!
Posted by RODELLEE BAS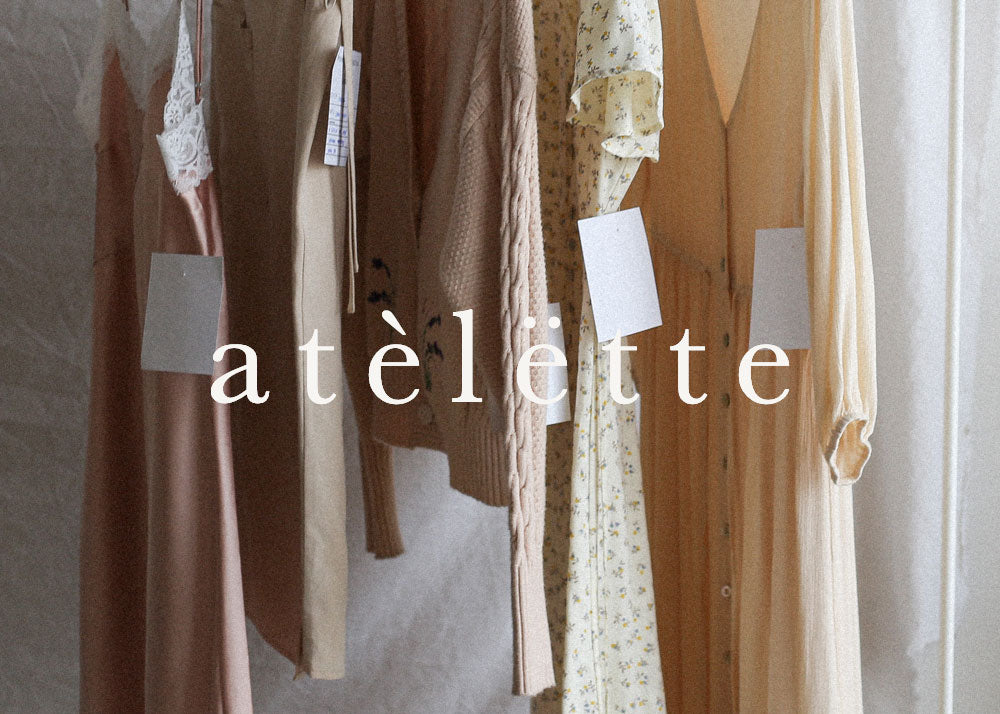 In Fall of 2020 I started to really take the notion of starting my own clothing line seriously. It had always been something I wanted to try my hands at in the back of my mind, but timing never felt right and of course I had my own personal fears of failure and ineptness. I had never designed any garments before, what qualified me now? 
The path from those months to a year later involved a lot of asking myself questions about my deeper purpose for creating a clothing label with my name behind it. I'm still asking myself questions everyday particularly in making design changes and fabric costs, but that's another post for later. 
I'm not exactly sure where to begin to start telling you about the story of Atelette or atèlëtte, but perhaps I can begin by telling you what is behind the name for the clothing label as I find names to be so important and the name for the line has personal meaning behind it. 
What's in a name...
In Cebuano/Filipino Ate (pronounced Ah-te/tay depending on region you are from) is a common formality to respectfully or affectionately address an older female that is either your sister or a friend that you feel a sisterhood or kinship with. My little sister rarely calls me by my name and instead just calls me Ate. 
Lette comes from my childhood nickname, Olette. I am not entirely sure how this nickname came to be as my name, Rodellee, doesn't have Olette in it. But I was always called "Inday Lette" if not Olette. Inday means "girl/young girl" but again depending on your region the meaning can slightly vary (in some regions it means maid/young housekeeper) which that meaning resonates with me also. I grew up very poor in a small rural village called Tulay and several of my Titas were maids. There was absolutely no shame in the profession since it provided food and shelter for our large multi generational families that lived under one roof.  
The name Atèlëtte links my past with my present and most importantly reminds me of my culture and my roots of being Filipino. The French accent grave on the (è) is there so you know the E is pronounced and it is not silent like in the english word, ate. The diaeresis over the second e(ë) is to note that the e sound is pronounced like the e in "bet".
Clothing for Quiet, Mindful, Lovely Living...
When designing the garments for Atelette, I knew I wanted to design clothing for women that have a penchant for feminine aesthetics and are romantics at heart. I wanted to design clothing to live life in. A quiet and lovely sort of life. A simple and mindful sort of life. A life where one found joy in the beauty of every day living. We cannot always just live for the big things. Life is lived in the small things, in the minutes, in the moments. 
Perhaps I will do separate journals for each of the designs, particularly the dresses, as goodness, I have tweaked and edited these designs so very many times. I am not at all trying to reinvent the wheel of fashion. I really don't have an iota in my body that dreams about standing out, being original, or being known for innovating a dress. There is nothing new under the sun. My past as a vintage and antiques clothing dealer taught me that early on, and well.
Launching in Spring 2022
We have a couple of dresses in production already (OMG!!!) and I am so very excited to start showing all of you more sneak peeks as time moves forward! 
I should note that Atelette does not follow any seasonal production schedules. I design the garments when the inspiration strikes and I do not feel any pressure at all to make more than what I feel capable of handling. At the moment I have only designed 8 pieces and I'm not upset about that. I feel like in a year and a half that is a huge accomplishment and I'm going to give myself a little pat on the back for it. *pat pat*
I hope you feel the sense of joy, purpose, and my hope for you to live a life you adore when you wear one of my designs! The journey thus far has been an absolute privilege (granted the learning curve is STEEP my friends) and I am living in each moment and enjoying the ride.
Look for updates soon on how to PRE-ORDER the first two pieces launching in the Spring!!!
(9 comments)
Through our stories, imagery, and products we offer, our hope at Adored Vintage is to inspire you live life a bit slower, to celebrate the everyday ordinaries, and to live the life you have always imagined. If our posts resonated with you or you found them inspiring or useful, won't you leave us a comment below? We love knowing you and want to foster connection. Collection 2019 Sale 70% Off Title for image