Defining Vintage Inspired Style for Adored Vintage
Posted by ADORED VINTAGE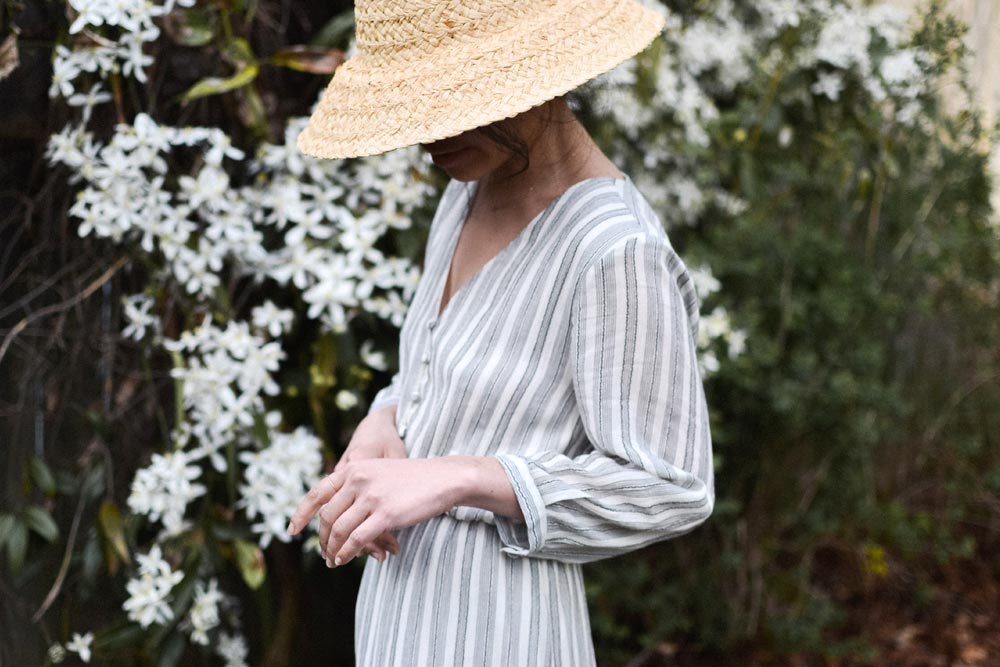 Often I have been asked, "How would you define vintage style?" and my answer is never short because the vintage look can span across so many different eras. If you think about the definition of vintage clothing...anything 20 years or older... basically vintage inspired outfits can be any look from the 1990s to earlier. 
Over the years I have created a very definitive style and look of the Adored Vintage girl. She's romantic, feminine, she loves soft muted tones, straw hats, florals, elegant silhouettes, timeless prints... and I created this look by being gradually becoming more and more selective with the vintage dresses and vintage clothing I was stocking my shop with. 
The decision to start selling modern feminine dresses inspired by vintage styles was a slow process. I thought and thought about doing it for about 6 months before I finally pulled the trigger. I was so worried about what the gals who shopped Adored Vintage would think. (Augh, Adored Vintage totally sold out!) I was spending so much time sourcing very brand specific styles of floral maxi dresses in watercolor tones and pretty blouses with lace details and midi skirts in neutral shades... and I'd list it and they'd be gone in minutes, sometimes seconds.
At that point I couldn't keep the shop stocked long enough and I was getting more and more requests for different sizes and emails about when I was going to add more dresses and I would get the "Why is everything in your shop sold out? So hard to shop!" or something along those lines.
So, I thought, OK, I was missing the connection here. It wasn't that my customers necessarily wanted MORE VINTAGE, they just wanted MORE clothes that adhered to the look of the Adored Vintage girl.
The vintage inspired style of Adored Vintage is so near and dear to my heart. In many ways the look came about because I want to be the AV Girl. When I was younger I was always so inspired by historic movies and series. I loved Anne of Green Gables and Little House on the Prairie. My favorite American Girl doll was Kirsten Larsen followed by Samantha Parkington. I adored the clothing from The Secret Garden and The Secret of Roan Inish.
 Some girls were drawn to flash and fuss and glitter. I never was. I loved pretty dresses that I also could run around in. I remember my favorite dress when I was in 5th grade was a chambray button up sundress with little pockets. I wore it with high top sneakers and tube socks when my class took a field trip to the Statue of Liberty. 
The vintage inspired style of Adored Vintage is like my chambray sundress from the 90s. There wasn't anything particularly 90s about it, but thinking about the dress brings up nostalgia for a time and place. It brings up memories of standing on the deck wondering if my crush Andrew noticed me AT ALL and then being mortified when the wind blew my dress up (thank GOD I had biker shorts on!) and my friend Danielle SWEARING no one saw.
The vintage inspired clothing I want to sell and am selling in my shop are for living your life in. It's the dress you're wearing when that certain moment happens that you'll look back on in 10, 20 years and smile about. I hope when one of the best moments of your life is happening, even a simple one like picking wildflowers off the side of the road, you're wearing a dress from Adored Vintage. 
Through our stories, imagery, and products we offer, our hope at Adored Vintage is to inspire you live life a bit slower, to celebrate the everyday ordinaries, and to live the life you have always imagined. If our posts resonated with you or you found them inspiring or useful, won't you leave us a comment below? We love knowing you and want to foster connection. Collection 2019 Sale 70% Off Title for image