Flowers That Bloom in Summer
Posted by ADORED VINTAGE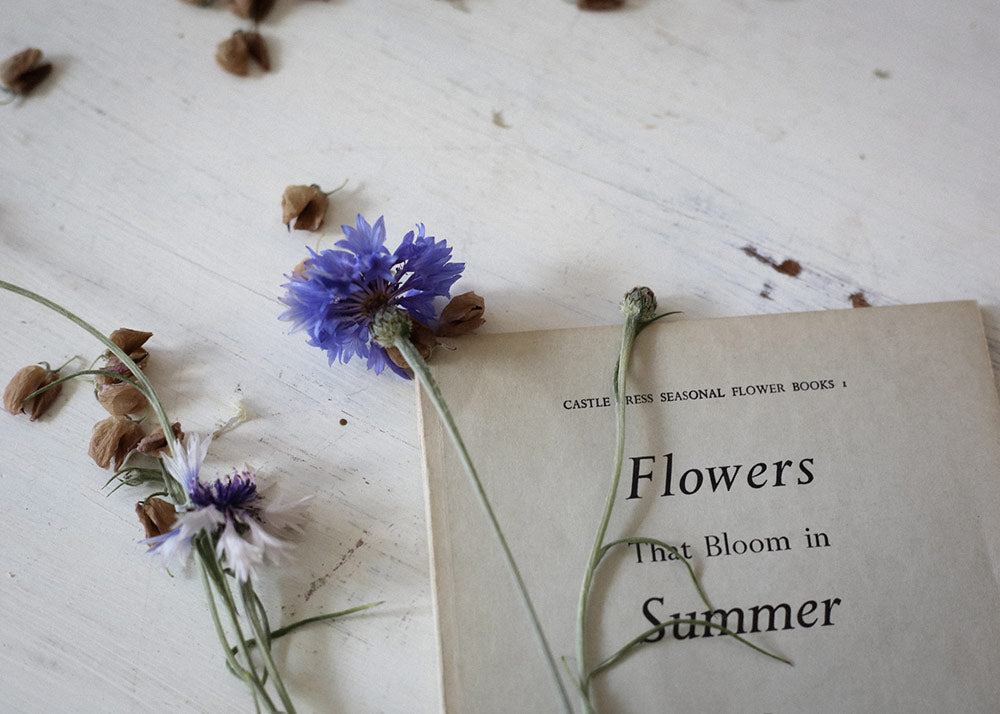 "Flowers have always been the most important gift of beauty in our perilous and often drab existence, and from the earliest ages they have been endowed with meanings and mystic powers..."
A few years ago on one of my many varied antique haunts I came across  a set of paperback books from England featuring flowers that bloom throughout the season. Oh, what an absolute delight it was for me to find this! My collection of floral related books in my "vintage library" is quite small but the books I do have I really adore and wanted to start sharing them with all of you here at Adored Vintage.
My love for all things fashion history, flowers, and literature can be summed up in my collection of old books. It is my hope and desire to begin sharing my library with all of you. So far this is the only post, but in time I will share snippets of the other books I own that are related to fashion history, flowers, women's roles and expectations through the lens of history (I love these books best, they're quite funny to read at times!), and also books with poems and short stories. 
But for now, let us turn our attentions to "Flowers That Bloom in Summer", Book 1 of a series of 4 (Spring is the 4th book) in celebration of the fact that summer is very soon upon us (the Summer solstice is June 20th!) which interestingly enough only lists June and July as summer months and does not include August.
This book was published in 1949 and was made and printed in Great Britain. I of course did not find these books while I was in England (I actually can't recall where exactly I found these) but I do wonder about the woman who originally purchased these, perhaps she was British and immigrated to America with the aftermath of World War II. 
I love to ponder about the history of books and objects and their owners and their stories as much as I like to imagine the lives led by the women who wore the vintage garments I sell in the shop... be still my nostalgic loving heart.
Through our stories, imagery, and products we offer, our hope at Adored Vintage is to inspire you live life a bit slower, to celebrate the everyday ordinaries, and to live the life you have always imagined. If our posts resonated with you or you found them inspiring or useful, won't you leave us a comment below? We love knowing you and want to foster connection. Collection 2019 Sale 70% Off Title for image