Shop Less Than Perfect Clothes for a Perfectly Good Reason
Posted by ADORED VINTAGE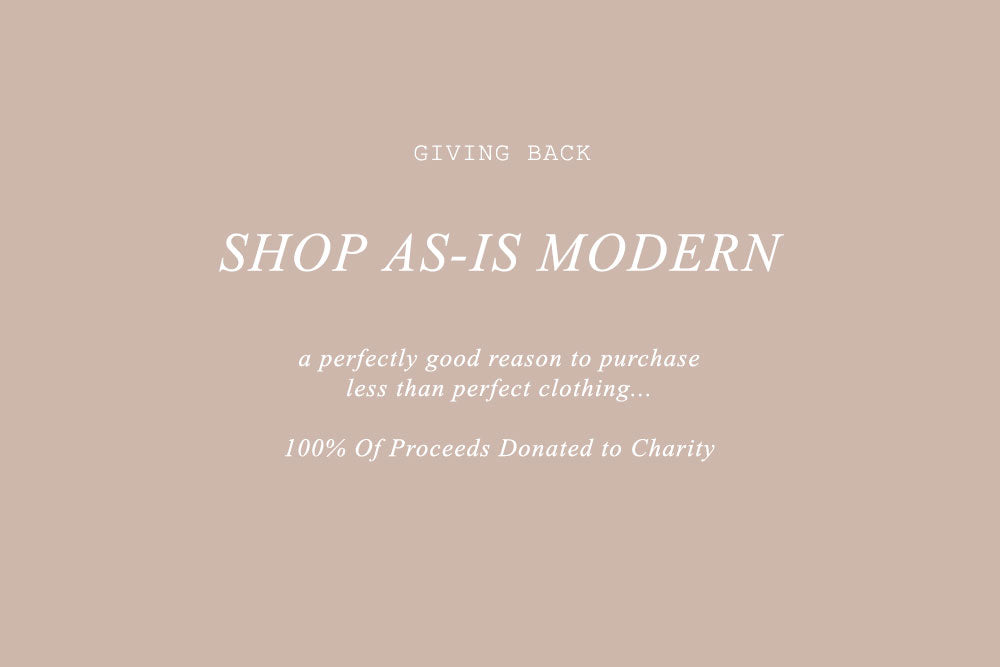 When we receive new items at AV Headquarters, we inspect every single garment before it is listed in our shop. Each item goes through a second round of inspection before it is prettily packaged and on it's way to your home.
Once in awhile we come across a blemished love. She may have some speckles here, maybe a slight color bleed on the fabric, perhaps a snagged hem, a small hole... nothing horrific, but not in perfect new condition to be sold in the shop. We have a bin of "Less Than Perfects" at the studio and I've always puzzled about what to do with these clothes.
I've given away some to friends, a couple I've donated to creative projects. But still, what to do with the rest... 
It dawned on me last week that I should sell these garments at a discounted price but instead of for profit, I wanted to donate the purchases to charity. Not just a portion of the proceeds, but 100% of the proceeds. 
// SHOP AS-IS VINTAGE INSPIRED CLOTHING \\
We started doing some research as to which charities we wanted to contribute to making sure that funds donated to these charities would be mostly used to actually HELP. 
One of the main factors of deciding which charities we wanted to donate to was making sure the money donated would MOSTLY be spent actually helping the cause and not on awareness of the non profit. For example I stopped donating to a charity because they continuously send me FANCY brochures and glossy postcards every other week asking for more donations when an email would cost less. I would like to think the money donated is mostly going to help those in need, not for fancy marketing materials.
The Three Charities we will be donating your funds to are:
Donorschoose.org - A+ Rating
Engages the public in public schools by giving people a simple, accountable and personal way to address educational inequity; envisions a nation where children in every community have the tools and experiences needed for an excellent education.
All Hands & Heart - Smart Response - A+ Rating
Committed to assisting the recovery and rebuild of communities struck by natural disasters around the world, with maximum impact.
Partners In Health - A+ Rating
To provide a preferential option for the poor in health care. Through work in Haiti, Africa, Peru, Russia, Mexico, and Navajo Nation, strives to bring the benefits of modern medical science to those most in need of them and to serve as an antidote to despair.
***At Checkout of your AS-IS Modern Piece, make a note in the Comments Section if you have a preference as to where you would like us to donate to.
Through our stories, imagery, and products we offer, our hope at Adored Vintage is to inspire you live life a bit slower, to celebrate the everyday ordinaries, and to live the life you have always imagined. If our posts resonated with you or you found them inspiring or useful, won't you leave us a comment below? We love knowing you and want to foster connection. Collection 2019 Sale 70% Off Title for image