How to Measure Yourself For Clothing
Posted by ADORED VINTAGE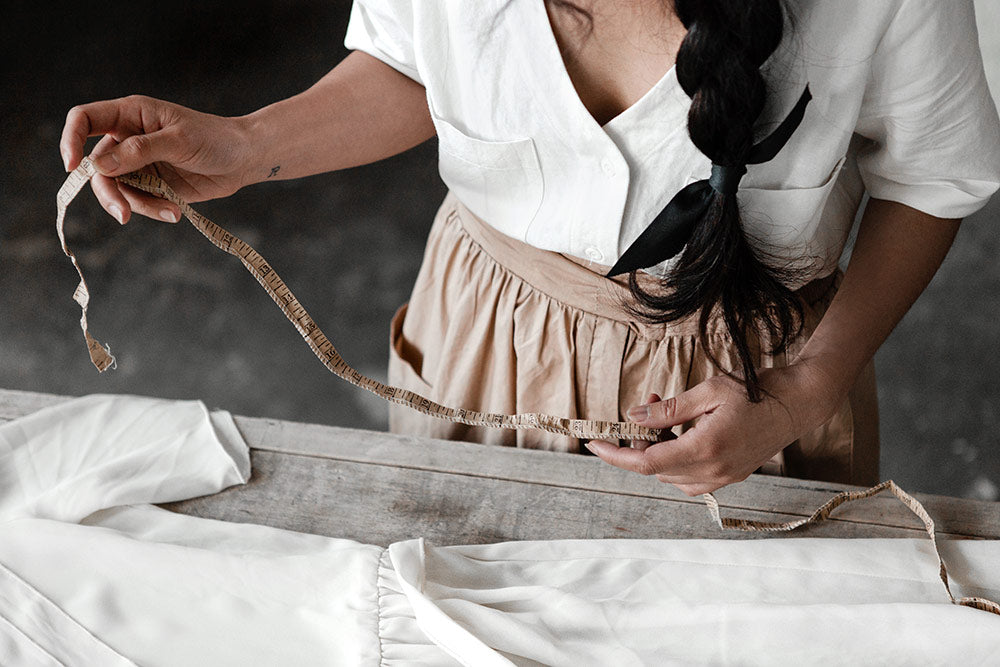 Buying vintage clothing online can sometimes be tricky business. Even purchasing vintage inspired styles can be tricky since each different brand uses different fit models and sizing guides. So silly, we know! At Adored Vintage we take extra time to provide measurements for all of our garments in every size so you can best determine which size to select for you and the fit of the garment. 
How to Measure Yourself for Clothing: What You'll Need
1. Tape Measure
2. Mirror
3. Paper & Pen
Before we begin, a GOOD RULE OF THUMB for determining if something from Adored Vintage will fit you, is to compare the measurements given to something you already own that you like the fit of. Measure yourself while wearing a slip or (unpadded) bra and underwear. Don't measure yourself after eating or in the evenings. It is best to take your measurements in the morning. Es-tu prêt? (Are you ready?)
Measuring your Bust
With a slip or unpadded bra on, take the measuring tape around the fullest part of your bust (usually your nipple line). Do not pull too tight and make sure the measuring tape isn't sagging in the back. Mark this number down in your notebook. 
How We Measure Bust Size for our Clothing: We measure the bust while the garment is laid flat from armpit to armpit then double the measurements. If a dress measures 16" across the bust measurement would be 32"
Measuring your Waist
Natural waist: Take tape measure around the smallest part of your waist. Your natural waist is usually just above your belly button line. Make sure you are not pulling the tape measure too tight or too loose. Your stomach should be relaxed. Don't know where your natural waist is? Look in the mirror and bend sideways. The crease between your ribcage and bellybutton is your natural waist.
How We Measure Waist for our Clothing: We measure the waist while the garment is laid flat and double the measurement. On dresses waist measurements are taken where the natural waist would be or where the waist seam is. For drop waist styles, our listings will note that the measurement for the waist is for a drop waist.
Measuring your Hips
Take the tip measure and measure 7" down from your natural waist. This is your Hip line. Measure around the fullest part of your hips while your feet are together.
How We Measure Hips for our Clothing: We measure the hips while the garment is laid flat 7" below the waist seam or natural waist. Then the measurements are double. If the hips are 18" across the hip measurement given is 36"
Measuring your Bodice
Stand in front of the mirror and stand relaxed and straight. Take the tape measure and start at the shoulder and measure down to your natural waistline. Note the number.
How We Measure Bodice Length for our Clothing: While the garment is laid flat we measure from the top of the shoulder to the waist seam or natural waistline if there is no waist seam.
Through our stories, imagery, and products we offer, our hope at Adored Vintage is to inspire you live life a bit slower, to celebrate the everyday ordinaries, and to live the life you have always imagined. If our posts resonated with you or you found them inspiring or useful, won't you leave us a comment below? We love knowing you and want to foster connection. Collection 2019 Sale 70% Off Title for image