Inspiration du Semaine: River Romance
Posted by AV DEVON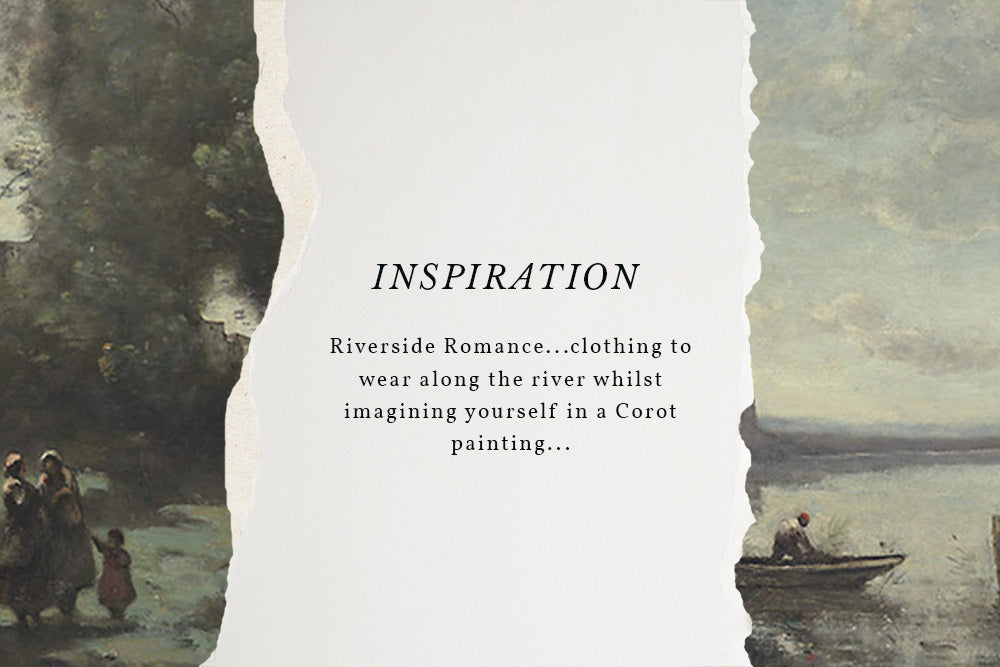 This is the romance of the riverside, to be enjoyed thoroughly in the warmest part of the year, with yourself alone or close friends that can share happily in a silent moment. As we enter July and the true heat of summer, we think fondly on days spent by the river and look forward to returning to this scene as often as we can over the course of the next few months. And when we're not at the water's edge, at least we can gaze dreamily at some of our favorite painters' depictions of rivers's edge.
The Scene
...the trickling rivers that bend through the English countryside, dappled by warm light. A breeze rustles through the leaves above you and a scent of honeysuckle, ripened by the summer sun, wafts over your closed lids. Your feet hang in the cool and flowing water as your head lay cushioned among swaying grass and sand. The soft blush ribbon in your hair flutters on your cheek like a butterfly kiss. The sounds of a distant tune relay back to your ears in waves as your mind goes in and out of a sleep-like trance.
You know you must return to the party that continues beyond the hills, the hills dotted faintly with daisies like those scattered about the skirt your mother passed down to you. The hills that you wandered over to get to this sweet hidden place where a certain serenity clings to every leaf and twig, yet...as vague obligation tugs at the edges of your mind, it seems this moment by the water is neither familiar with, nor bound to the set functions of time. It wouldn't be right to disturb this perfect scene with a sudden movement away. As if entering a sacred space, you feel the duty to bask in the majesty of nature's beauty and linger a while. With a sigh of resolve, you tilt your head further into the sand, drink deeply of that fragrant air, and imagine the distant tunes echoing as siren calls of another world. 
Let us imagine ourselves in the works of Jean-Baptiste-Camille Corot's paintings...
Inspired to live out this daydream yourself? See the collection of vintage inspired dresses, tops, and skirts that sparked the idea of this musing here
Paintings (Top to Bottom): River With A Distant Tower | A Pond In Picardy
Credit: Images from the Metropolitan Museum of Art
Through our stories, imagery, and products we offer, our hope at Adored Vintage is to inspire you live life a bit slower, to celebrate the everyday ordinaries, and to live the life you have always imagined. If our posts resonated with you or you found them inspiring or useful, won't you leave us a comment below? We love knowing you and want to foster connection. Collection 2019 Sale 70% Off Title for image