Our Retail Shop Is Moving & Other BIG News!
Posted by RODELLEE BAS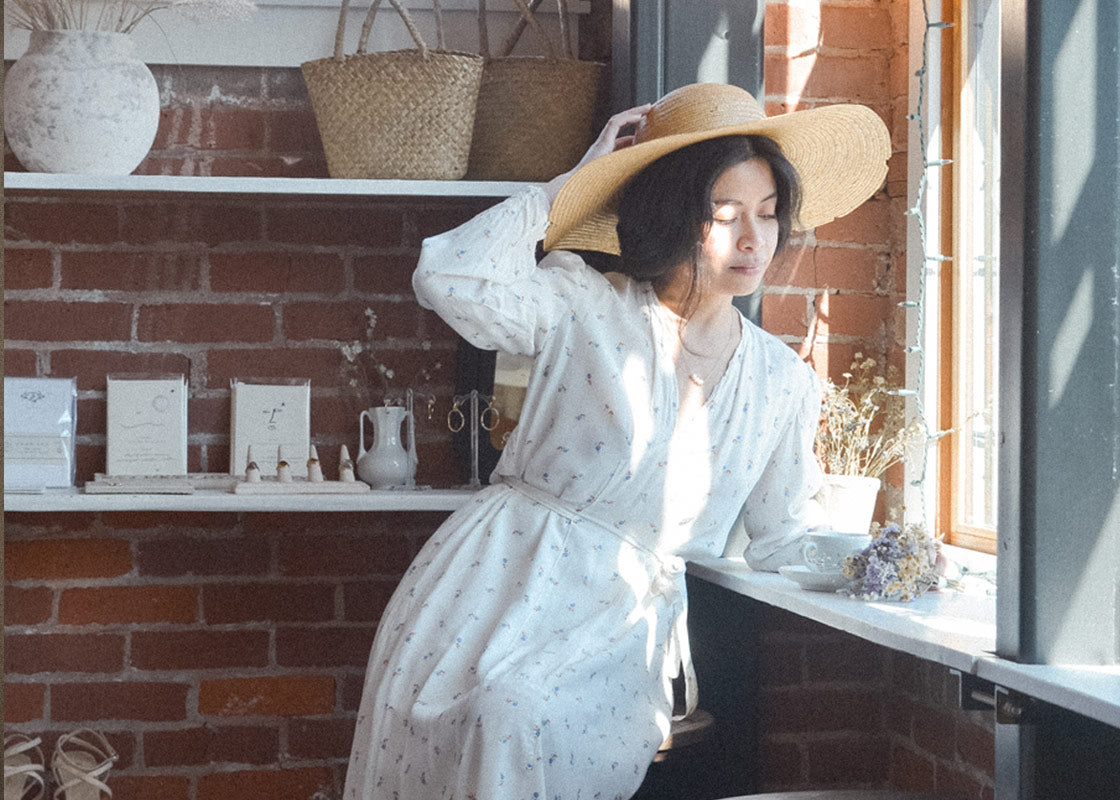 The year 2020 has been nothing short of changes and adaptions, so moving our retail shop doesn't feel all that monumental considering all the many different ups and downs we all have had to traverse this year (and there's still the election!)
You see dear reader, to be quite honest, I am tired. This summer I officially entered my late 30s and I feel as if I have lost the patience and energy to constantly adapt and try to make things work when sometimes the best thing to do is hang up your straw hat and just face the brisk breeze letting your hair go wildly about. And when the winds calm down, seeing where it points you.
Why are you moving the retail shop?
So many small and large factors went into the decision to move the retail shop out of our current space and I won't really elaborate too much, but big reasons include our online sales doubling during the lockdowns so our online operations needed to expand within our current space (our retail shop and online operations are all housed in the same space) and our retail shop being much too small to accommodate guests for both my shop and Keeper Coffee Co. (my friend's cafe inside my shop). 
And so... the Adored Vintage retail shop will officially be moving inside Urbanite here in Portland, Oregon. It's LITERALLY 2 blocks up the street from our current shop/office... so not a big move at all. And we already had a small shop inside Urbanite, so the transition wasn't difficult.
-
ADORED VINTAGE
now inside Urbanite!
1005 SE Grande Avenue
Portland, OR 97214
10 AM - 5 PM Daily (except Wednesday)
-
We moved into a much larger space inside of Urbanite and starting on Monday, October 26th, our location inside Urbanite will be the only in person shopping available for Adored Vintage.
Of course if you SHOP ONLINE and choose LOCAL PICKUP you will still be picking up from our Atelier!
What's wonderful about this is currently AV has only been able to reopen on weekends, so now you can shop all of our beautiful clothing, wares, flowers, gifts, and apothecary all week! I am SO FREAKING excited to be in this new space inside Urbanite! It's so beautiful, light, and airy and I will be pouring so much of my love for creating beautiful inviting spaces to share with people.
So what will happen to the current retail shop?
Keeper Coffee Co. will still be functioning inside of our shop space until the end of November (They are opening up their own full fledged stand alone cafe sometime at the end of this year!) Then me and the AV Gals are just going to take a bit of a break from how crazy this year has been and focus on online and our new retail space inside Urbanite.
THEN... sometime in early 2021, the current AV retail space will become an appointment only SHOWROOM and you can make an appointment online to do one on one shopping and literally have access to our LATEST arrivals straight from all of my buying trips plus we will be offering fittings and measurements and wardrobe and color assessments all in our beautiful atelier with coffee, tea and sweets. I am so excited to offer this more bespoke shopping experience and can't wait to host you in our atelier!
And lastly the other big news...I am starting an Adored Vintage house collection!
This has been a dream of mine for years!!! While the project is still in the "Mommy and Daddy are trying for a baby" phase... it has been so incredibly fun so far to dream up a name for my clothing line, colors, logos, themes, designs, patterns, prints, silhouettes.
I don't want to get too ahead of myself...but my heart is pounding happily and my mind is racing and whirring about in soft puffs of pinks. Just thinking about having my very own clothing line makes me so very happy. 
More details to follow and I will be so excited to share the process and journey with you! 
While most of 2020 has been very challenging, I am really hopeful for the last couple of months of this year to end on unexpected good notes! Thank you for being here, thank you for supporting Adored Vintage, and thank you for reading!
Comments (1 comment)
Through our stories, imagery, and products we offer, our hope at Adored Vintage is to inspire you live life a bit slower, to celebrate the everyday ordinaries, and to live the life you have always imagined. If our posts resonated with you or you found them inspiring or useful, won't you leave us a comment below? We love knowing you and want to foster connection. Collection 2019 Sale 70% Off Title for image