Redford Spills Some Beans
Posted by ADORED VINTAGE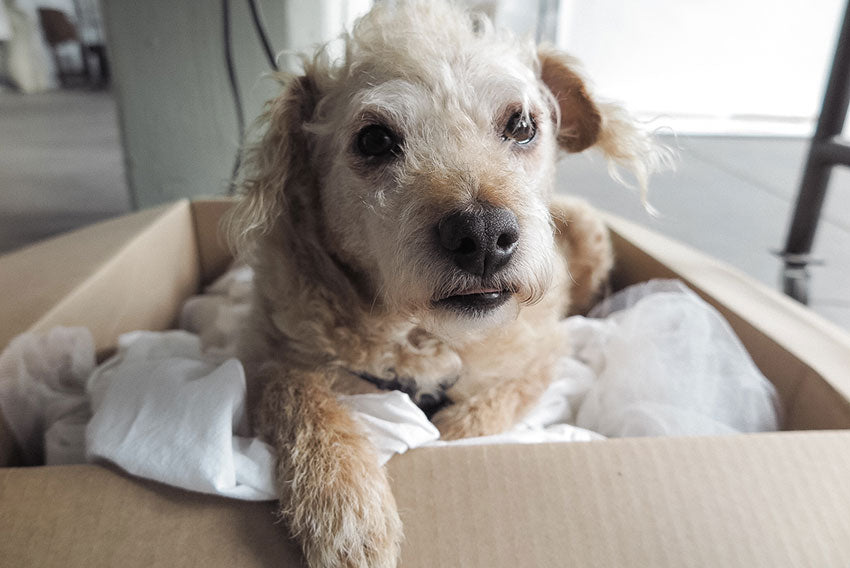 Hey guys, it's me again! Robert "Taters" Redford. I'm the best assistant in the whole wide world and right now I'm taking a quick break from all the hard work I have to do at Adored Vintage by letting you in on some ultra behind the scenes stuff. Don't tell my Mom, I mean Boss Lady the secrets I'm about to REVEAL!
I snapped this picture while "my boss" wasn't looking. She's been hard at work photographing lots of new things for the shop when the new website launches in about a week. I don't know why she's making a new website. She's kind of crazy. I'm kind of sad because she's always running around the studio and I just want her to play with me like ALL DAY and she pats me on the head for a minute, posts me on her Instagram and then I'm told to GET BACK TO WORK. 
Rude.
Recently the Boss Lady bought a bunch of dried flowers. I made sure they were up to snuff with the Adored Vintage aesthetic. I mean, a lot of people don't realize this, but I'm really the creative genius behind everything.
Like those dried flower bouquets and stems in your packages? YEP, these hard working little paws made them for you! My process is very simple. 
FIRST: I cuddle all the fleurs. I love doing this during naptime. Mom, I mean Boss Lady, made me a little bed right under her desk with vintage sheets and tulle. I'm kinda fancy...
OK, SECOND step is TASTE the fleurs. Have to make sure the bouquet is balanced. Swish it around, get a good sniff. Did you catch my little funny joke there? Bouquet!? Get it?! Actually...don't taste the fleurs. Mom does NOT like this.
Another thing Boss Lady doesn't really want me to tell you is how hard of a time she's having to not SHOW all of you all the new vintage inspired clothes that's been arriving at the atelier! SO MANY BOXES for me to sleep in! (Mom says I'm part cat.) BTW, she runs ALL her choices by me first. We look at linesheets every single week together and we usually place orders on Monday. 

Mom is kinda worried about how much money she's spent on all these pretty new things, but I tell her DON'T WORRY BOSS! I have EXCEPTIONAL taste and understand the romantic and feminine aesthetic of Adored Vintage better than any other canine I know, and probably feline. You guys are gonna love it!
OH! Mom is back, she got me special treats today! When we spend a long day at the studio I always get special treats!
Talk to you later guys!
Comments (1 comment)
Through our stories, imagery, and products we offer, our hope at Adored Vintage is to inspire you live life a bit slower, to celebrate the everyday ordinaries, and to live the life you have always imagined. If our posts resonated with you or you found them inspiring or useful, won't you leave us a comment below? We love knowing you and want to foster connection. Collection 2019 Sale 70% Off Title for image