Shopkeeper Ponderings No. 3 / Reopening
Posted by RODELLEE BAS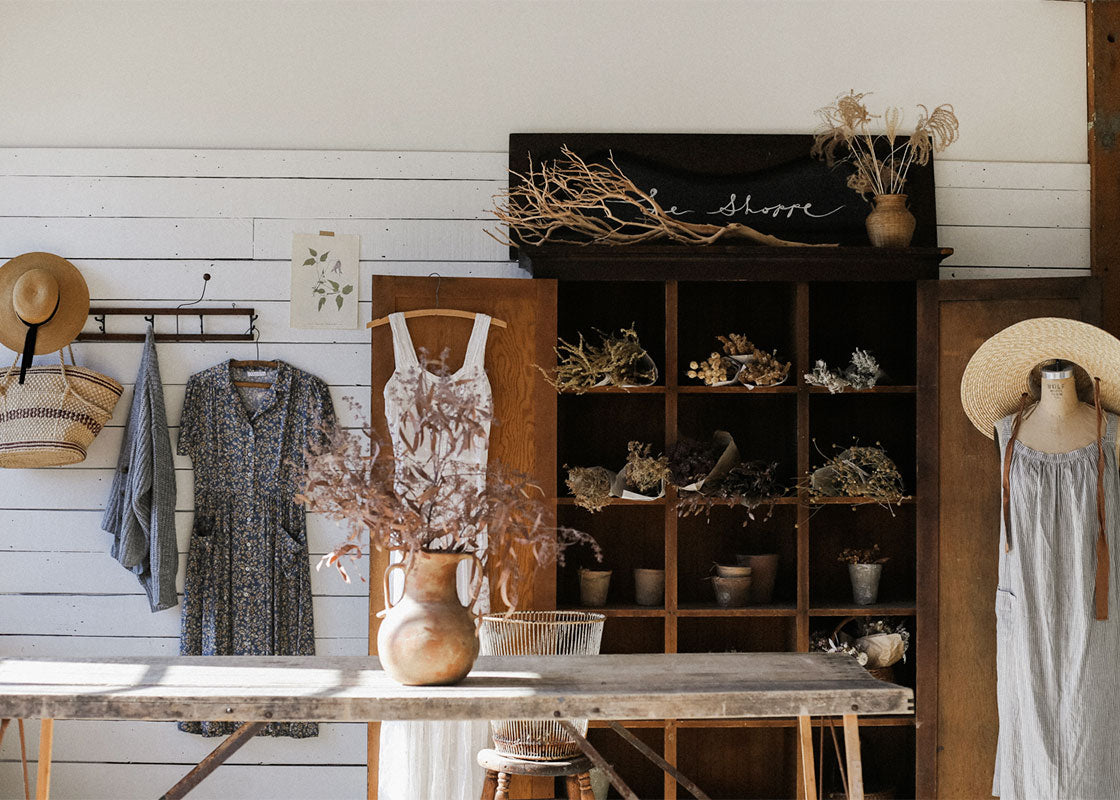 We are finally reopening our studio & showroom and I wanted to share some progress photos and some shopkeeper ponderings about reopening. Nearly a year ago we had reopened our retail shop on SE 2nd Street after being closed for several months due to the lockdowns then by October of last year the brick & mortar with a café would be no longer.
Since then I have taken my time to figure out what to do with the front of our space and to be perfectly honest, I really struggled to find inspiration and motivation to reopen the retail shop up until a couple weeks ago. 
It took a lot of dialogue between my close friends and family over a span of a month for me to really nail why I wasn't inspired or motivated and it boiled down to the fact that I never wanted to open up a retail shop to begin with. I know, I know what you're thinking! Well, I can imagine what you're thinking. Why did you do it then!? Because I'm a people pleaser. Because I didn't listen to my instincts and intuition. Because I didn't know how to stand up for myself. What was suppose to be a concept shop & space to gather that served coffee and tea at a window turned into something else all together and at the time there were so many changes and a lot of growth happening with AV that I just went with the flow. Everything would work themselves out. Eventually. Right?
And then the pandemic hit. Which no one saw coming or prepared for. And well, I'm sure you can imagine the rest since you lived through the pandemic too. 
Will you take a deep breath with me? Slowly let it out. Ahhhhhh. (I've just realized I really should sage the studio and clear it of all the past energy, can't believe I haven't done this yet, cleansing rituals are so important)
Once I decided I didn't want to reopen Adored Vintage as it had become, I felt better. It was like giving myself the actual permission to try something new or try my original ideas. Then suddenly the little gold pinpricks of light started to shine through the dark fog and mist I had been under.
Adored Vintage is so much more than just a place to buy something. It's a place for solitude. A place to be inspired. A place to craft something with your hands. A place to feel lovely. A place to feel seen. A place to gather with close friends. A place to meet a new friend perhaps. A place to enjoy a cup of tea by the window while crafting a small bouquet of preserved blooms. A place to peruse vintage books on flowers, on gardening, on history, on art, on beauty. A place to journal. A place to write postcards to friends near and far. A place to touch and feel garments. A place to craft your own bath apothecaries. A place to discover something beloved. A place you can share with others or keep entirely secret for yourself. 
Our core values at Adored Vintage are BEAUTY, SIMPLICITY, KINSHIP, INTEGRITY, and CREATIVTY and it is my absolute hope you feel all of this when you enter our world. 

Answers to some of your questions...
So what can I do here? I'd like to think that Adored Vintage will be the perfect place for you to have yourself a little "me" day or a "gal date" day with your loved one. You can craft apothecaries or dried flower bouquets. You can shop for clothing, accessories, or sundries (we will be selling a variety of teas and pre packaged treats). You can sit and stay awhile and just enjoy the sights, sounds, and scents. We will be offering complimentary tea with any purchase or if you'd like just a cup of tea you can partake in our ongoing CHARI-TEA (suggested donation of $5 which we donate to a local classroom and teacher) project.
Will I be able to buy/try on things from the online store? Yes, absolutely. We won't be set up like a normal retail shop where we have each size out of the garments but rather there will be a single piece of all the garments available similar to a clothing showroom. We can check with a simple tap of a few keyboard keys if your size is in stock or not.
When are you going to reopen? We are thinking by September!
What will your hours be? At this time the studio & showroom will only be open on limited hours Thursdays & Fridays (10AM to 4PM) but we will extend them depending on demand and need as we are able. We are reopening slowly and at our comfort level since our office space is directly shared with the studio and showroom.
Through our stories, imagery, and products we offer, our hope at Adored Vintage is to inspire you live life a bit slower, to celebrate the everyday ordinaries, and to live the life you have always imagined. If our posts resonated with you or you found them inspiring or useful, won't you leave us a comment below? We love knowing you and want to foster connection. Collection 2019 Sale 70% Off Title for image