Style Muse / Anna Karina
Posted by ADORED VINTAGE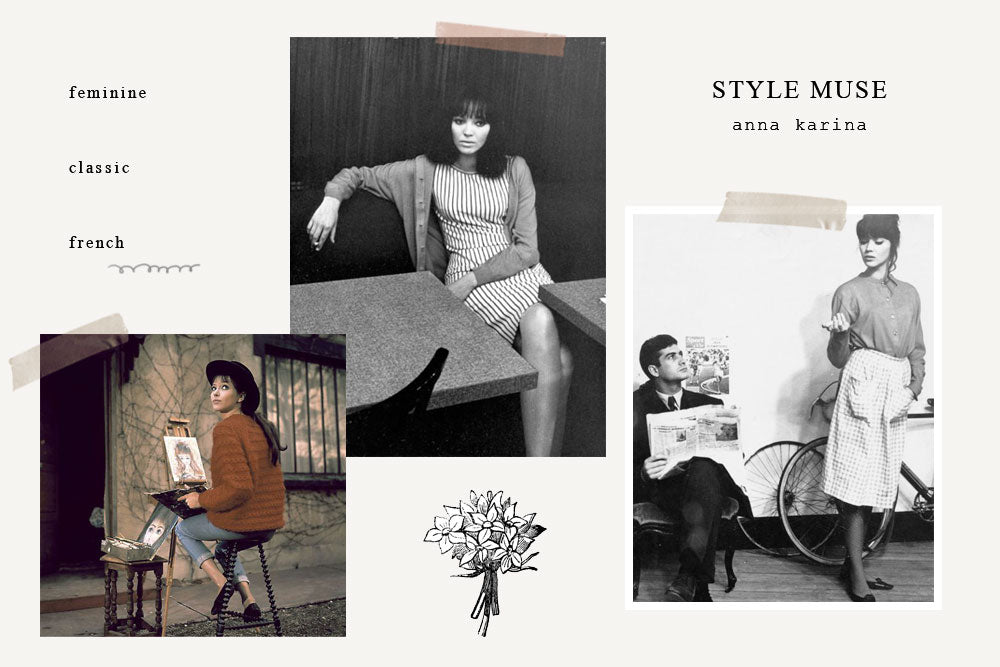 In the month that celebrates what it is to adore and be adored in return, we think of our favorite style and art muses. Anna Karina ranks high among them, as the classic doe-eyed, philosophically somber and romantic french girl of the 1960s French New Wave film movement.
We adore her classic style choices that never seem to grow to be 
passé: minimal separates like capris and cardigans, plaid skirts with simple button-ups. Her hair is pulled back in a smooth pony tail, or left limp and messy with a curtain of bangs shadowing her pensive features. Anna channels the playful spirit of girlhood while embracing the sophistication of the 
femme élégante. 
To channel your inner 1960s French Muse style, i.e. Anna Karina inspired outfits... here are some pieces you need in your wardrobe.
A solid colored cardigan
Midi skirts in solid colors or that feature subtle geometric patterns like stripes, plaid, or grid.
Higher necklines, especially round ones
Cigarette pants
Oversized sweater
Black closed rounded toe flats
Have you seen any of her films? She's featured in 17 Jean Luc-Godard films alone. If you're looking for something quirky, romantic, risque and a tad cynical this weekend, we recommend diving into one of these time capsule flicks. 
Our Style Muse articles feature inspiring women from history and modern day who capture the essence of Adored Vintage's favorite quote, "Live the life you always imagined" (Thoreau). Sometimes an outfit inspires an adventure, sometimes your favorite adventures are remembered by the dress or cardigan you were wearing. In any case, we like to research and share information about women who have already paved the way to living truest to oneself... independent, creative, driven, daring, unconventional, and timelessly beautiful.
Through our stories, imagery, and products we offer, our hope at Adored Vintage is to inspire you live life a bit slower, to celebrate the everyday ordinaries, and to live the life you have always imagined. If our posts resonated with you or you found them inspiring or useful, won't you leave us a comment below? We love knowing you and want to foster connection. Collection 2019 Sale 70% Off Title for image