Le Muse / Constance Spry
Posted by AV DEVON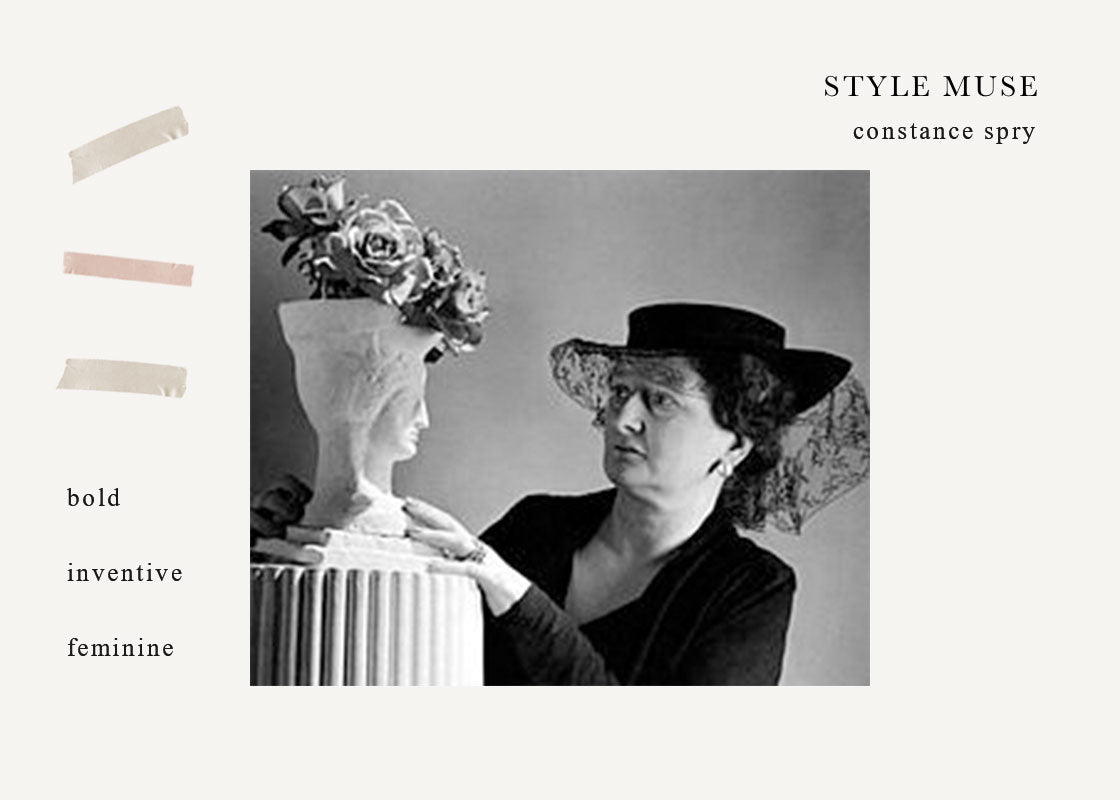 This week we've been doing a bit of light reading on gardening, tending to flowers and arranging bouquets, and were reminded of one surprising and inspiring individual named Constance Spry. Born in 1886 and raised in Ireland, young Constance grew to be an engaging, intelligent, boundary-pushing and accomplished woman with a distinctly creative eye for beauty. 
Her Style
Constance dressed the part of a typical, conservative mother and housewife of the 1920s, though she was anything but. Constance's clothing did evolve into more tailored and simply elegant outfits over the decades, yet it was in her artistic outlet, flower arranging, that she explored the depths of her creativity. At Adored Vintage, we do so often think it's about how you live in clothing, not necessarily the clothing itself that makes the person. However, we can still take inspiration from the life that Constance lived to inform the way we dress anyway! She's often pictured wearing long sleeve tops, work-wear frocks and aprons, and always accessorized with elegant pearls or beads about the neck. 
Her Legacy 
Having studied nursing as a young woman, she worked her way through lectures and lessons to being appointed as the secretary for the Dublin Red Cross. However she yearned for a change in life, and left her first husband in Ireland to move to England with her son, where she then met her second husband, Henry Ernest Spry. Tricklings of her passion for beauty and the ephemera of flowers began. 
It wasn't until the age of 41, after a successful career as a headmistress, that Spry's amateur talents as a floral designer were noticed by an influential lunch companion, leading her to Norman Wilkinson, a theater designer and kindred spirit whose encouragement would launch her meteoric design career. With a commission to do flowers for cinemas and a perfume shop, Spry took her unorthodox visions of gathered materials and artful references out of the homes of friends and into the public eye, where she was lauded for displays that in an incredibly modern twist included leaves, berries, seedheads, wild clematis, and golden hops mixed with exotic orchids. Her fate was sealed. (Flower Mag)
Constance accomplished much in her lifetime. In resistance to the austere and formal rules of the Victorian era's floral designs, she created vibrant and avant garde displays of flowers that burst with life rather than sculptured simply to sit pretty, paving the way for future florists to draw inspiration from. Even today, her bouquets look modern and timeless. She wrote many instructional books, opened up Flower Decorations Ltd. where young women were taught in the artform, and she even rose to fame enough to arrange flowers for Queen Elizabeth II's coronation. Perhaps the most enduring legacy, however, was the rose titled in her namesake.
 
The Original English Rose
David Austin, florist and rose enthusiast, named the first rose he bred as the Constance Spry Rose, as a tribute to her education and inspiring force. This was dubbed the original English rose, with a rich and full scent of sweet myrrh. If you visit the English countryside, you may just find yourself in a heavenly cloud of its fragrance and spot some climbing up the odd barn or lattice against a cottage. 
Wish to Channel Constance?
We adore flowers and always make sure to keep some floral pieces in stock at the shop. Check out our Vintage Dress collection our or Vintage Inspired New Arrivals for something floral and romantic!
What About You?
Wouldn't you just love to be the namesake for a new flower breed? What kind of flower or plant would you choose? We would love to hear your answers with your names in the comment section below!
Our Style Muse articles feature inspiring women from history and modern day who capture the essence of Adored Vintage's favorite quote, "Live the life you always imagined" (Thoreau). Sometimes an outfit inspires an adventure, sometimes your favorite adventures are remembered by the dress or cardigan you were wearing. In any case, we like to research and share information about women who have already paved the way to living truest to oneself... independent, creative, driven, daring, unconventional, and timelessly beautiful.
Through our stories, imagery, and products we offer, our hope at Adored Vintage is to inspire you live life a bit slower, to celebrate the everyday ordinaries, and to live the life you have always imagined. If our posts resonated with you or you found them inspiring or useful, won't you leave us a comment below? We love knowing you and want to foster connection. Collection 2019 Sale 70% Off Title for image