Style Muse / Virginia Woolf
Posted by ADORED VINTAGE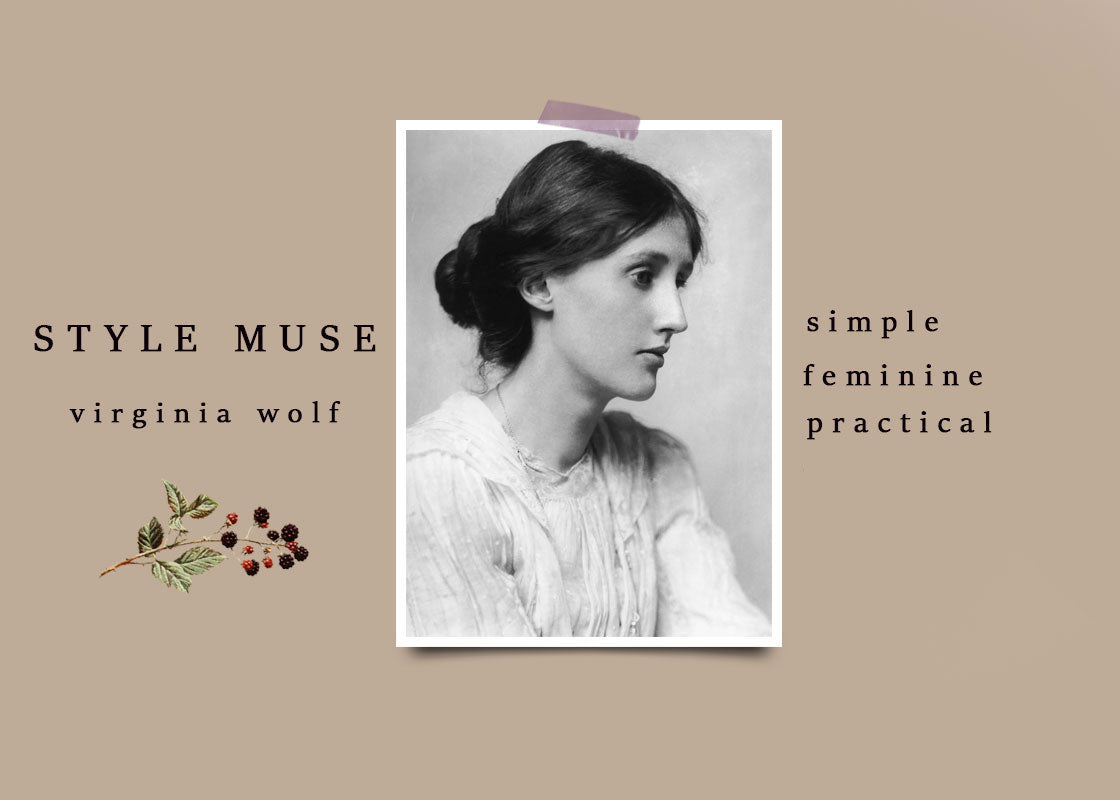 Ode To Virginia
Intellectual, curious and entirely unique, Virginia pioneered a new age of modern literature in which women were to be respected and revered just as highly as their male contemporaries, if not more. Her best known works include "Mrs. Dalloway", "To The Lighthouse", and "Orlando". Perhaps more famously, she penned the feminist essay "A Room of One's Own" from which she is often quoted for the revolutionary opinion, "A woman must have money and a room of her own if she is to write fiction.", thus sparking a idea for independence in her readers throughout the world for generations to come. 
Thank you, Virginia, for your relentless pursuit of independence, a most important conduit to the liberation and artistic expression for your readers who may not have had the tools to voice such without your lead to follow. We are inspired by your words, beliefs, style, and legacy. 
Are you a fan of Virginia Woolf? Let's take a look at her personal style to see how we might channel the experimental writer in today's world. After all, Adored Vintage is all about timelessly feminine, vintage inspired clothing.
Her Style
Virginia Woolf was not famed for her fashion taste exactly. She seemed to focus more on her intellectual growth, creative expression through writing and personal relationships above aestheticism. However, this is not a qualification we look for in our style muses at Adored Vintage. We take inspiration from women throughout history not because the clothing they wore, but the lives they wore in that clothing. That being said, we also really do enjoy the transformative powers that clothing may possess, and have fun pulling ideas from inspiring people like Virginia Woolf's wardrobe so that we may carry a bit of their spirit with us wherever we go. 
Virginia was born in 1882 in London, England, at the height of the Victorian period with all its societal morality, suppression of the marginalized, and therefore insurgence of creativity and political activism in art. Most of the photos we can find from her life took place between 1930 before her death. From these photos we can see that she dressed simply, with timeless femininity, in straight silhouettes and classic pieces of jewelry. She liked wearing tops and dresses with tidy collars, uncomplicated designs that wore plainly but practically, letting her personality shine all the more. She wears her tresses up in a a few pins and barely wears makeup if any at all. 
Get The Look
Channel Virginia by wearing simple, classic and feminine pieces. Collared tops tucked neatly beneath cozy knit cardigans and dusters, high waist skirts of solid colors with pockets for collecting treasures. Explore our vintage inspired tops, skirts and knitwear. And don't forget to accessorize! Virginia seemed to like her necklaces, as do we. We have jewelry delicate and bold, romantic and minimal.
Words to Inspire
 Our Style Muse articles feature inspiring women from history and modern day who capture the essence of Adored Vintage's favorite quote, "Live the life you always imagined" (Thoreau). Sometimes an outfit inspires an adventure, sometimes your favorite adventures are remembered by the dress or cardigan you were wearing. In any case, we like to research and share information about women who have already paved the way to living truest to oneself... independent, creative, driven, daring, unconventional, and timelessly beautiful.
Through our stories, imagery, and products we offer, our hope at Adored Vintage is to inspire you live life a bit slower, to celebrate the everyday ordinaries, and to live the life you have always imagined. If our posts resonated with you or you found them inspiring or useful, won't you leave us a comment below? We love knowing you and want to foster connection. Collection 2019 Sale 70% Off Title for image