Vintage Finds From the Weekend
Posted by ADORED VINTAGE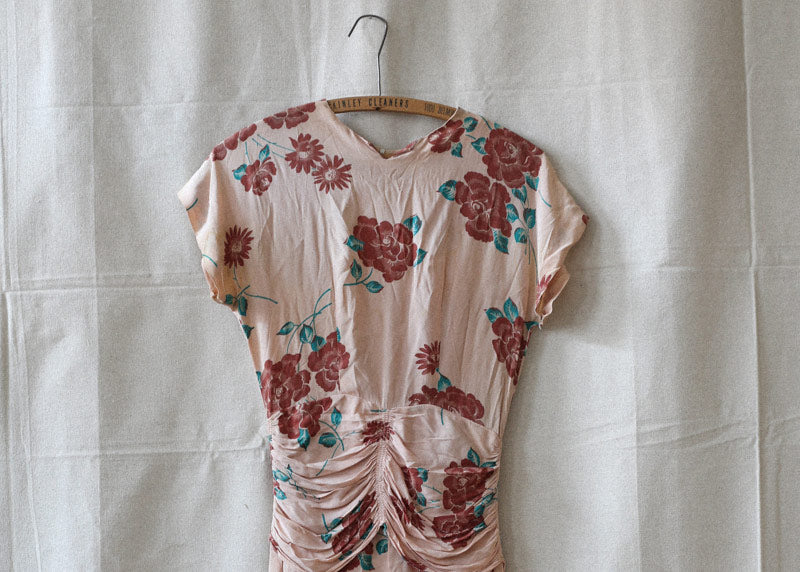 I spent much of this past weekend in quiet solitude, reading, writing, learning, researching, studying... and throughout it I made an equal effort to notice and live the little things. We went to the farmer's market for the first time (hooray!) to support many local merchants and farmers. I bought armloads of peonies and other June blooms. I also went hunting for vintage which I have not done in a very, very long time and the practice of it felt a little foreign at first, but my love for garments with stories to tell is unwavering...
Here are some of my vintage finds from this past weekend!
The embroidered 1920s jacket above was a thrilling find and originally when I spied just a bit of it in a pile of textiles, I thought it might have been a pillowcase cover. Imagine my delight to discover I was mistaken!
I adore lace and when sourcing the modern vintage inspired clothing for the shop, I I try to choose lace details that are reminiscent of the exquisite lace found on vintage and antique garments. Of course, nothing quite compares to the original, but that is how the modern clothes featuring lace details are inspired by vintage... a subtle nod to a bygone era, not necessarily replicas of the past.
I usually find (and am forever in the lookout for) many botanical and flora prints during my vintage haunts and these botanical cards was a lucky find indeed! They're not entirely vintage as they are reproductions of antique botanical plates and prints. The back of them have a lot of plant knowledge and history so in a future journal post, I will share these in all their glory.
I was also super excited to find a never used box "Vogue Floral Clay" and it still works! It's a little bit dry, but with a bit of work between the fingers to warm it up, it still does the trick! Isn't the packaging just so cute??
I hope you enjoyed taking a peek at my vintage finds! It was a joy for me to go out this weekend as shops begin to reopen in Portland to support local and small businesses.
Comments (1 comment)
Through our stories, imagery, and products we offer, our hope at Adored Vintage is to inspire you live life a bit slower, to celebrate the everyday ordinaries, and to live the life you have always imagined. If our posts resonated with you or you found them inspiring or useful, won't you leave us a comment below? We love knowing you and want to foster connection. Collection 2019 Sale 70% Off Title for image