A 1930s Inspired River Picnic Outfit
Posted by ADORED VINTAGE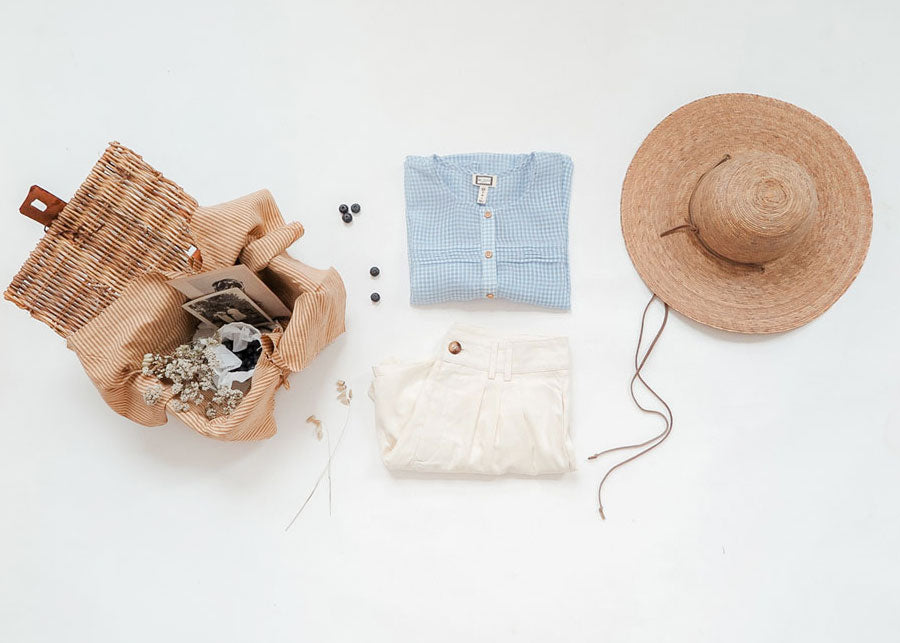 The Setting
Tis the season of Summer, when birds call early in the brightly lit mornings, and warm breezes tumble fragrant petals through one's hair. The days are long and one feels especially pulled to the shores of local beaches and rivers to enjoy the fair weather. 
Here at AV, we are positively inspired by the season to go outside and enjoy natural landscapes, good company, and picnic treats. And if you are reading this, you probably understand the importance of finding the right garments to echo one's mood to complement the adventure. This wardrobe recipe was inspired by the quaint 1930s fashion from the 2012 film, "Cheerful Weather for the Wedding", starring Felicity Jones. We hope this sparks your imagination and you, too, take to the local scenery.
Scroll to the end for details on the featured products!
The Ingredients
Lightweight Button Down Blouse (preferably in a cheery print)
Summer Cotton or Linen High Waist Shorts 
Strappy Sandals 
Large Straw Sunhat (choose one that comes with, or can be adorned with, a ribbon for tying about the neck)
Picnic Basket, of course!
Optional: seasonal fruits, baguette, soft cheese, playing cards, portable radio, blanket or tablecloth, and a book of poetry.
The Recipe
To echo Felicity's character, Dolly's, charming outfit that she wears on a canoe outing at the lake, one needs to assemble the classic pairing of puff sleeved printed shirt with solid cotton or linen high waist shorts. The beauty of wearing a button down blouse is that you can tuck it into the shorts, or tie it at the waist to create a feminine silhouette. Of course, when the day is at it's warmest, you can then leave a few of the top buttons undone as well to welcome a stray breeze. To keep off the heat from your neck, wear your hair pinned up, in heidi braids, or tied up in a hair scarf. Finish with a straw sun hat and strappy sandals--it is summer after all. 
Weather you're on the water or by its edge, stretch out with a vintage table cloth or blanket and an assortment of snacks and activities. We love 
Shop the look:
blue gingham Summer Sweets Top, high waist cream Desert Market Shorts, Penelope Basket Bag, large straw Tuileries Sun Hat.
Read More About The Film Here
Through our stories, imagery, and products we offer, our hope at Adored Vintage is to inspire you live life a bit slower, to celebrate the everyday ordinaries, and to live the life you have always imagined. If our posts resonated with you or you found them inspiring or useful, won't you leave us a comment below? We love knowing you and want to foster connection. Collection 2019 Sale 70% Off Title for image