Where Are Your Vintage Modern Clothes Made?
Posted by ADORED VINTAGE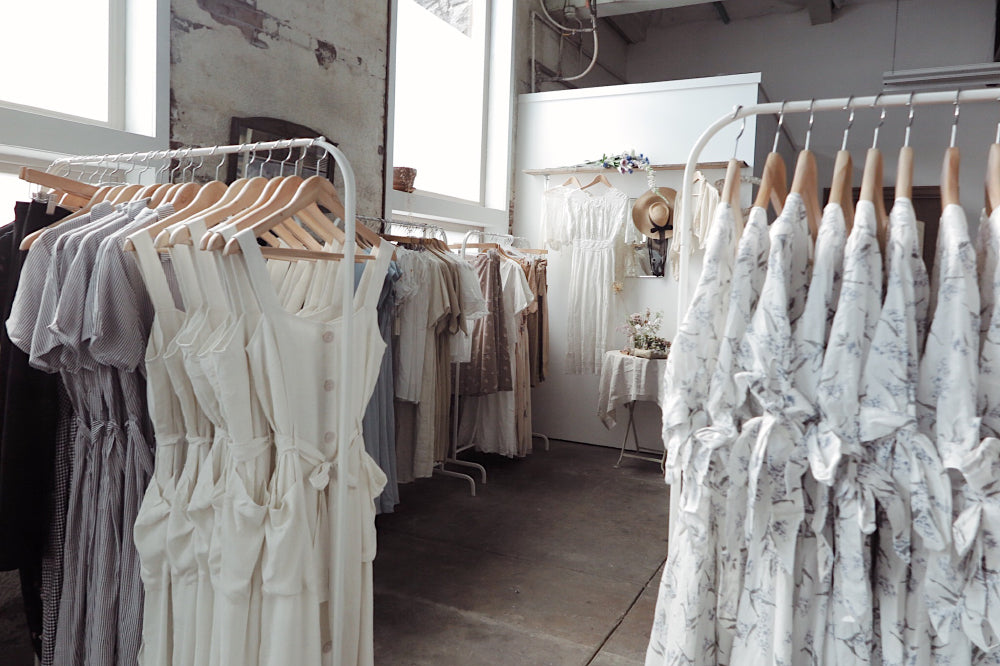 A few weeks back I received an email from a gal asking where the modern vintage inspired clothes I sell in my shop were made, how was the fabric sourced, how are the working conditions of the workers... I appreciated her email so much and spent some time responding to all her enquiries. Here is how the conversation went (through email) copied and pasted.
"I would like to know if your vintage inspired dresses are sustainably made. What fabric do you source and where does it come from? Who makes your clothes, what are they paid, and what are their work conditions like? I really love the look of your clothes, but I want to buy them with a clear conscience."
My response was pretty lengthy... here it is copied from our email conversation.
"Thank you for your email! This response is kind of a long one, so I hope you have some tea or coffee next to you!
All of the vintage inspired clothing in my shop are sourced from different designers and makers and are not made solely for Adored Vintage. Every brand I choose to carry are small indie brands most being companies with less than 15 employees, I've carried one brand that was started by two sisters and their entire company was 5 people. Hehe, but then again, my entire shop is run by just me :)
Some items are manufactured overseas and some in the USA, every product description will state this. I understand your concern about making sure workers are paid a fair wage. I worked for a fashion production company in Los Angeles that produced/designed some clothes for companies like Nasty Gal and Mod Cloth for example. I can't speak for every company, but the company I worked for, we had one manufacturing company in China and our CEO visited every season and knew everyone's names and the working conditions didn't differ from any well managed and maintained manufacturing companies I have visited in the USA.
Basically, what I'm saying is, each company is going to be different, but the larger the volume of clothing (think Forever21, H&M, Zara) then the working conditions could be questionable. Poor working conditions isn't just an overseas problem either, there are several Made in USA companies that don't pay their workers fair wages and have horrible working conditions.
I'm really happy more and more people are becoming conscious about where their clothes are made. I started selling vintage clothing online back in 2004 and I always say the best way to be ethically fashion conscious is to wear vintage and also choose clothing you will get a lot of wear of (classic silhouettes and prints and colors) that way you're not always buying new clothes.
I can completely understand if you choose not to purchase from my shop if your conscience feels conflicted, though I'd like to add if you do decide to purchase something from Adored Vintage you are supporting a small woman owned business (haha that's me) and I donate 10% of my monthly sales to DonorsChoose.org, TumainiInternational.org, and RefugeeCareCollective.org.... I hardly talk about it on my website because I'm a little uncomfortable with marketing that involves philanthropy. Though, totally sounds like I'm pitching at you right now! I'm not :) just want you to know that a regular gal trying to make a simple living and trying to give back to the world in some small way exists behind the Adored Vintage virtual shop doors.
Thank you for your email! This topic has actually been on my mind lately and I may do a blog post on it in my Shopkeeper Journal! It's important to think about and be aware of!"
- - - 
This was her response:
"Thank you so much for your thoughtful response! This was very helpful. :)" 
And she DID end up purchasing a dress from my shop. Yay!
(2 comments)
Through our stories, imagery, and products we offer, our hope at Adored Vintage is to inspire you live life a bit slower, to celebrate the everyday ordinaries, and to live the life you have always imagined. If our posts resonated with you or you found them inspiring or useful, won't you leave us a comment below? We love knowing you and want to foster connection. Collection 2019 Sale 70% Off Title for image