Women In Art: The Florist
Posted by ADORED VINTAGE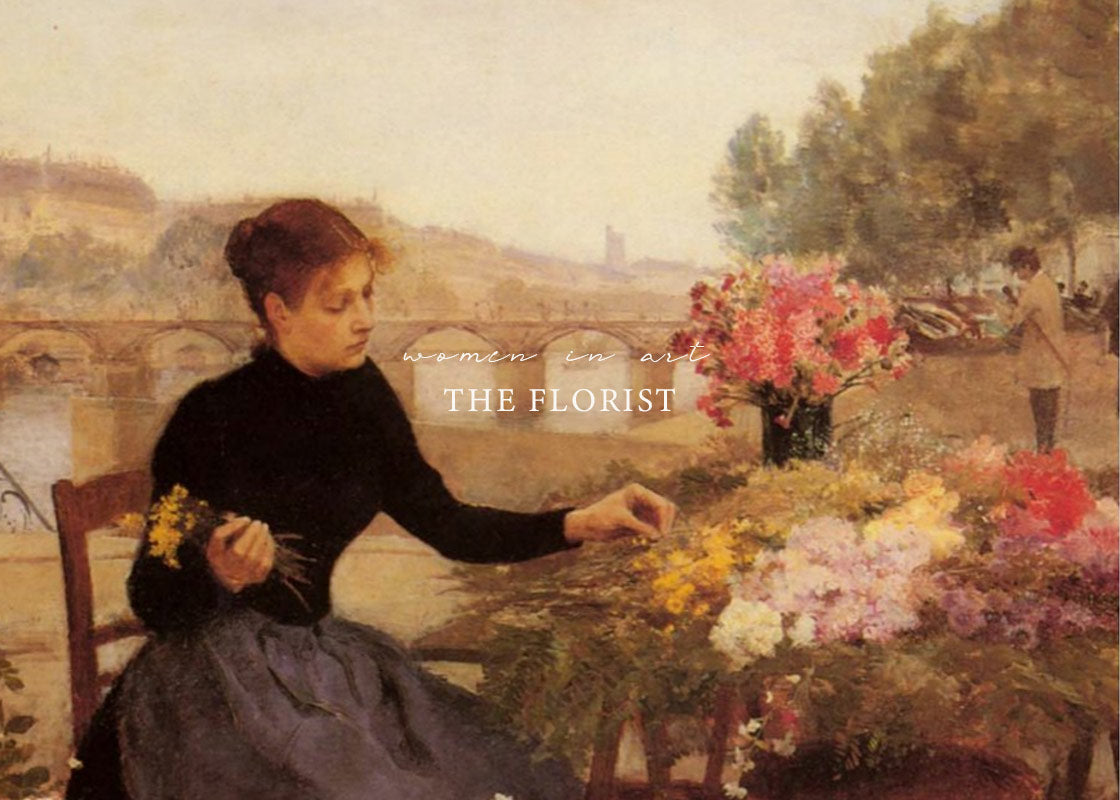 It will be no surprise to you that flowers is where I draw much of the inspiration for Adored Vintage as well as art and fashion history. I love paintings that depict flowers, women, landscapes, and interiors. So when any combination of these things are in a painting, I am instantly smitten. 
Below are some beautiful paintings mostly from the 19th century of women florists or just women with flowers. As Christian Dior said, "After women, flowers are the most divine creations..." 
Both paintings above are by French painter Victor Gabriel Gilbert who loved to paint market scenes and everyday life in Paris. 
The Language of Flowers in the Victorian Era
ASTER - a symbol of love, patience, and daintiness
BACHELOR BUTTONS - blessedness and celibacy. If a man wanted to know whether his love for a woman was returned, he could pick a bachelor button and place it in his pocket and if it did not wilt in 24 hours, then his lady love returned his affections. It could also symbolize the success of a new relationship. (source)
CAMELLIAS - any color symbolized affection, red camellias being the headiest "you set my heart aflame" and white "you are adored"
CROCUS - symbolism for youth and cheerfulness
DAISY - a symbol of innocence and hope
FERN - ferns were very popular during the Victorian era and symbolized sincerity, humility, love... and also they could convey hidden sexual desires (the maidenhair fern was a euphamism for female pubic hair, oh my!) Those scandalous Victorians! (source)
(left) Flower Girls c. 1885, Augustus Edwin Mulready, British 
(right) The Flower Girl 1800s, Edward Charles Barnes, British
The Flower Girl, Hanz Hamza, Austrian
(top) The Florist c. 1893, Edgar Bundy, British (center) Marie-François Firmin-Girard c. 1872, French (bottom) Louis Marie de Schryver, French
Through our stories, imagery, and products we offer, our hope at Adored Vintage is to inspire you live life a bit slower, to celebrate the everyday ordinaries, and to live the life you have always imagined. If our posts resonated with you or you found them inspiring or useful, won't you leave us a comment below? We love knowing you and want to foster connection. Collection 2019 Sale 70% Off Title for image