Dressing for Autumn in 1934
Posted by RODELLEE BAS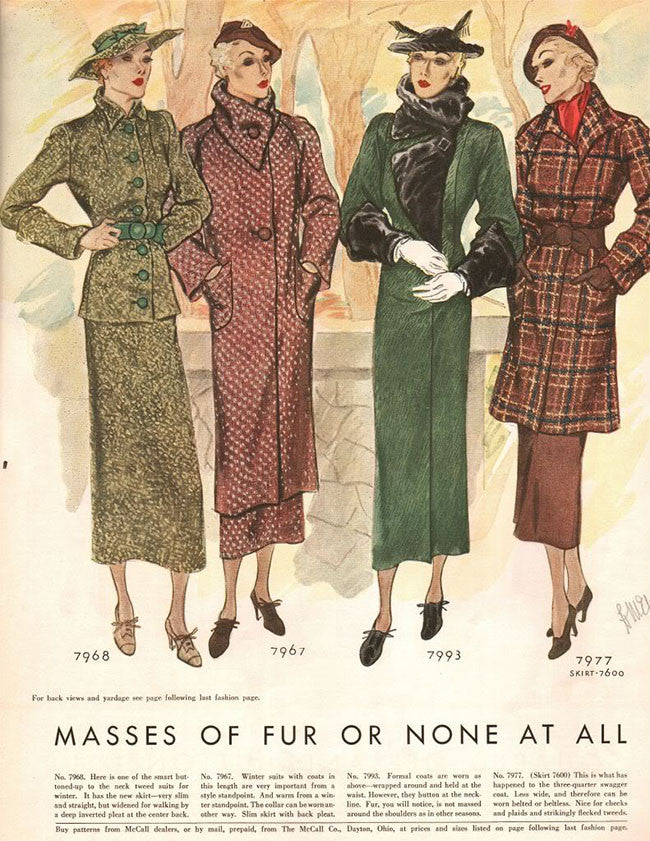 Vintage magazines are a wonderful source of information for vintage clothing research and learning more about vintage fashion for the everyday woman. I happened upon these pages from McCalls, October 1934 depicting fashions for Autumn wear. The captions are delightful (and great for research, especially for fabric and clothing terminology) as are the illustrations! 
 The fashion trends to note for October 1934 are as follows:
(as noted from the image above)
Winter Suits, Wrapped Coats, Shirtwaist Frocks, Satin-Top Frocks, Buttoned Up Clothes, Interesting Backs, Slits, A Lowline (to show off your décolletage), and a new color scheme of pale grey-blue with reddish brown. 
SQUARED OFF AND BUTTONED UP
Here are several styles depicting 2 of the trends to note for the 1934 Autumn season. Buttons and Square details such as necklines and pockets! 
The first garment (Style No. 7973) is depicted as "the bolero like bib dress" which is good to know because I've had dresses like these in my shop and never did know what to call this type of detailing. Now, I know!
Style No. 7979 has a "double collar" and features split top square patch pockets. I love the pinstripe fabric that is depicted! 
MASSES OF FUR OR NONE AT ALL
Notice the length of all the skirts in these images. It is what we could a midi length nowadays. Style No. 7968 features "the new skirt" - very slim and straight, but wide enough for walking with a pleat added in the back (not visible in image). I wish there was a name for the neckline/collar on Style 7967 and Style 7993. Normally I just call this a funnel neckline, buttoned funnel neckline? Either way, you get the picture.
Image Credits: What I Found / Keeping Us Warm & Fashionable in 1934 Collection 2019 Sale 70% Off Title for image