Style Inspiration for the Hopeless Romantic
Posted by ADORED VINTAGE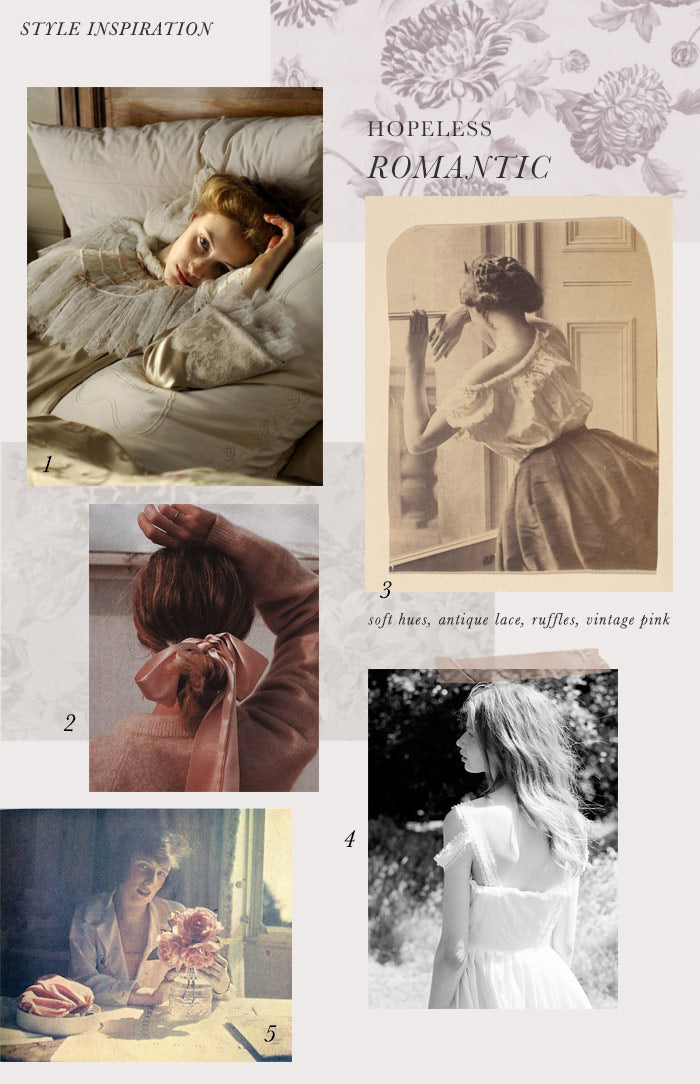 I recently came across this article on Vogue, "How to Shop in 2018, According to Your Horoscope" and as a Cancer sign, I'd say it's pretty spot on!
"Preferring not to draw attention, this emotional water sign favors softer silhouettes with a subtle color palette of pale blues, grays, and shades of white. A Cancer's elegant wardrobe is very much reflective of all the time they spend with their head in the clouds, daydreaming..."
And perhaps that is why Adored Vintage shares this feminine and romantic style aesthetic, because it's quite personal for me. 
Here are some tips on adding more romance to your wardrobe.
1. White isn't only for weddings! You can also wear variations of white in the form of eggshell, ecru, snow white, vanilla, bone, and ivory. Antique dresses would be a pretty addition for your wardrobe since most antique dresses have aged to a beautiful warm white or off white color. / (image source)
2. Nothing is more romantic than the color pink! For a true vintage romantic look, go for shades of pink that are more muted and try fabrics in soft silks, linen, or velvet. You can do pink as an accent if you don't want to don a full on pink ensemble. / (image source)
3. Wear off shoulder styles or garments that draw attention to your neckline and décolletage. Although be careful you don't cross the line of looking too scandalous! Pairing an off shoulder or low v-neckline top with a maxi skirt would be ideal. / (image source)
4. Soft ruffles and a little bit of lace is a great way to add some romantic style into your wardrobe. If you're going to go heavy with either ruffles or lace, be sure to keep other elements of your look more pared down. Keep your hair loose or maybe throw into a messy bun. If you are going to wear a romantic 1910s Edwardian blouse pair it with high waist jeans and a pair of ballet flats. / (image source)
5. Wear fabrics that drape softly against your body. The trick with romantic styles is nothing is ever form fitting or restrictive. Your clothes should always look as if a light breeze would gently make them dance. The romantic look is light and airy and soft, very much like this 1920s French autochrome photo. / (image source)
Through our stories, imagery, and products we offer, our hope at Adored Vintage is to inspire you live life a bit slower, to celebrate the everyday ordinaries, and to live the life you have always imagined. If our posts resonated with you or you found them inspiring or useful, won't you leave us a comment below? We love knowing you and want to foster connection. Collection 2019 Sale 70% Off Title for image