Postcards from Whidbey Island
Posted by RODELLEE BAS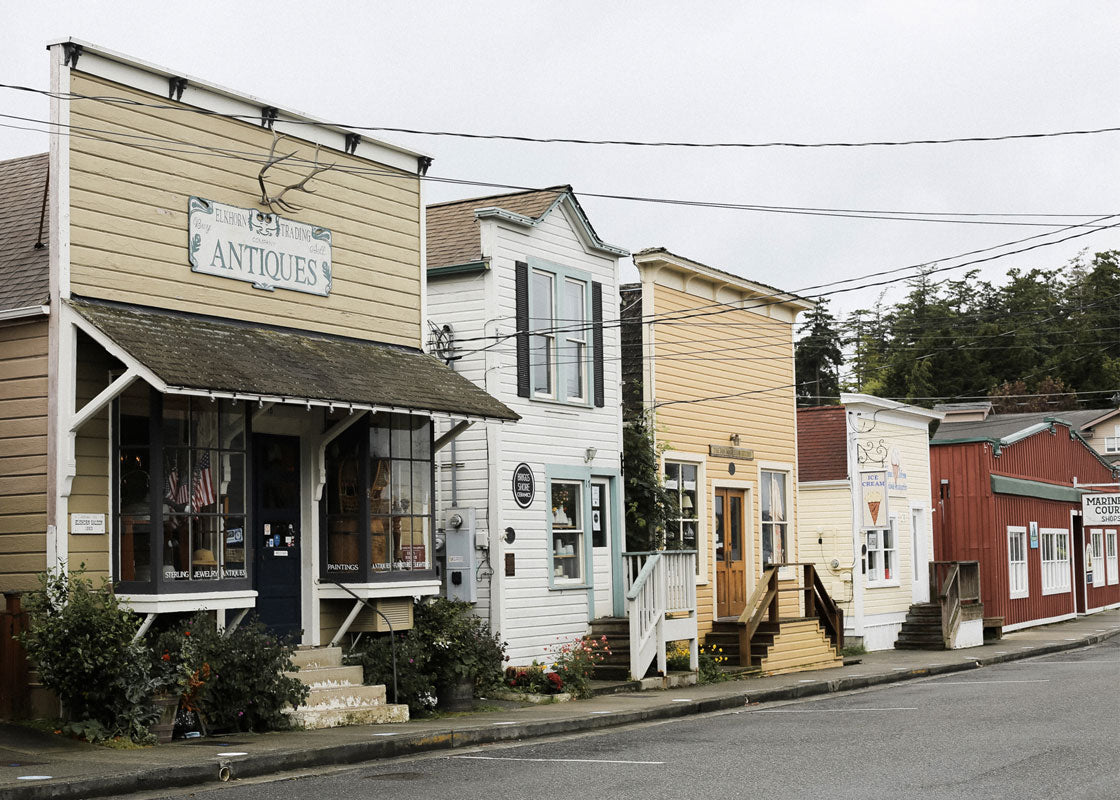 A DAY ON WHIDBEY ISLAND
One of the biggest perks of being the owner and creative director of Adored Vintage is having the freedom to choose where our upcoming photoshoots will be shot for the upcoming seasons. I didn't need to look or travel very far to know that I wanted to shoot our big upcoming campaign shoot on Whidbey Island, home to the quaint and charming town of Coupeville where many scenes from one of my favorite movies, Practical Magic, took place.
While location scouting, we also stopped at several places many of you suggested on Instagram (and quite a few we didn't have time for since we were only on the island for a little over a day). I am so looking forward to visiting again and knowing how accessible the island was from where we lived, I know Whidbey Island is going to be a place we visit year after year from now on.
 
How We Got There
We drove from Portland to Seattle and took the ferry from Mukilteo to Clinton around 5PM. The ferry ride is about 25 mins (very short) and leaves every 30 minutes. You do not need a reservation. Check the schedule daily here. I believe it was around $12-$16 each way per vehicle. We did drive a big pickup truck, so price may vary.
Where We Stayed
From Clinton we drove to Coupeville, where we had reservations at the charming Anchorage Inn Bed & Breakfast and we were so lucky to be greeted by both the new owners (Dave & Maggie, we adored Dave as he reminded us so much of Robby's grandfather who died last October) and also meet the previous owners (Dave & Dianne). Our room was a cheerful floral pink and green theme and had a gorgeous view of the bay and best of all, a straight shot view of Sally Owen's shop "Verbena" from the movie Practical Magic. It's not a shop now of course, it is actually a café and bakery. Since we got quite a delicious 3 course breakfast every morning at our Bed & Breakfast, we didn't stop in to The Red Hen, but will be sure to do so on a future visit!
P.S. - The location of the inn is so convenient to Front Street! It's literally a block away! You can easily just pop out the front door and walk to all the shops and restaurants.

Where We Hiked
There are so many beautiful trails and hikes on Whidbey, but we decided to go on a hike just in Deception Pass that started at Bowman Bay. The trail was easy enough (my husband and I are both amateur hikers) with a few steep inclines and several areas that are quite close to the cliff's edge. We did see some middle school aged kids on the hike. There were not a lot of clear markers throughout the trails but the trail we took made one big loop. It took us about 2 hours to do the whole hike, but take into account I stopped to take pictures several times!

Where We Ate
Because we stayed at a Bed & Breakfast, that meal was spoken for, so we mostly concerned ourselves with lunch, snacks, and dinner though when my husband and I travel, we don't always eat meals at specific times, we just eat when we feel hungry. 
When we arrived Friday evening we had dinner at Front Street Grill on Front Street, the historic and picturesque waterfront street of Coupeville where many scenes from Practical Magic were filmed. I recommend the Chef's Chowder and the Green Curry Mussels! We also tried the Avocado Dippers and Mediterranean Gnocchi, which I thought were both just ok.
For a late lunch the next day we went to Bayview Corner Taproom, the ambience is just ok, but the flavors of the Chicken Sandwich, Seasoned Tots, and the Cubano more than made up for the lackluster decor. 
(P.S. - There were other places we wanted to try initially but due to Covid, a lot of places were limited seating or reservation only or you had to put your name on a waitlist when you arrived, so we just ate where we could get a table.)
We also tried Whidbey Donuts (which is in the same building as Bayview Corner taproom) and oh my goodness, they were delicious! Now if you don't like your donuts to have that bit of yeast flavor, you might not like these as much. I don't like when donuts just taste like fat and sugar (looking at you Krispy Kreme). We tried the simple cinnamon and sugar and the chocolate coconut old fashioned. I loved that the old fashioned cake donut wasn't too dense and dry as they tend to be sometimes.

Where We Shopped
All right, here's a confession. I actually really don't like shopping when I travel. Mostly because I hate the idea of carrying so many things around. However, because we DROVE to Whidbey Island and we had my hubby's truck, I was a lot more keen to browse through the shops while in town.
Just next to Whidbey Donuts is Bayview Farm & Garden and I was like a kid in a candy shop here! I took so many photos of plants I wanted to add to my garden. (I'll be buying them locally so I can save on the sales tax) however I did not go empty handed as I feel very strongly about supporting local and small whenever I can. We ended up buying a couple new garden tools, new wooden spoons, and a charming ceramic honey pot. 
We also stopped by Freeland Art Studios since they were having an Open House the day we were there and picked up a few ceramic pieces from a local artist.
In Coupeville we stopped at a Japanese Antiques Shop, The Kingfisher Bookstore (they have new books and used/vintage books downstairs and many of the vintage books are $2-$5), and a Dutch themed gift and candy shop. We so badly wanted to go into the Antiques shop (the one pictured above with me smiling in front) but sadly they didn't seem to be open any of the times we walked by. 
Well, that was our Day on Whidbey! We arrived on the island around 6PM on Friday just in time to get a quick bite in Coupeville and check into our inn, had one full day (Saturday) on the island, and then back on the road at 10AM to head back home on Sunday.
It was such a wonderful quick trip to a truly magical little place!

More Memories...
Comments (1 comment)
Through our stories, imagery, and products we offer, our hope at Adored Vintage is to inspire you live life a bit slower, to celebrate the everyday ordinaries, and to live the life you have always imagined. If our posts resonated with you or you found them inspiring or useful, won't you leave us a comment below? We love knowing you and want to foster connection. Collection 2019 Sale 70% Off Title for image