Quiet Moments in the Greenhouse
Posted by ADORED VINTAGE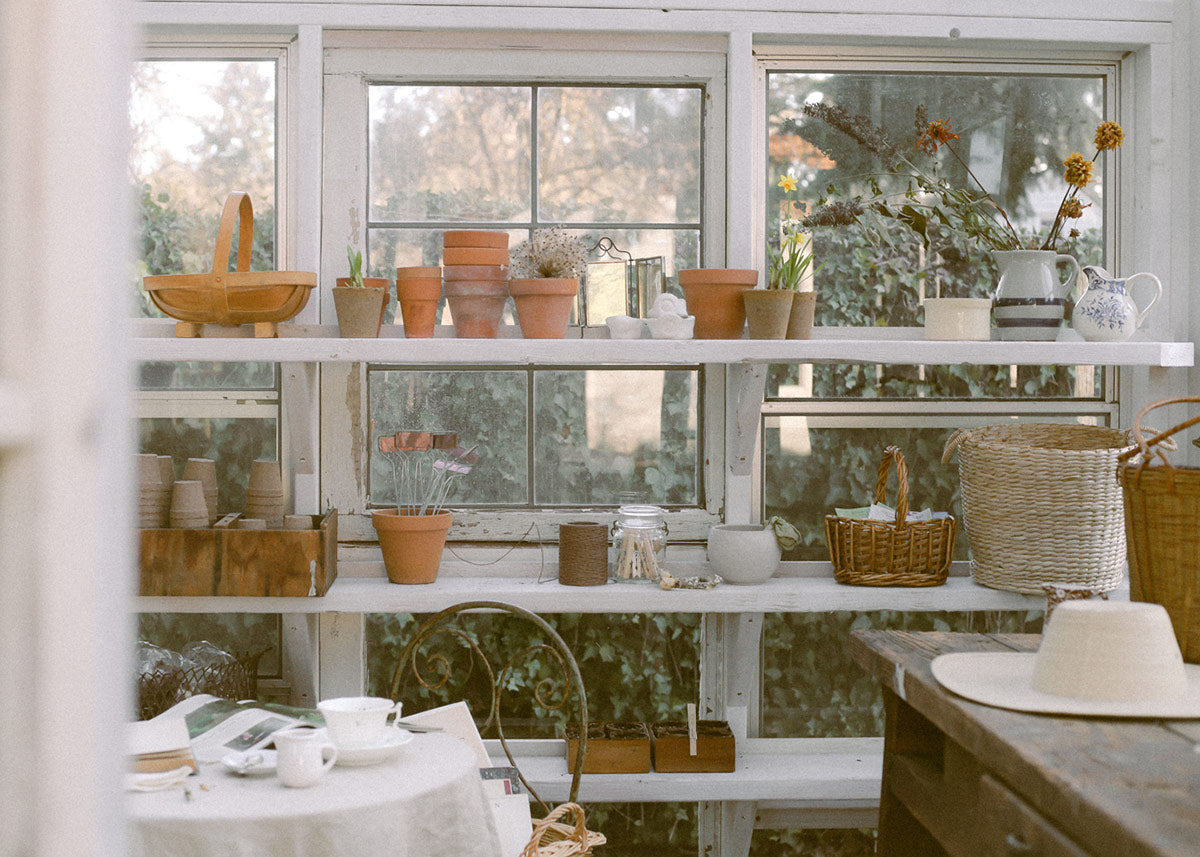 Last summer we started to lay down the foundation for a vintage inspired greenhouse in the garden using repurposed vintage windows and doors. It has been a slow and steady process, as most things in our world are, nothing ever feels rushed or hurried.
Already this wonderful little structure has welcomed new friends near and far (I'll share those photos soon!) but most importantly it has become a space for respite and rejuvenation. For quiet moments to dream and plan not only for the garden where we will eventually be growing our own flowers and then drying them for our everlasting bouquets, but it's serving as a place of solitude where I journal and pen down my thoughts for Adored Vintage and Atelette. 
Turn O' The Year

This is the time when bit by bit

The days begin to lengthen sweet

And every minute gained is joy

And love stirs in the heart of a boy.

This is the time the sun, of late

Content to lie abed till eight,

Lifts up betimes his sleepy head

And love stirs in the heart of a maid.

This is the time we dock the night

Of a whole hour of candlelight;

When song of linnet and thrust is heard

And love stirs in the heart of a bird.

This is the time when sword-blades green,

With gold and purple damascene,

Pierce the brown crocus-bed a-row

And love stirs in a heart I know.

- Katharine Tynan c. 1927
The days are lengthening with each passing day and I am so looking forward to sowing so many little flower seeds in the greenhouse which I have now named Lillet. I will share all the flower seedlings I'll be sowing each month, hopefully we can learn and garden together!
Through our stories, imagery, and products we offer, our hope at Adored Vintage is to inspire you live life a bit slower, to celebrate the everyday ordinaries, and to live the life you have always imagined. If our posts resonated with you or you found them inspiring or useful, won't you leave us a comment below? We love knowing you and want to foster connection. Collection 2019 Sale 70% Off Title for image