Postcards from Sou'Wester
Posted by RODELLEE BAS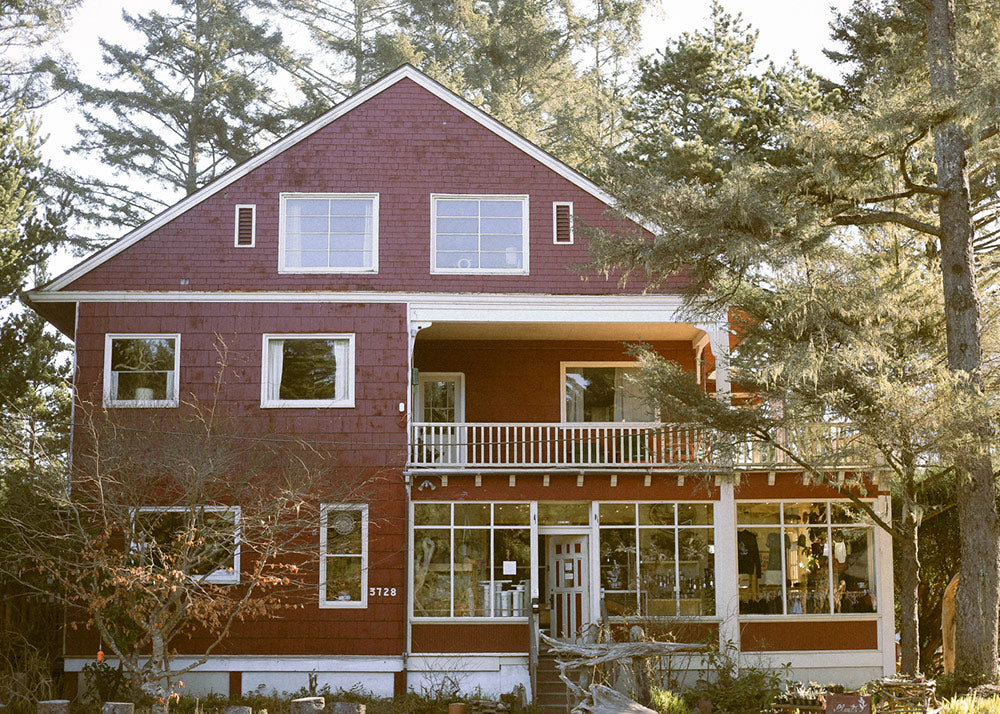 HELLO FROM SOU'WESTER
The Sou'Wester Historic Lodge is one of my most beloved getaways in the Pacific Northwest and I have visited a few times now. Truthfully, I am a bit hesitant to share this gem, but well, I told myself I must not be selfish!
This vintage historic lodge is about a 2 hour drive from Portland, located in a sleepy little town called Seaview (in Washington) just 15 minutes north of Astoria (in Oregon). You can stay in one of their cabins, in the lodge itself, or rent one of their many charming, quirky, and yes VERY Instagrammable RVS and trailers on the lot. I have always opted to stay in their cabins (mostly because we bring Taters with us and I like having the extra leg room), but several of my friends have rented their trailers and RVs and have all reported them to be a delight.
VHS Movies, Live Music, A Sauna, & So Much More
Once you are at Sou'Wester you probably don't need to leave the lodge at all, except perhaps to take your bike down to the beach (which is literally about 5 mins away by bicycle) or walk there. You're also permitted to drive your car there, which we have done.
The Lodge has SO MANY amenities! There is a sauna trailer, a tea trailer, a little trailer to shop vintage finds, you can listen to music (though the bands only play on weekends), or participate in workshops (pre-registration is required and they cost extra). You can also borrow one of the tv/vcr combos in the lobby and borrow from the VHS library or peruse through dozens of records in the lobby. Food and drink can be purchased through an honor system in the main lodge also. 
In the evenings they light the big fireplace in the lobby and you can go and mingle with other guests and invite others to play any of the dozens of board games they have. 
Sou'Wester truly is a wonderful place where one feels like you've left behind the 2020s and traveled back to the early 1970s.
Food For Thought
Normally, we buy groceries and bring them to the cabin and cook all of our meals on site, but this time we decided to explore the culinary options in Seaside. Here are our recommendations for dining!
Pickled Fish:This restaurant overlooks the water and is actually in Long Beach, Wa. It is HIGHLY recommended to make a reservation! On the night we were there, they had live music, which I always love because I enjoy hearing and supporting local musicians. I highly recommend the grilled shitake mushrooms with miso carrot puree (it's an appetizer). I also had the candied butternut squash (which the leftovers made for a delicious breakfast the next day with a fried egg on top). I wasn't as enamored with the dessert we tried which was the chocolate cake or something like that. It had a lot of chopped nots and didn't satisfy my craving of something rich and sinful. 
Shelburne Hotel Pub & Lounge: Walkable from Sou'Wester (about 10 mins) and perfect for elevated pub food. I was actually in the mood for a salad when we went but I have had their burger (it's delicious), the fries are delicious, and the steak frites are delicious! The HIGHLIGHT of our meal was the dessert. Now THIS chocolate dessert hit the spot! I told our waitress I could eat this dessert every single night. Best of all it was gluten free. My mouth is watering just thinking of it! 
El Farito Beach Restaurant: Walkable from Sou'Wester (less than 5 mins). We went here for breakfast since we were craving something other than American breakfast food. They do serve American and Mexican breakfast fare! Delicious, comforting, and affordable, my favorite combination for food!
Activities Outside Sou'Wester 
Since we were in Seaview for work related reasons, we didn't have as much time to explore as we would have liked, but since we have visited the area a few times, here are some of our recommendations.
Visit Astoria (Oregon): You can spend a whole afternoon wandering the historic town of Astoria. The downtown area has lots of restaurants, shops, and attractions.
Hike Cape Disappointment (Washington): The hike isn't too difficult and you get to see some really beautiful cliffside views and also a few beautiful lighthouses! 
Explore Long Beach (Washington): Spend a bit of time at Marsh's Free Museum! It's full of quirky antiques and oddities and you can buy all sorts of maritime and sea inspired souvenirs. There is also the World Kite Museum. Both museums are very close to Pickled Fish, so you can pop over there for a delicious dinner afterwards.
More Memories
Through our stories, imagery, and products we offer, our hope at Adored Vintage is to inspire you live life a bit slower, to celebrate the everyday ordinaries, and to live the life you have always imagined. If our posts resonated with you or you found them inspiring or useful, won't you leave us a comment below? We love knowing you and want to foster connection. Collection 2019 Sale 70% Off Title for image