March in the Garden
Posted by RODELLEE BAS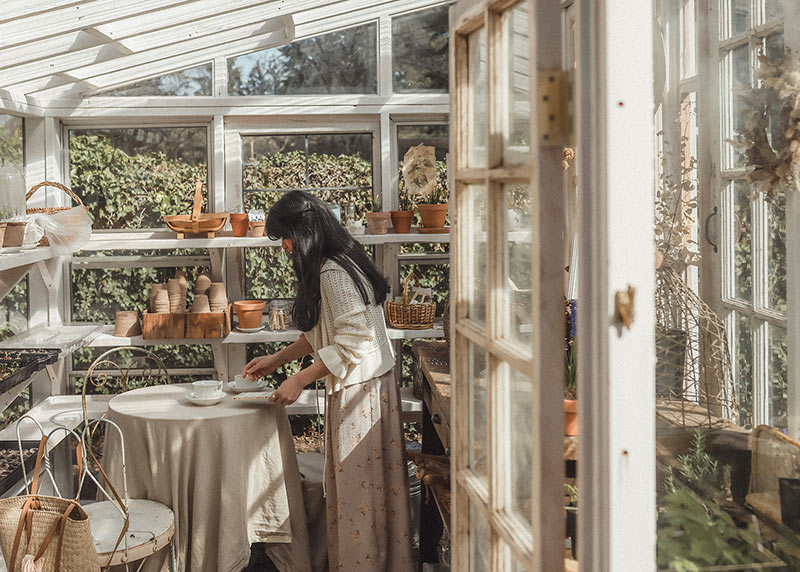 Oh how wonderful it is now Spring is upon us here in the Pacific Northwest! The days are longer, the days warmer, and the sun peeks out from a blanket of clouds once in awhile. I couldn't be happier!
Since the completion of our greenhouse, the calling and deep desire to tend and care for my own garden has become more clear and sweet. Like a song that has always lived inside me whose melody becomes more and more familiar with each passing day. 
It is March (well, actually it is technically April, but these photos were taken in March) and so I will share the happenings and little going ons of my garden throughout the months of the year. 
We've now passed any signs of frost (we're actually expecting our first 70+ day this week! How wonderful!), my trays of seedlings are off to a good start though I'm noticing a bit of mold on some, so I need to research on how to remedy this.
What's Growing in the Garden
The hyacinths fill the air with a scent that I find absolutely divine. I often kneel down on the ground and stick my nose right into it. The muscari, or grape hyacinths, are beginning to wane as are the daffodils, but I do so the tulips beginning to pop up. I planted many bulbs last Autumn, a bit late in November, so we'll see how they fare.
In the potager I've planted in some lupines, delphiniums, bellflowers, poppies, and phlox from plants I got from local nurseries. I have so many seedlings for the flower potager, but none are ready to be planted just yet though I have already transplated the climbing sweetpeas. 
In the kitchen garden I've planted purple kale, butter lettuce, cabbage, indeterminate tomatoes, borage, chamomile, and sweet peas. I have green peas elsewhere in the garden. I quite like mixing up veggies and flowers together, it will give the garden a more cottage look and feel, well I hope anyway.
Elsewhere in the garden, I've planted a climbing hydrangea, feverfew, daphne bushes, and california mountain lilac bushes (the latter two are in the front of the house).
I will eventually name all the different areas of the garden something. I so love that Monty Don has names for the different parts of his garden, Longmeadow. The Jewel Garden, the Cottage Garden, the Paradise Garden, and The Vegetable Garden. I'd like a name for my garden too, but a name hasn't come to me just yet. I have to see how she will shape up first before a name will come.
All the beautiful photos above were photographed by Beck Bee.
Chores Around the Garden
Gardening is so much more than planting things in the ground. There is always a long list of things to do and I go through each of them with a feeling of deep content. I know it won't always feel like this, parts of gardening will feel like work, but my approach to gardening comes from a place of gratitude to have this bit of earth to tend to.
We finished our no dig garden boxes a few weeks ago and added in layers of cardboard (all from the shop from the boxes we receive every week from our vendors!), compost, and top soil. I've pruned bushes, pinched some seedlings, mulched and added fresh new compost to my container plants, trimmed back the wisteria (and added fresh compost to the top), moved around a few plants that didn't seem too happy where they were and placed them in other areas in the garden, widened the kitchen garden, amended so much soil and sifted through wheelbarrows of dirt (our ground is full of rocks)...the list goes on and on! I don't do anything in a hurry. I make myself a list for the weekend and tackle each thing one by one without any worry of time.
Below are some quick snaps that I took with my phone of what the garden looks like right now. It will be wonderful to compare the images I will take in just a few weeks from now as I know it is going to look so much fuller and all my hard work will have paid off.
My garden is significantly smaller (VERY significantly) than Monty Don's and I am a beginner gardener at best, but I know gardening will be a lifelong endeavor for me. I will never be a master, always a student and really that is all I can hope for. To always be learning, cultivating, and having the chance of creating little corners of beauty here and there. Gardening is a massive amount of work, but it's good for the soul and heart and spirit kind of work. I lose myself in the hours of the day tilling, trimming, weeding, clipping, nipping, potting, and pottering about.  
Through our stories, imagery, and products we offer, our hope at Adored Vintage is to inspire you live life a bit slower, to celebrate the everyday ordinaries, and to live the life you have always imagined. If our posts resonated with you or you found them inspiring or useful, won't you leave us a comment below? We love knowing you and want to foster connection. Collection 2019 Sale 70% Off Title for image