Thoughts & Musings / Saison de Printemps
Posted by ADORED VINTAGE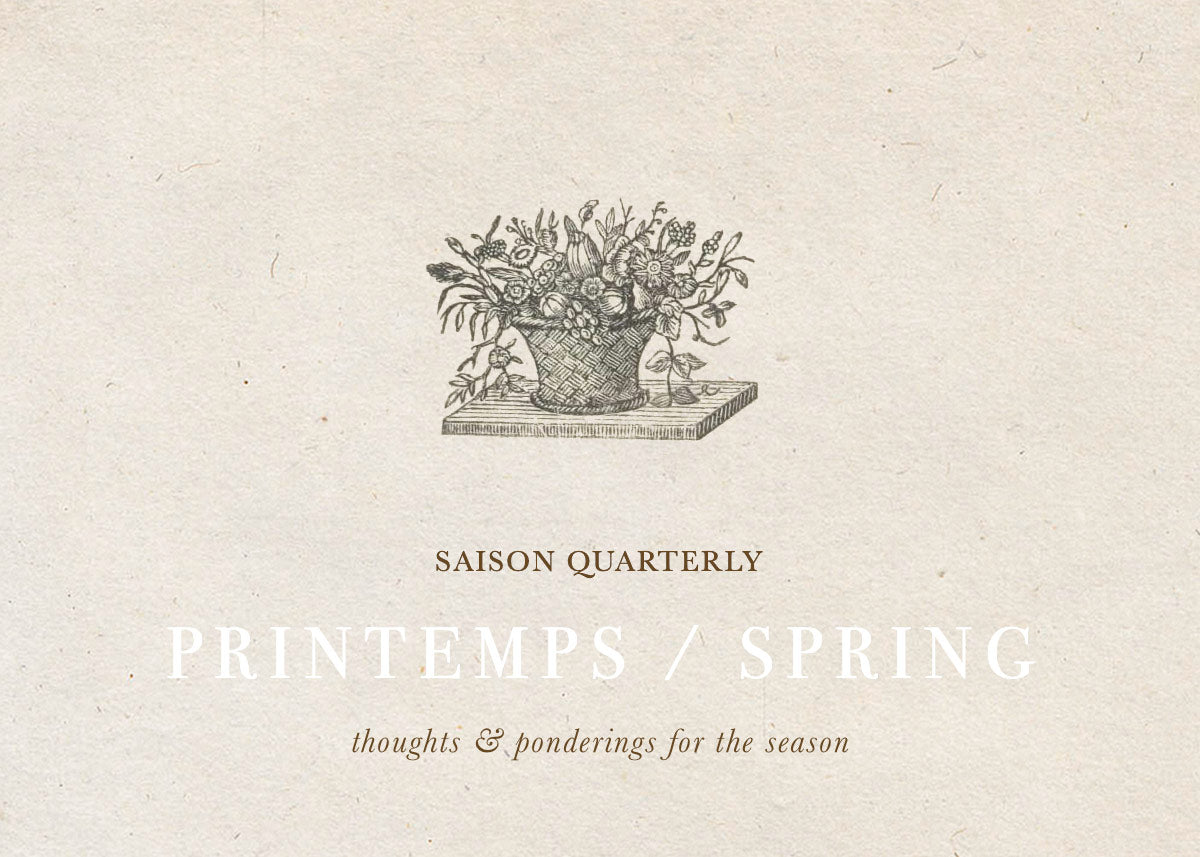 Saisons Quarterly / Printemps
March has come and gone and now a new month is upon us and also a new fiscal quarter.
As a small business and a retailer, we function very much on quarter cycles and at the end of one quarter and beginning of another, we sit down together as a team to reflect what was and what will be. I've never shared them before in this format (they're usually scribbled on multiple sheets of paper with doodles and notes in the sidebars) but I thought it might be quite fun to share them and also bring back our much missed "Gazette" we sent out periodically quite some time ago. 
April comes with sudden showers,
Chilling winds and sunny hours.
April comes with growing green
On the trees still winter-lean.

Thoughts & Ponderings for Spring
Are you a builder or a gardener? You've heard the quote, without the rain there can be no flowers... what does this mean for us? We'll reflect on new beginnings, and new growth. Fresh start. Rebirth. Spring cleaning. The joy of flowers. The joy of gardening! Tending and caring for yourself and for others so you can blossom and grow. How do we cultivate good soil both for our souls and our gardens?
You reap what you sow, what does this mean for each of us and how do we take note of our current actions and the outcomes in the future of our present attentions? How do we go about preparing our homes and our hearts for changes and new growth? In this Spring Season, we are exploring the themes above and asking ourselves these questions and how we can share and tell stories centered around our Spring thoughts and musings with our community. 
Is Thou A Builder or a Gardener?
"In life, a person can take one of two attitudes: to build or to plant. The builders might take years over their tasks, but one day, they finish what they're doing. Then they find that they're hemmed in by their own walls. Life loses its meaning when the building stops.

Then there are those who plant. They endure storms and all the vicissitudes of the seasons, and they rarely rest. But unlike a building, a garden never stops growing. And while it requires the gardener's constant attention, it also allows life for the gardener to be a great adventure.

Gardeners always recognize each other, because they know that in the history of each plant lies the growth of the whole World." ~ P. Coelho
The Garden: A Metaphor For Life
The most well known garden metaphor is "You reap what you sow" meaning what "seeds" you plant and give your attention in the present will grow roots and you will face the consequences of your actions in the future. 
Later in this season will be doing more reflection on this verse and how to "test our soil" both figuratively (with our hearts) and literally (actually testing soil!). How to improve our "soil" by taking into account where we are at in life and where we want to go. One must have a plan and a direction if one expects to get anywhere in life, but you cannot begin a plan without first being aware of where you are. 
In an effort to "Spring Clean" our hearts, souls, and homes, we will be taking stock of what is no longer serving us. It could be old linens. It could be friends that constantly cancel plans. It could be a bad habit we don't realize has become a bit too addictive. How do we create healthy boundaries, a "fence around our garden" if we don't know where to place them? 
We hope to highlight and feature more of our Adored Vintage community especially all of our Mothers and start a conversation about finding our paths back to ourselves a topic that my friends who are mothers have or are struggling with. I think this is a theme that even if you are not a Mother, you can relate to this feeling. It's odd because there is a metaphor called "lead down the garden path" which actually has a negative connotation because in this sense the garden path is deceptive and misleading, in other words, a distraction. Shall we explore this further and talk more about what are "our garden paths", the tricksy kind that is and how do we recognize when we're not walking our true path anymore? We will be sharing some journal prompts in upcoming entries so you can carve out some time for yourself in the next few weeks to think and muse upon these ideas and questions.
Spring Inspirations
Spring is such a joyous season because the gardens of the world reawaken with renewed vigor! The days are longer and warmer. Out of storage comes our beloved floral dresses, billowy white blouses, and lightweight knits for early dewy mornings and cool evenings. 
Of Yesteryear... In this Spring season we will be learning more about the history of greenhouses with a focus on the Victorian era when greenhouses and terrariums were all the rage! Sentiment of Flowers... We will also be exploring seasonal floral language meanings for April, May, and June and what one should plant and prepare in their gardens this season for Summer and Autumn blooms. Le Fleuriste We will be showing you how to craft flower crowns using fresh and dried blossoms perfect for wearing to your next outdoor soiree. 
Our seasonal colors are soft yellows, pale blues, and muted lilacs and violets so expect to see many of these colors featured in upcoming shop updates. 
We hope you are looking forward to this new quarter and season with us!  For us, Adored Vintage is so much more than just an online clothing shop... we endeavor to be that cozy nook that you can revisit again and again and always discover something new to delight and inspire you. We invite you to stay awhile, to linger, to feel welcomed and make yourself at home here. 
- CHIME IN -
If you have ideas to add to our Spring themes or just want to say you appreciated this post and found it thought provoking, do let us know by commenting below! We love reading your comments!
(3 comments)
Through our stories, imagery, and products we offer, our hope at Adored Vintage is to inspire you live life a bit slower, to celebrate the everyday ordinaries, and to live the life you have always imagined. If our posts resonated with you or you found them inspiring or useful, won't you leave us a comment below? We love knowing you and want to foster connection. Collection 2019 Sale 70% Off Title for image