Ribbons of Promises To Oneself
Posted by RODELLEE BAS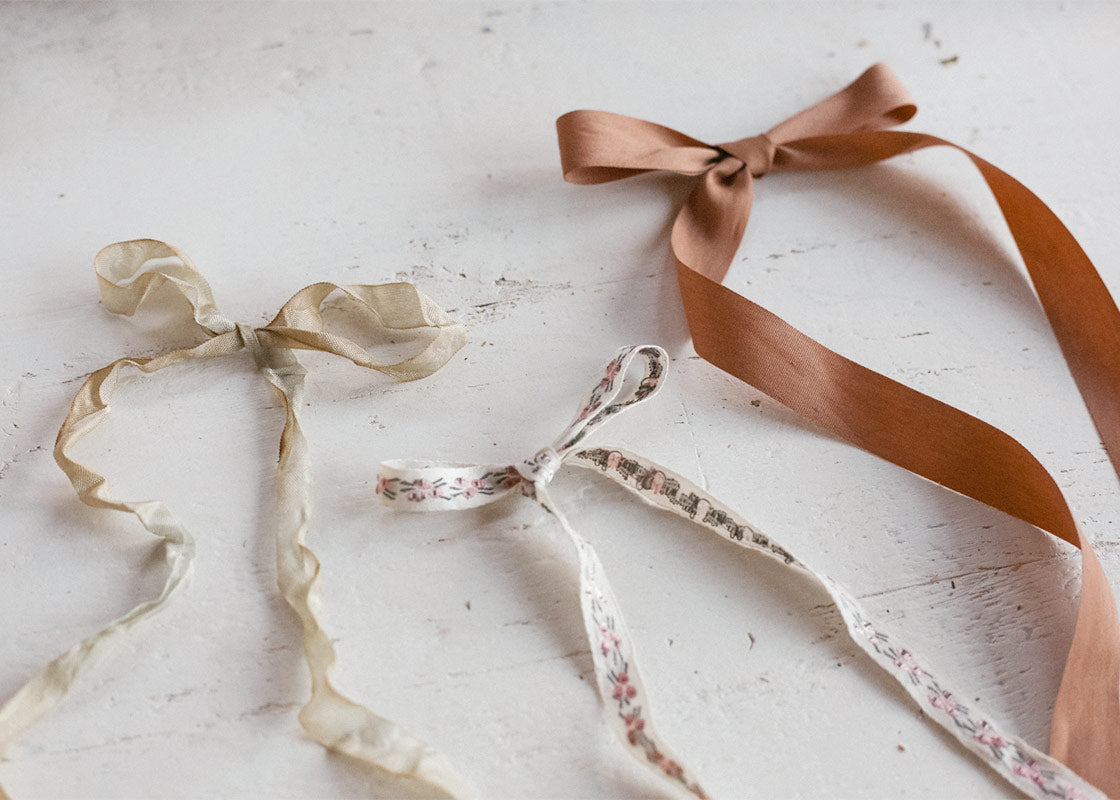 At the start of a brand new year I spend a great deal of time thinking about how I may improve myself this year. I stopped making New Year's Resolutions about a decade ago (that blog post exists somewhere in the internet still, I am sure) and instead hold steadfast to Henry David Thoreau's quote, "Live the life you have always imagined."
During the early months of quarantine, I had watched a documentary film on Tasha Tudor called "Take Joy! The Magical World of Tasha Tudor" and imagine my delight when she herself admitted to living by those same words by Henry David Thoreau! I took it as one of those cosmic signs that all was or would be well in the world. 
An Invitation To Promise
And so, dear friend, I invite you to continue reading and embark upon the rest of this month or here thereafter, whichever pleases you, to make 3 promises to yourself that will ensure you are living that life you imagine for yourself or at least heading in that direction.
"...to make a ribbon promise means to be truly honest with yourself and your abilities, willpower, and self control and being clear on your intention for your promise"
The whole Adored Vintage team and I shared our 3 promises with one another when we met again this week after holiday break and it lead to some heartfelt conversations about self care and what that means for each of us. It also lead to more meaningful conversations and getting to know one another better as you cannot make genuine promises to yourself that you hope to keep if you are not truly honest with where you are in life and how you show up for yourself.
Different from making New Years Resolutions (which 80% lead to failure), a ribbon promise should be small and simple and related to one of your goals for the year. Making a bold resolution to be "Healthy This Year!" is all fine and well, but let's be honest, if you were not living a healthy life in 2020, it's doubtful you'll do a 180 in 2021. I'm not saying it isn't POSSIBLE, but to make a ribbon promise means to be truly honest with yourself and your abilities, willpower, and self control and being clear on your intention for your promise. 
...but rather, a ribbon promise is one singular simple promise you will keep to yourself to take that small step forward..."
So let's say perhaps your goal IS to be the healthiest version of yourself for 2021. Remember, you have ALL YEAR. And this isn't to say you can just start your new healthy habits (or attempts at them) later this November...but rather, a ribbon promise is one singular simple promise you will keep to yourself to take that small step forward towards the healthier you, whatever that means for you. 
You want to make promises that set you up to succeed! Small promises that turn into good habits. Small promises that bring joy. The reason most New Years Resolutions fail (80% of them do according to studies) is because they're too big. Successfully attaining your goals means creating new (good) habits and breaking old (bad) habits.
Do mind your language dear.
When you decide on your promises, reflect on them in a positive way and do mind your language and how you speak your promises! Instead of saying "I promise to not eat pastries and cake for the entire month of January" (which if you're anything like me, the mere voicing of denying myself any sort of confection makes me want it all the more, so I will utterly fail within a week) say this instead "I promise to treat myself to a pastry just once a week in January." Now your language is no longer taking away but rather something to look forward to! Instead of depriving yourself pastries all month, you're promising to give yourself a treat once a week! Hooray!
Les Femmes Adored Chimes In
One of the gals at the office, Christine, wants to focus on her health for 2021. So after some conversation she made the simple promise of drinking one glass of water with her morning coffee everyday in January. 
Hannah's goals for 2021 were not quite as linear, but after a heart felt chat, we encouraged her to promise to watch her language and how she speaks to herself when she feels she feels she's fallen off the bandwagon. Instead of saying "I'm not going to order take out this month!", she will say "I get to try a new recipe this week!" 
One of Ellie's promises is to dedicate an hour a week to create art and not judge herself and her work so much. 
And of course there are my promises! I have made three promises and each one I assigned to each of the ribbons above. And because we are friends I will share with you all three of my promises. 
Rodellee's Ribbons of Promises for January

I promise to dedicate 15 minutes a day to my mind, body, or spirit.

I promise to pick up/put away 2 things every time I leave a room.

I promise to meal plan for all of January
My first promise relates to my goal of self care in the physical, mental, and spiritual senses. My second promise relates to my goal to have a tidier house. And my third promise relates to wanting to save more money by not getting take out food so much (though I would like to add we were ordering so much takeout to support small business restaurants! But after looking at our bank statements and tallying up how much we spent on take out in 2020... well, one would nearly faint)
So dear friend and reader, do have a think about the three promises you will keep to yourself this month. Grab a few ribbons or strings or twine, whatever you have on hand. Cut them them into three equal lengths, and then tie them into bows after you've said out loud what three promise you will keep to yourself this month in pursuit of a happier, better, lovelier, you.
Through our stories, imagery, and products we offer, our hope at Adored Vintage is to inspire you live life a bit slower, to celebrate the everyday ordinaries, and to live the life you have always imagined. If our posts resonated with you or you found them inspiring or useful, won't you leave us a comment below? We love knowing you and want to foster connection. Collection 2019 Sale 70% Off Title for image