Creating A Woodland Meadow Indoors
Posted by ADORED VINTAGE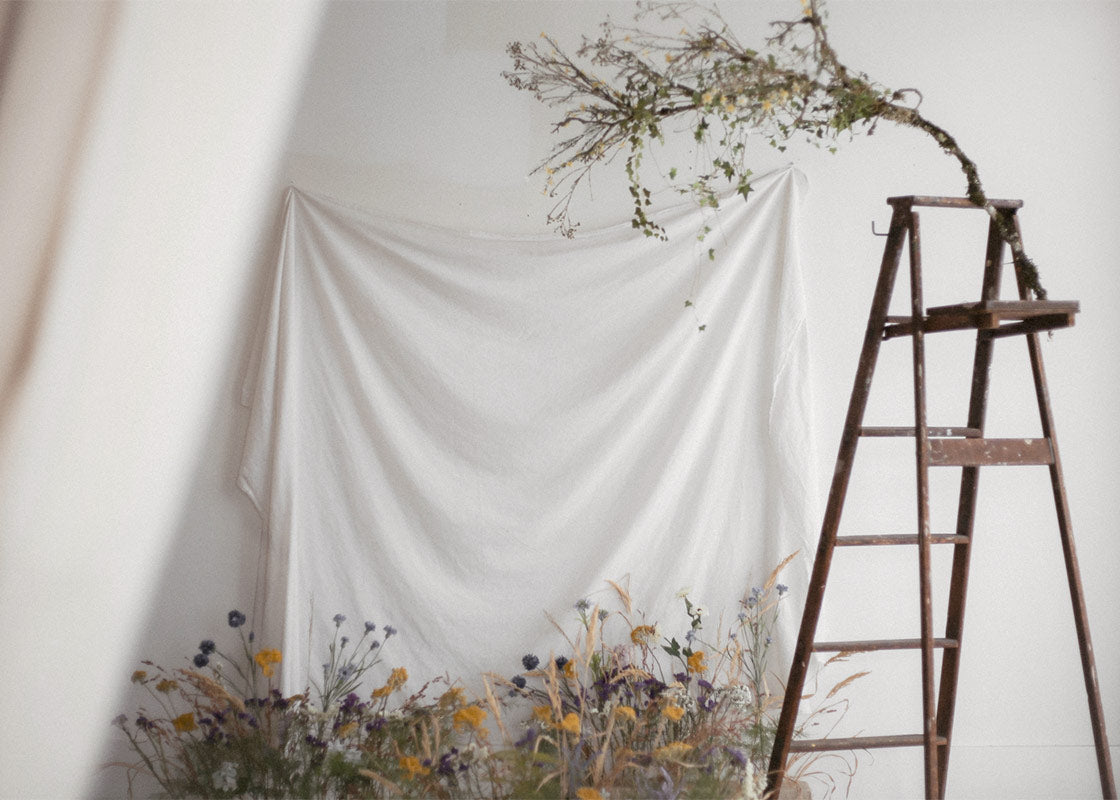 It is no secret that we love flowers here at Adored Vintage and due to a recent winter snow storm and seemingly endless weeks of rain to follow, we have been really craving Springtime blooms and blue skies and just a bit of sunshine in our lives. 
Since we couldn't shoot outdoors due to the weather, we decided to create our own woodland meadow for our mini lookbook photoshoot with our model Bailey last week. 
For the "Meadow"
We used a combination of dried flowers and silk flowers to create the meadow using long foam pieces that are held up by a thin black tray. We get our supplies from a florist supply wholesale market here in Portland, so I am not sure if the same materials would be available at your local craft store. 
For the "Woodland Branch"
I was gifted this beautiful moss covered branch by a shop friend of mine who sadly is closing her shop due to Covid-19. Hannah attached silk blooms and dried flowers and faux ivy greens (though I realized I have SO MUCH ivy growing in front of my house, I should have brought it!) with thin florist wire to the branch.
Putting It All Together
The "Meadow" pieces were easily moveable and adjustable during our shoot because they were on the black trays. We attached the branch on one of our vintage ladders in the studio mostly because we needed a way to bring the branch up higher than our model, but then actually found we liked how the set look with the vintage ladder in the photos. Initially I was just going to shoot the photos with the ladder out of frame or we were going to suspend the branch from one of the beams in the ceiling. But it all worked out and our test model (Redford) approved of the entire set. He even asked if he could put on a little crown of flowers so he could really "get into character", I swear, that guy. So extra. Here is a sneak peek from our mini lookbook shoot with Bailey! We loved how our indoor woodland meadow turned out!
Comments (1 comment)
Through our stories, imagery, and products we offer, our hope at Adored Vintage is to inspire you live life a bit slower, to celebrate the everyday ordinaries, and to live the life you have always imagined. If our posts resonated with you or you found them inspiring or useful, won't you leave us a comment below? We love knowing you and want to foster connection. Collection 2019 Sale 70% Off Title for image