Muse: Victorian Era Illustrator Kate Greenaway
Posted by RODELLEE BAS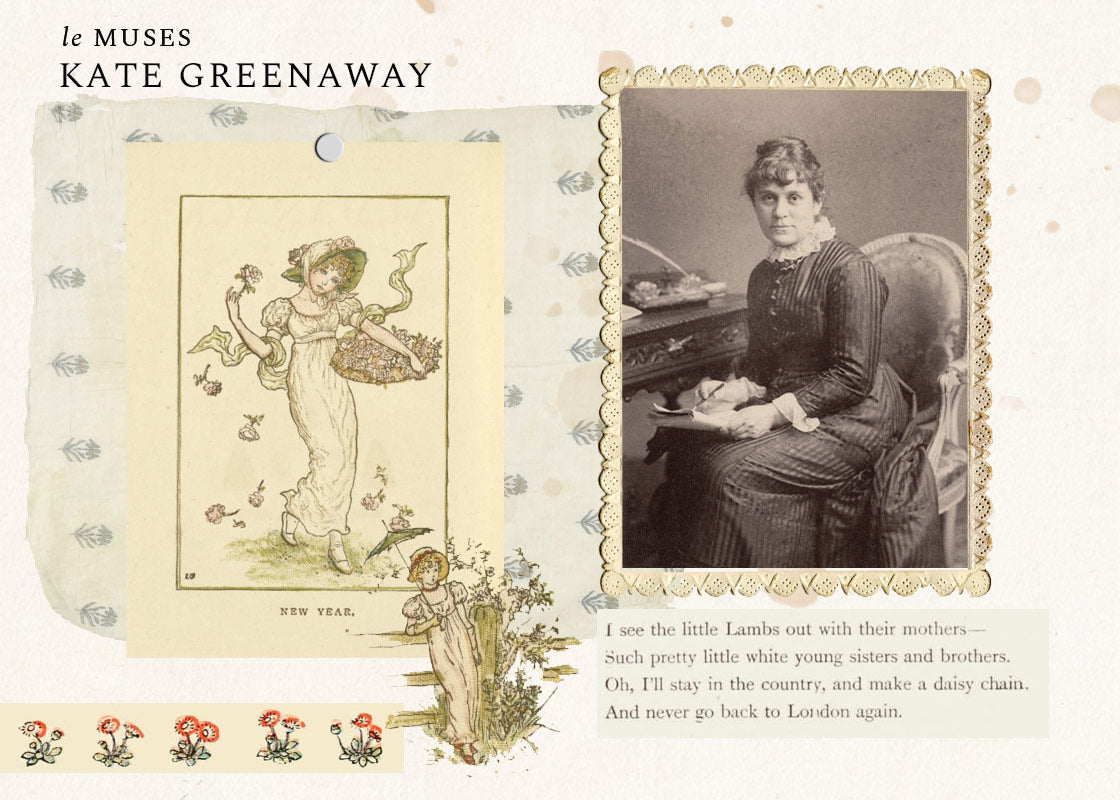 Spring will soon be upon us dear friends and of course this has me thinking several times a day about flowers. Perhaps because all the seasonal blooms in Portland are sprouting out of the ground to meet the sun!
I am looking forward to February's first blooms of crocuses, snowdrops, camelias, hellebores, wild narcissis, daffodils, and the intoxicating sweet scent of daphne... 
A few years ago, I was absolutely delighted to come across the work of British illustrator Kate Greenaway  who had a thriving illustration business during the Victorian Era and who mostly became known for depicting her subjects in early 18th century garments. A Victorian gal inspired by the likes of Jane Eyre, or rather Regency style! Isn't that just delightful?!?
I love coming across artists in history who were very clearly inspired by another era other than their own. Perhaps because I always look to the past for inspiration that I feel such a kinship to these artists. What I adore about Kate Greenaway's work is that while she was inspired by a different era,
she didn't try to replicate it exactly and instead took the notes of inspiration and made them entirely her own. 
I adore her use of color and her color palettes I am forever inspired by. I adore how she illustrates flowers and especially the tiny little blossoms she illustrates into frames around her subject and also the way the garments seem to appear as if her subjects were just caught in a brisk Spring or Autumn wind. Her work has hints of art nouveau, but only just a bit which I adore. Sometimes too much art nouveau can be a bit too gaudy, for me personally anyway. 
A Special Talent in... Dainty Colours
Kate Greenaway first got her start illustrating greeting cards! During the Victorian era, greeting cards became a HUGE industry and Kate's freelance work with Marcus Ward & Co, a prominent publishing company known for illustrated books and greeting cards, were very well received and it was said that "her special talent was in the direction of costume figures and dainty colours..." and some of her valentine's day card illustrations would sell 25,000 copies in a week! Can you imagine selling 25,000 copies of your illustrations every week? 
Nostalgia for the Country
Kate lived in London and as you can imagine, Victorian era London was noisy, busy, and dirty. Her father was a draughtsman and received a large new commission to work on engravings for a new edition of The Pickwick Papers, a novel by Charles Dickens. He sent Kate and her mother to live in the countryside (with Dear Ole Mum's family) while Dear Ole Dad stayed in London to work in solitude. Sadly, the company that had hired Kate's father went bankrupt and so the family became nearly penniless. However the time spent in the countryside was formidable for Kate's young years and she would often recall such fond memories of the countryside as "...she felt it to be her real home, a country of the mind that she could always reimagine." (I feel ya Kate!)
Influence on Fashion
Kate's mother was a seamstress and after the engraving commission fiasco, she opened up a dress and millinery shop in Islington and the family lived above it (Kate was an only child). There was a little garden in the back where Kate could often be found spending hours admiring and studying all the flowers and having little moments of solitude. Le sigh, this sounds like a dream to me, I want to live above my shop and have a garden in the back! Also, Dear ghost of Kate Greenaway, you are an AV Girl through and through if there ever was one!
Perhaps it was because Kate's mother was a seamstress that she paid such close attention to the details of the garments her subjects wore. Her decision to depict children and adults in Regency inspired clothing really influenced the fashion of her time and mothers (in higher society circles) started to dress their children in "Kate Greenaway Fashions" and even the famed Liberty of London came out with a collection inspired by Miss Greenway.
I mean, how MODERN does that sound? An illustrator influences fashion trends and does a collaboration with a hugely known brand? Sounds a lot like what's happening in our current times. Ahhh, I adore coming across stories and tidbits of history like these because it reminds me we are not so different so apart from one another even in the threads of time. 
Further Reading
If you would like to find out much more about Victorian illustrator Kate Greenaway, do visit Illustration History / Kate Greenaway and the International League of Antiquarian Booksellers. I had so much fun researching Kate and spending hours pouring over her illustrations many of which are now part of the Public Domain, so a quick and simple search will afford you many more examples of her work!
- F I N -
le MUSES articles feature inspiring women from history and modern day who capture the essence of Adored Vintage's favorite quote, "Live the life you always imagined" (Thoreau). We love to research and share information about women who have paved the way to living truest to oneself... independent, creative, driven, daring, unconventional, and timelessly beautiful.
Through our stories, imagery, and products we offer, our hope at Adored Vintage is to inspire you live life a bit slower, to celebrate the everyday ordinaries, and to live the life you have always imagined. If our posts resonated with you or you found them inspiring or useful, won't you leave us a comment below? We love knowing you and want to foster connection. Collection 2019 Sale 70% Off Title for image