Pleasure Gardens of the Old World
Posted by ADORED VINTAGE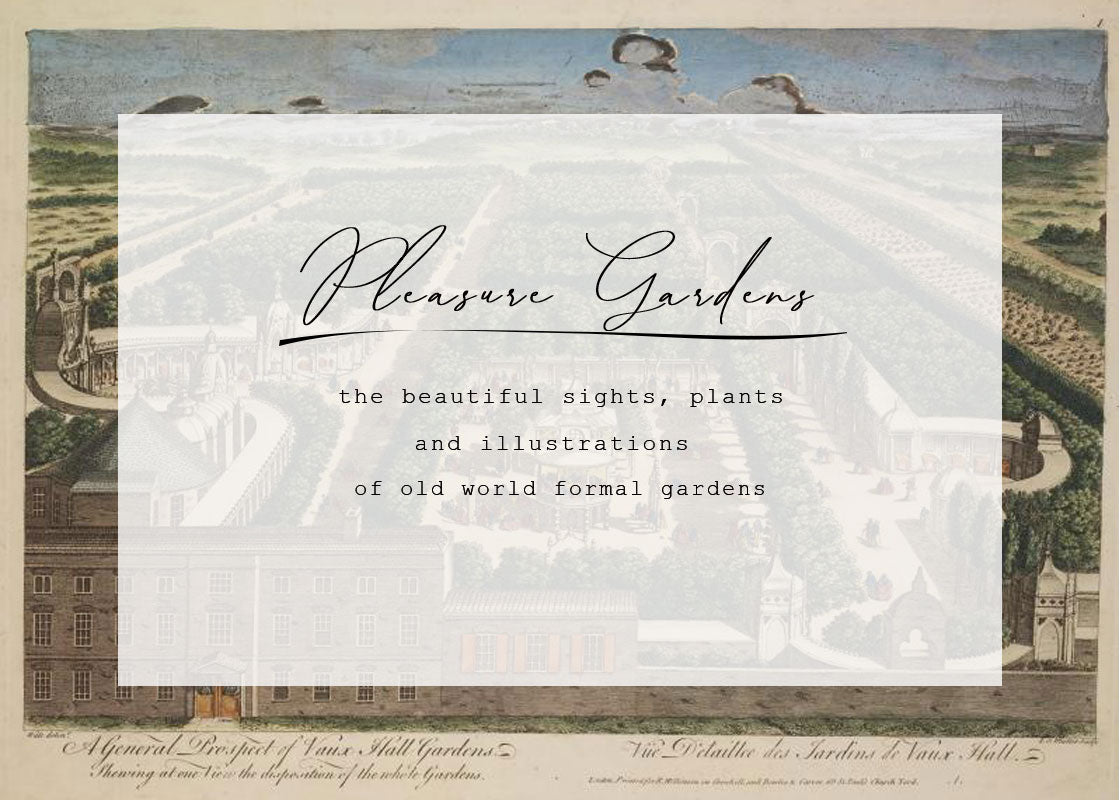 A pleasure garden, in essence, is a place dedicated to the enjoyment of aesthetic beauty. Since ancient Rome, humans have understood the importance of experiencing nature and it's inherent link to one's health and happiness. The installment, or at simply preservation, of public parks in towns and cities has been a public need for many a millennia, though the celebration of the "pleasure garden" didn't see its full fruition until the 18th and 19th centuries. 
During this time, the aristocracy throughout Europe luxuriated in their soaring wealth by designing elaborately planned, man-made gardens around the palaces, manors, villas and castles in which many of them lived. Simply for the pleasure of it! Well, and also to show off to the other aristocrats just how much money they had. Just imagine....even a lord or lady who owned 100 of acres of land and worked it into arable soil for produce and agriculture still clearly displayed a need to work for one's income. To have so much wealth that you can dedicate miles of property simply to the beauty and pleasure of intricately designed hedges and splashing fountains...now that is a very different level!
Take a look through these photos we've put together of some of Europe's most beautiful pleasure gardens. Doesn't it just make you daydream of strolling around these beautiful parks on a cool and sunny morning in a floral dress and basket purse in hand, ready to picnic? We can't wait for warmer days when we can live out these wishes!
Palais de Versailles
Les Faits (the facts):
It started out as a humble, stone hunting lodge conveniently situated among forested land. In 1631, King Louis XIII renovated it to suit royals as a getaway lodge. About 50 years later, in 1682, his son and successor King Louis XIV moved the aristocracy of the day into this palace, laying claim to it as the official Royal seat of France. 
When King Louis XVI, Marie Antoinette were the last royal family to live in Versailles. The Royal couple and their children were threatened by the angry public of the revolution to leave the safety of their palace and come to Paris to confront answer to the unfair prices of daily necessities, never to return (1793). 
It became a museum for the public in 1833, about 30 years after the French revolution came to an end. Since the 1830s, the palace has undergone subtle renovations to restore it to its prior glory, though much of the original furniture and paintings were sold to private collectors and museums after the fall of the the King and Queen. 
Belvedere Palace
Les Faits:
Built in 1717 as a summer home to Prince Eugene of Savoy
The building houses one of the world's most extensive and large collection of Gustav Klimt's works. 
Made up of the Upper Belvedere, the Lower Belvedere and the gardens. 
Les Faits:
Built in the 18th century as a gift to from Queen Anne to John Churchill, a military commander, for his victory in the Battle of Blenheim in 1704.
Known as "the real Downtown Abbey"
The birthplace of Winston Churchill
The only non-royal, non-episcopal building in England with the title of "Palace"
Paleis Het Loo 
Les Faits:
The symmetrical, 17th century garden and surrounding park encompasses almost 40 square miles
Dubbed "The Versailles of Holland"
William III of England had this property built to distinguish his and wife, Princess Mary Stuart to exemplify their new royal and wealthy status.
What to Wear to A Pleasure Garden
Now that you have the imagery to spark all sorts of fantastic day dreams strolling among statues and carved hedges in the England countryside, allow us to help you figure out the appropriate wardrobe! 
As you'll probably find yourself among bright green grass and colorful spring flowers, one ought to choose something a bit more subdued to compliment the scenery instead of clashing with it.
We love the pairing of a sweet white Edwardian inspired (or actual vintage) camisole top and a timelessly feminine a-line midi skirt. If you want to elevate the formality just a tad, choose a vintage inspired dress that is comfortable and classic, like a cotton wrap dress or muted floral button down. Make sure to choose something with pockets as you'll most likely be tempted to take home a keepsake pebble or flower to press in your journal when you return home! (Just make sure you know the rules of flower picking ahead of time)
Add a straw hat, a little neck scarf and a leather shoulder bag for collecting treasures.
Bonus Reading Material
If you liked this article, please say so in the comments below! Or if you have any extra fun facts to add, anecdotes about visiting any of these gardens, we would love to hear from you. 
You might also like some of our flower-focused articles, like...
Through our stories, imagery, and products we offer, our hope at Adored Vintage is to inspire you live life a bit slower, to celebrate the everyday ordinaries, and to live the life you have always imagined. If our posts resonated with you or you found them inspiring or useful, won't you leave us a comment below? We love knowing you and want to foster connection. Collection 2019 Sale 70% Off Title for image