On Contentedness and Gratitude
Posted by RODELLEE BAS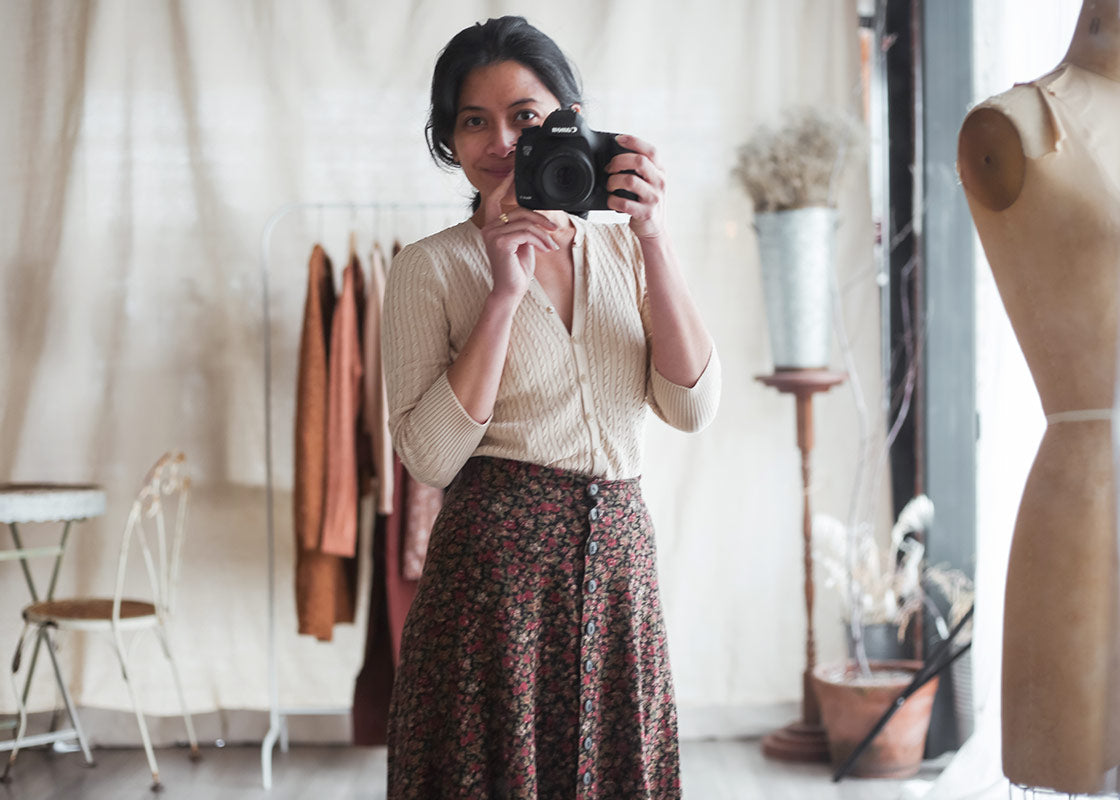 Most could agree that 2020 has been a year where so much loss has happened, though I have found myself being reminded more and more of how much I have in this world to be grateful for especially during the past few days where I took a REAL break from the world of Adored Vintage.
At the beginning of every year I always choose a word that carries my hopes and expectations for 2020. I had chosen "Contentedness" as my word and had made a simple mood board of what this meant to me. A sparsely decorated room with curtains blowing in the breeze, a photo of hands kneading bread, a black and white photo of Audrey Hepburn sipping coffee outdoors and reading at home, a photo of a couple eating under an arch of string lights...
Simple things. Quiet things. Contentedness things.
What does it mean to be content? To be truly happy with all you have? To be grateful for everyday, every moment, for the challenges, the triumphs, the loses, the wins?
Sometimes I look at myself in the mirror and see a reflection of a woman that has a childlike spirit and an old soul. It sometimes gets confusing. Most often I look at myself and think "You are so very, very lucky." My mother in law once told someone that I'm one of the most grateful persons she has ever met. Maybe in a past life I did enough good things to warrant this life's rewards. Simple as they may be to some. 
Perhaps I am so grateful because, well, as sensitive and deeply personal of a topic this is, I know I'm not suppose to be living and breathing on this Earth. Maybe this is why I am constantly in awe and grateful to witness how the sky looks when it is ablazed in violets and corals at sunset, how dew glimmers in the sun like polished diamond orbs, how light dances in our living room because of a playful breeze in the trees... 
Perhaps I am grateful because many moons ago, my Mother, at 22, decided to keep her unborn baby despite the shame it brought to her family and ultimately being cast out. That I was given a chance to live. It is sobering, humbling, and grounding. 
I know this post is a bit heavier than some of my other posts, but I wanted to share some of my heart and what has been on my mind the past week since I find I'm always more in deep thought this time of year than any other time. I hope in this season you are able to spend time reflecting on the good that you DO have in your life. There IS good, even if it isn't the most apparent to you. 
Count your blessings. Remember to be grateful. Be kind always. It costs you nothing to be kind and your kindness may be priceless for someone else. 
(3 comments)
Through our stories, imagery, and products we offer, our hope at Adored Vintage is to inspire you live life a bit slower, to celebrate the everyday ordinaries, and to live the life you have always imagined. If our posts resonated with you or you found them inspiring or useful, won't you leave us a comment below? We love knowing you and want to foster connection. Collection 2019 Sale 70% Off Title for image