Outfit Ideas for Late Summer
Posted by ADORED VINTAGE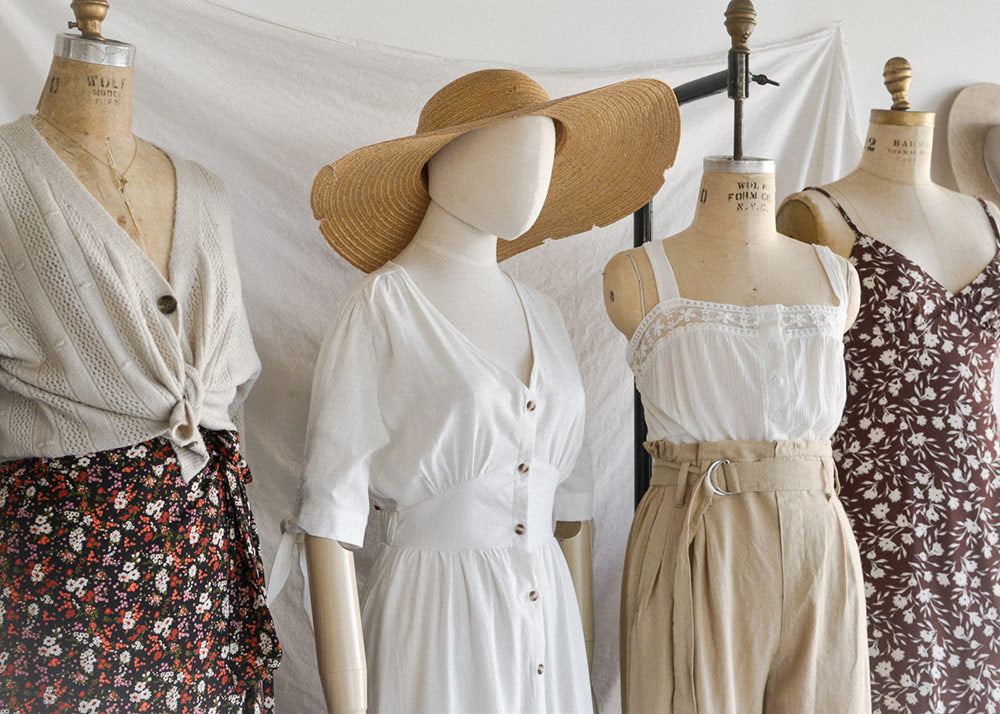 In August I find myself always drawn to mauves, muted pinks, and soft rusts to accent the whites and creams in my wardrobe and I feel this is quite an August color scheme. When I am making decisions for what to bring into the shop, I tend to select items based on my mood or whatever has been inspiring me the past couple of weeks. All the modern clothes in the shop are hand selected by yours truly and I am quite selective as to what I bring into Adored Vintage. I like building color stories and themes when I am purchasing vintage inspired garments as this is how I would do shop updates when I only sold antique and vintage clothing here at AV. 
Sometimes, you just can't teach an old dog new tricks and I'm definitely aging. But in a good way, I hope! I've tried to be a little less controlled about how I do shop updates, I've tried just listing things willy nilly with no color scheme in mind and I find that I'm just never quite as inspired with that process. It feels disorganized and haphazard and I don't like that. Perhaps you don't notice as much as I do, haha! And so I stick to my little methods and a system that works for me and my little shop to this dress brings a lot of joy and fulfillment. 
Anyhow, I'm prattling on... this post is all about these pretty and feminine vintage inspired outfit ideas for late summer! The two outfits on the right (brown floral midi sundress and camisole and slacks) can easily be layered with a cropped cardigan or a duster cardigan for when the weather cools down. What I adore about all these pieces is that you could wear every piece well into early October (that is if you don't mind wearing white after Labor Day) and then wear them again come next Summer.
I try to find pieces for the shop where you feel you really get your money's worth. Pieces in timeless and feminine silhouettes, in colors that outlast trends, and details that are classic and inspired by vintage so you can wear them year after year and for different occasions. It's why the clothes you'll find at Adored Vintage will never be too bold, they're never too much of a statement piece, and there's never too much fluff or too many trendy details. It is a lot of work to source each of these pieces, but it is also an absolute joy for me to do this work to offer you new garments every week that you will get so much wear out of and be enjoyed for years to come.
Through our stories, imagery, and products we offer, our hope at Adored Vintage is to inspire you live life a bit slower, to celebrate the everyday ordinaries, and to live the life you have always imagined. If our posts resonated with you or you found them inspiring or useful, won't you leave us a comment below? We love knowing you and want to foster connection. Collection 2019 Sale 70% Off Title for image