Wardrobe Stories / Chapter 4
Posted by ADORED VINTAGE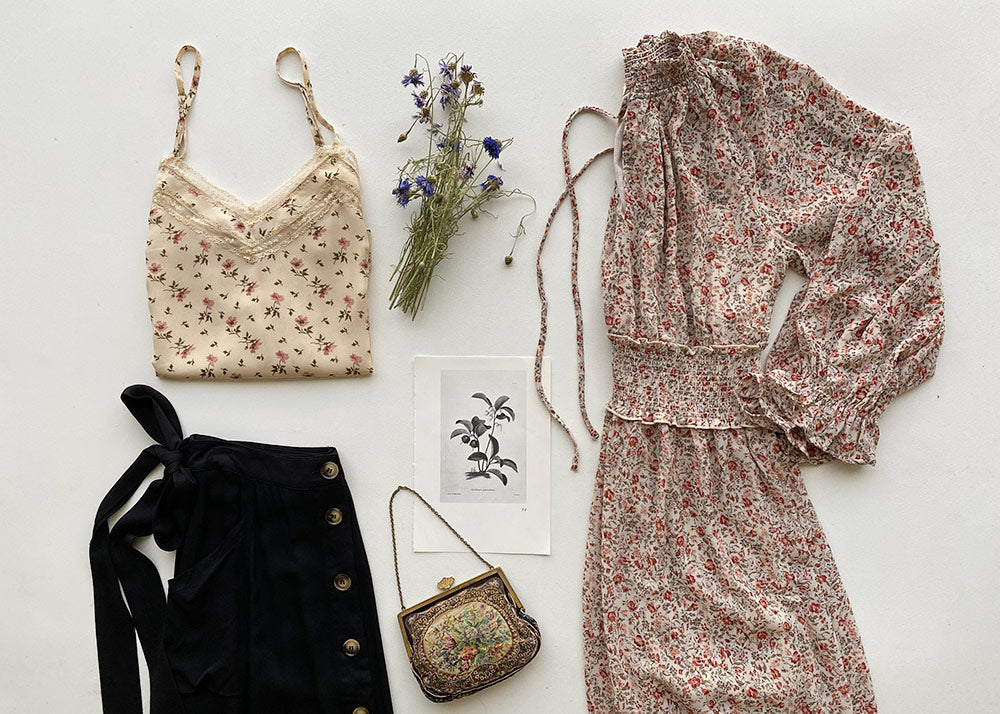 Sylvie dropped her small suitcase in the hall, the soft thud of the leather case lightly echoed along the wallpapered walls. She let out a soft sigh mingled with hope and grief as she glanced around her new home. New in some ways, though familiar in many ways. 
Mid morning light streamed in through the lace curtained windows and as Sylvie walked around the small house, the sound of running feet, a tea kettle coming to a boil, and a fire crackling at the heart wafted through her mind. Memories of a carefree and happy childhood spent at her grandmother's home in the crispness of early Autumn. 
Her grandmother's house, now hers, had fallen into disrepair in the past ten years. The wood floors creaked even louder and there were small cracks on the walls spreading like little veins. The house had sat empty for years, untouched, unloved, unnoticed.
Sylvie walked back to the front hall and retrieved a small porcelain vase from her suitcase she had carefully wrapped in her favorite floral dress. She wondered if the garden still existed and what state it would be in. As she walked through the back door, vase tucked under her arm, she ducked beneath the eaves of a very overgrown lilac tree and was met with the sight of her grandmother's garden that made her gasp. It was still exactly as she remembered it, mysteriously tended and cared for as if time had not touched it at all. 
Here at Adored Vintage it is our ardent hope that our online women's clothing boutique always has a selection of timeless, feminine, and romantic clothing and accessories inspired by vintage and stories from the past. We hope the carefully selected wares from our shop inspires you to live a life of simple attainable beauty and a life you have imagined for yourself.
This Week's Story Features...
Comments (1 comment)
Through our stories, imagery, and products we offer, our hope at Adored Vintage is to inspire you live life a bit slower, to celebrate the everyday ordinaries, and to live the life you have always imagined. If our posts resonated with you or you found them inspiring or useful, won't you leave us a comment below? We love knowing you and want to foster connection. Collection 2019 Sale 70% Off Title for image