Inspired By: Bell'occhio in San Francisco
Posted by RODELLEE BAS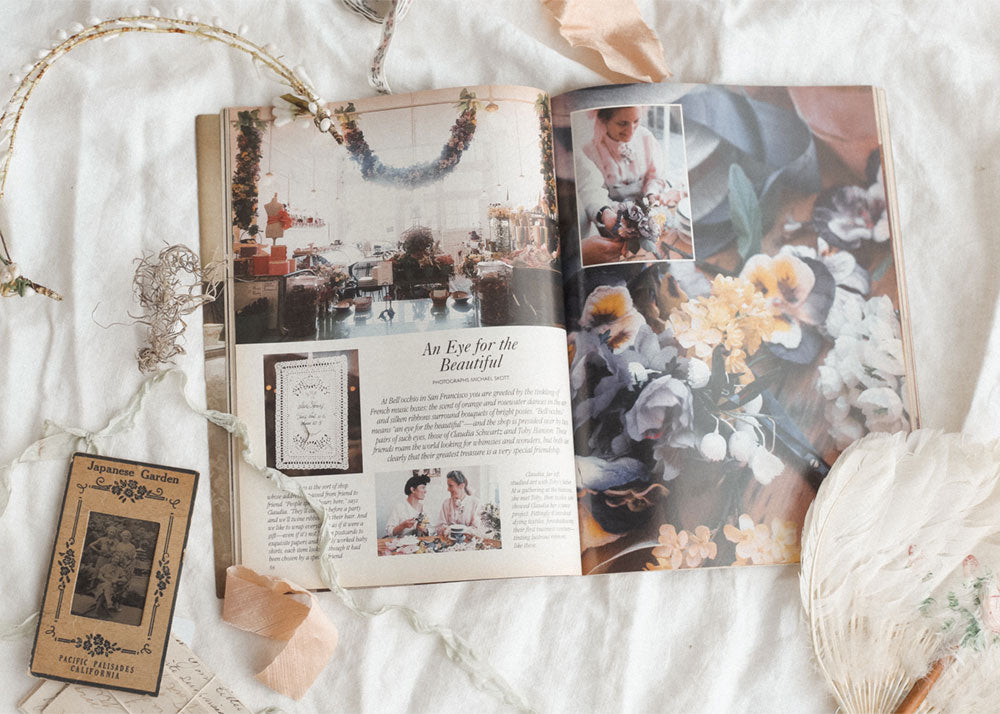 My dreams, schemes, and plans for Adored Vintage's first brick and mortar has changed quite a lot due to Covid and to be quite honest I have decided to scale back on plans for the retail shop until some time in the future (bit hard to set plans these days).
In the meantime I have been returning to searching and finding inspiration for the retail shop when we do reopen to full capacity again and with a slightly different model and concept. It all remains to be seen and at the moment the best thing I can do is just focus on the present and take it day by day, week by week. 
I was recently perusing through my collection of vintage Victoria magazines and came across one of the most beautiful shops I have ever seen grace the pages of this magazine. I remember coming across these photos of Bell'occhio in San Francisco in the September 1990 issue when I was in my dreaming phase last summer for the retail shop. It was these photos that convinced me I needed a Victorian tiered garden stand! 
I was very happy to discover that this shop STILL exists, in the same location in San Francisco and with one of the same original owners! Bell'occhio, which means "an eye for the beautiful" and I am so very excited to be able to visit this beautiful treasure trove on my next trip to the city by the bay.
Credits: All images were photographed from the September 1990 issue of Victoria magazine. Original photos were shot my Michael Skott. 
If you would like to see additional photos of this beautiful shop, this 2015 blog post on SF Girl By Bay is really lovely and you can see the shop, while very different in a lot of ways, is still the same as the photos from the 90s full of whimsy and wonder. 
(4 comments)
Through our stories, imagery, and products we offer, our hope at Adored Vintage is to inspire you live life a bit slower, to celebrate the everyday ordinaries, and to live the life you have always imagined. If our posts resonated with you or you found them inspiring or useful, won't you leave us a comment below? We love knowing you and want to foster connection. Collection 2019 Sale 70% Off Title for image