The Florenzia Dress - Atèlette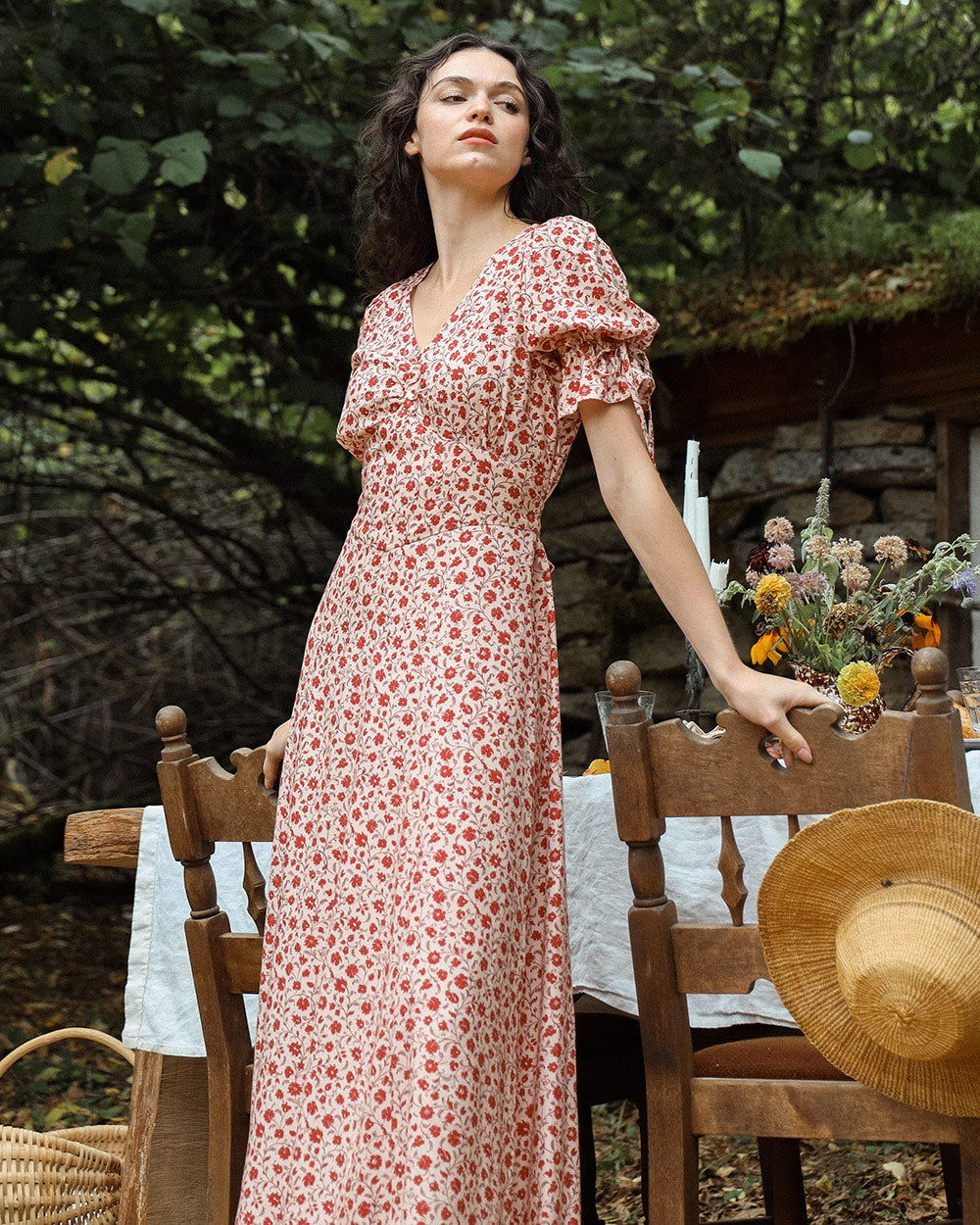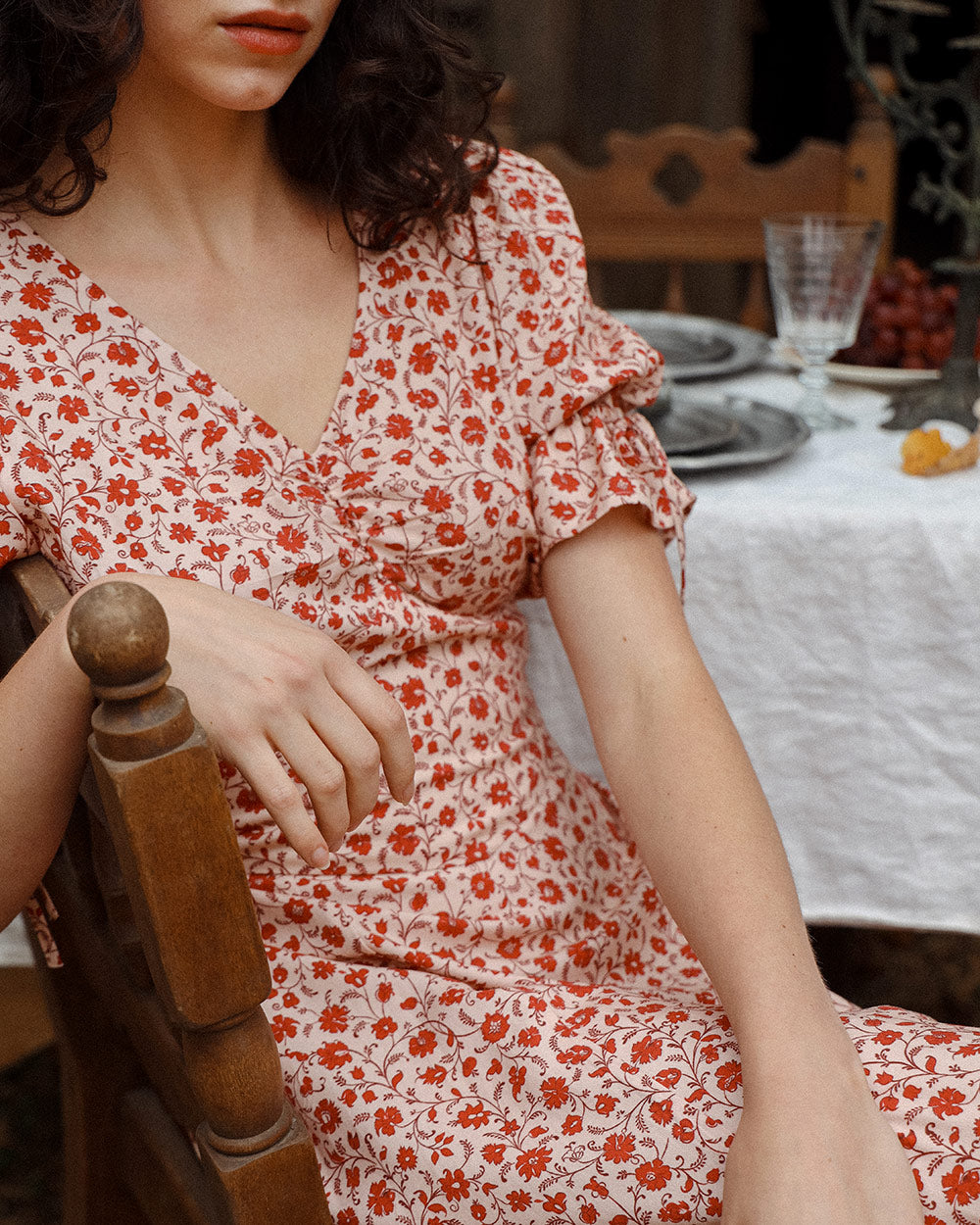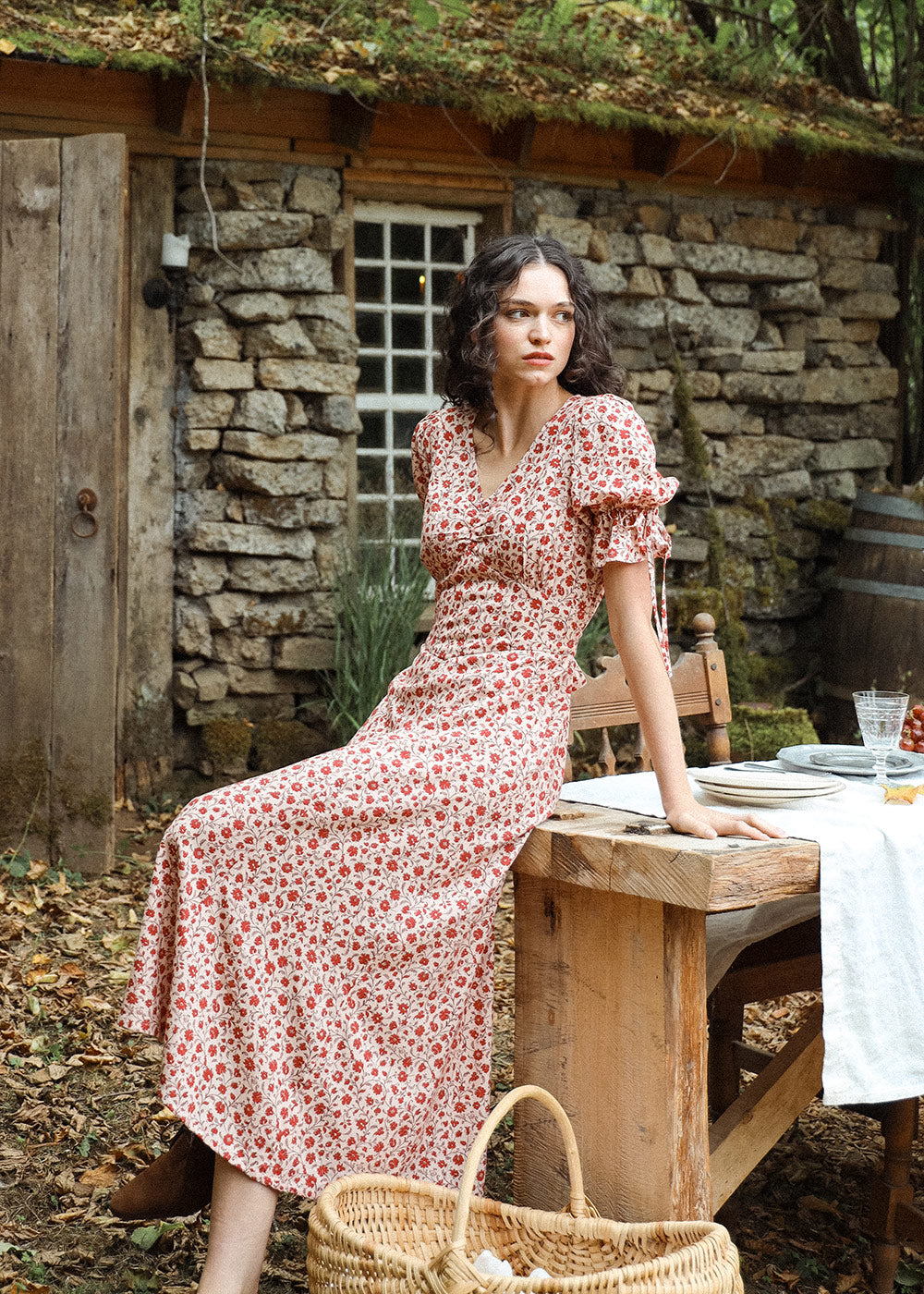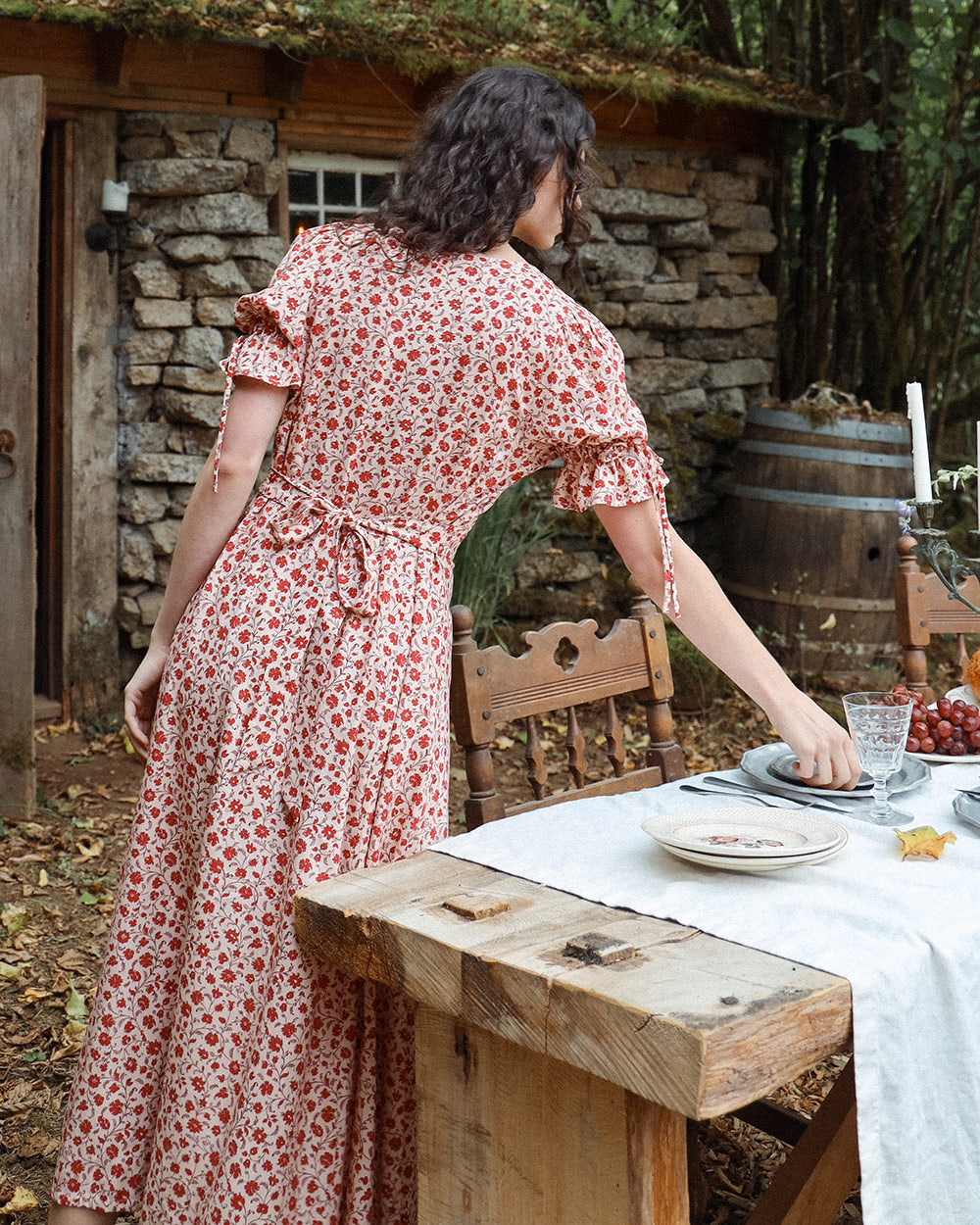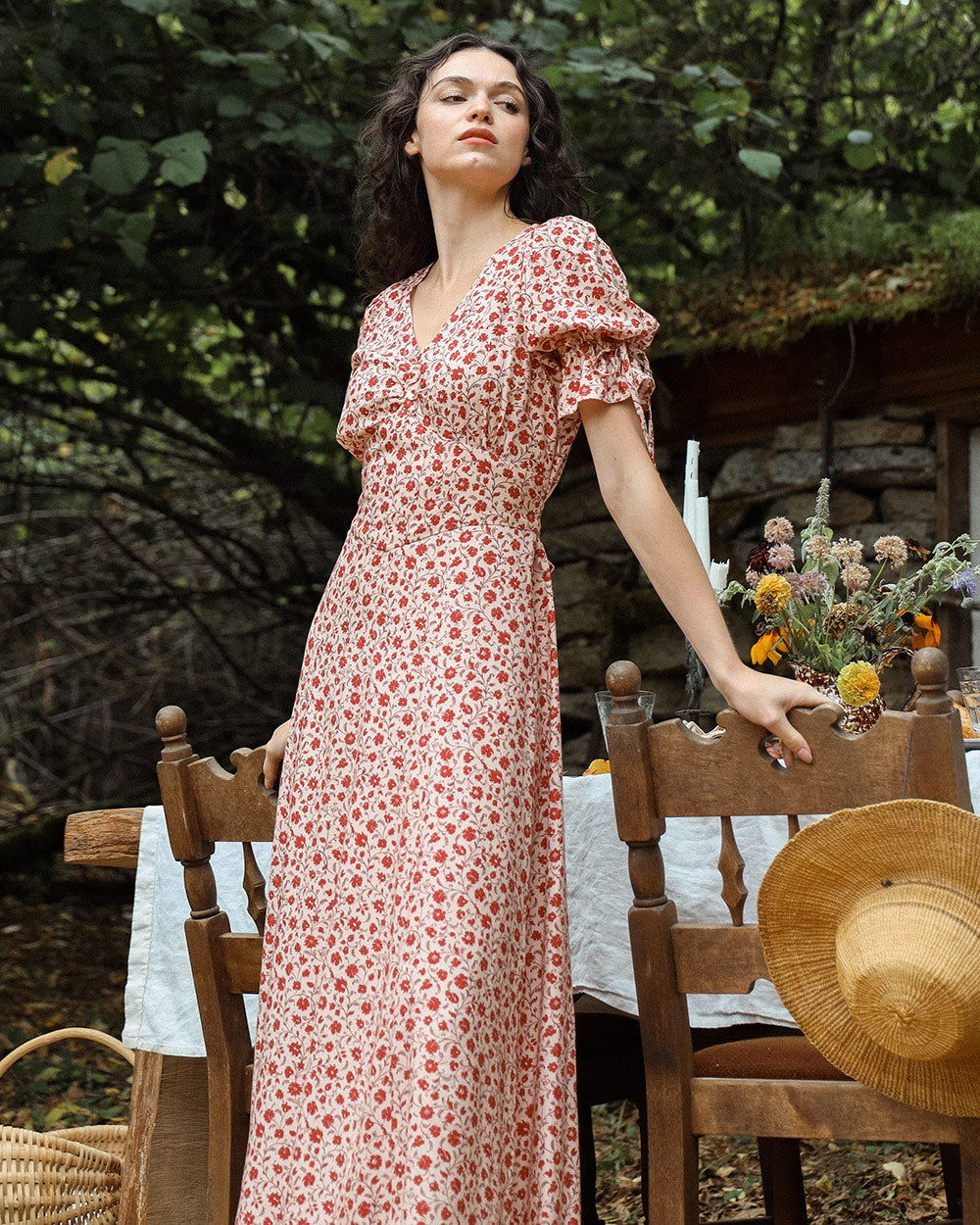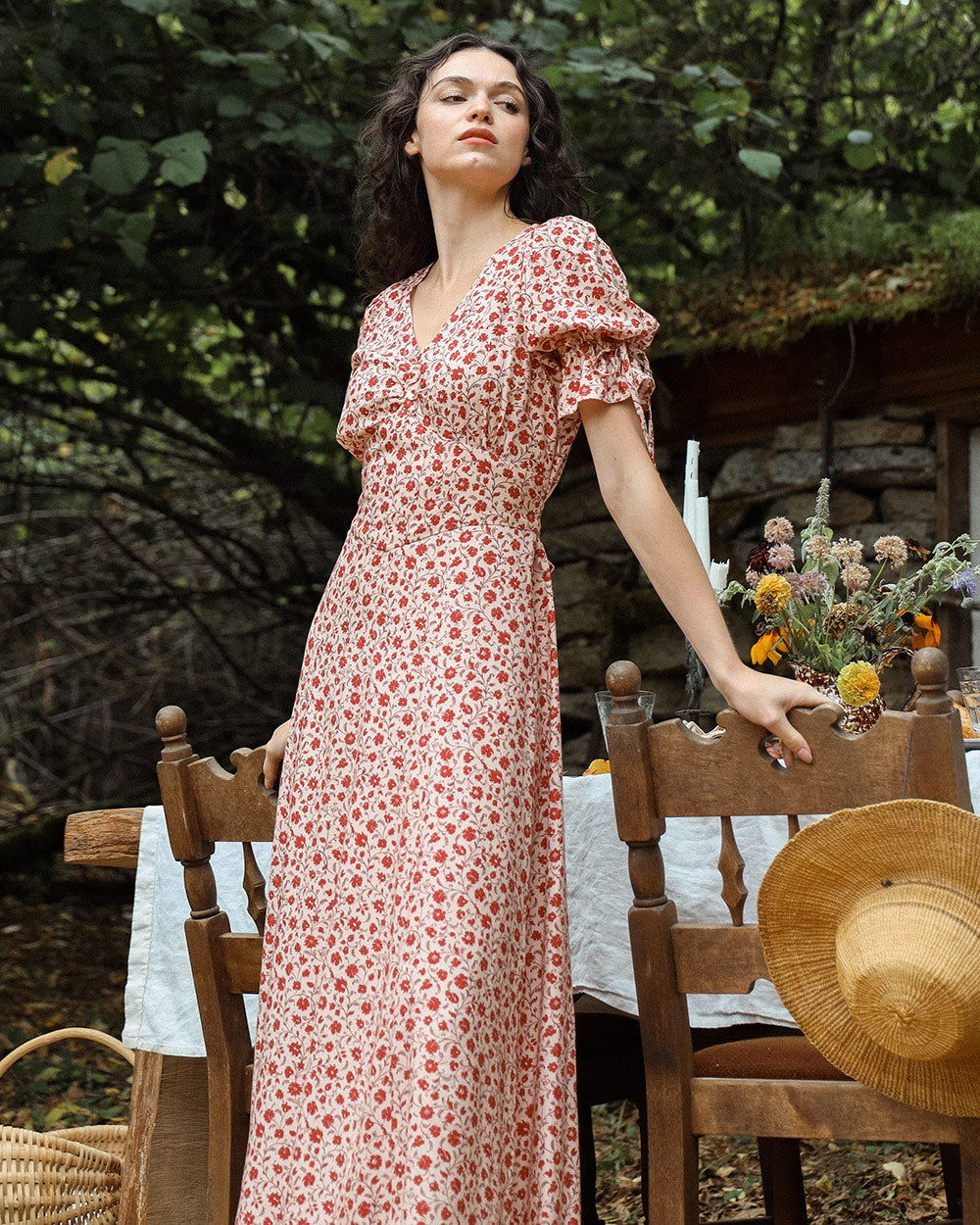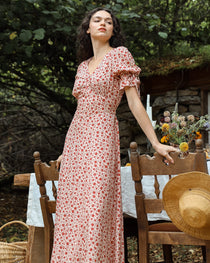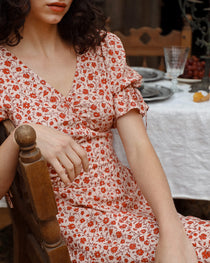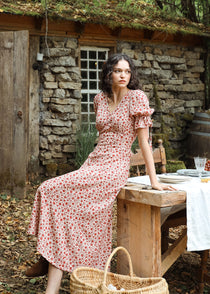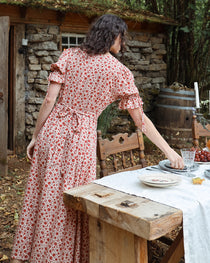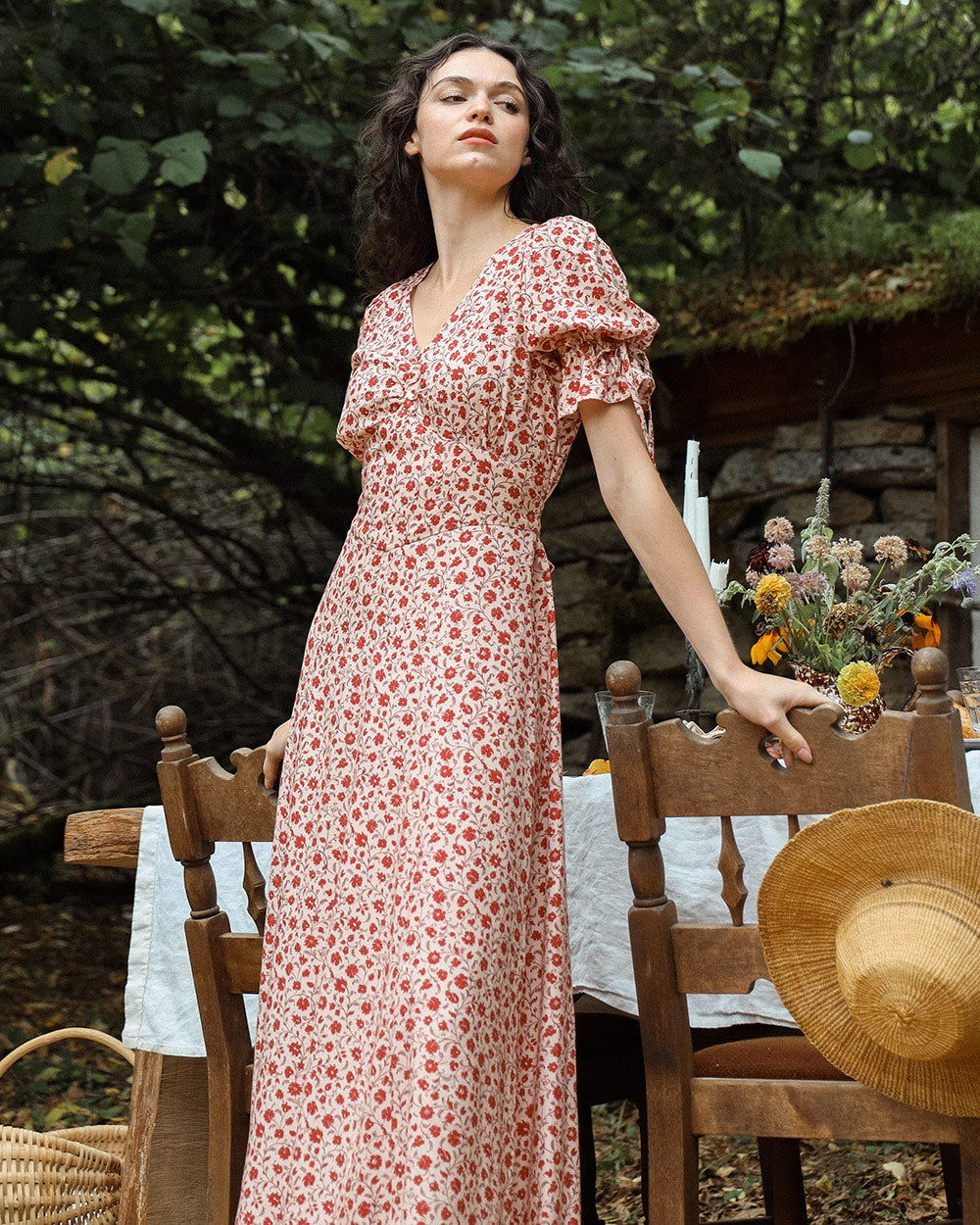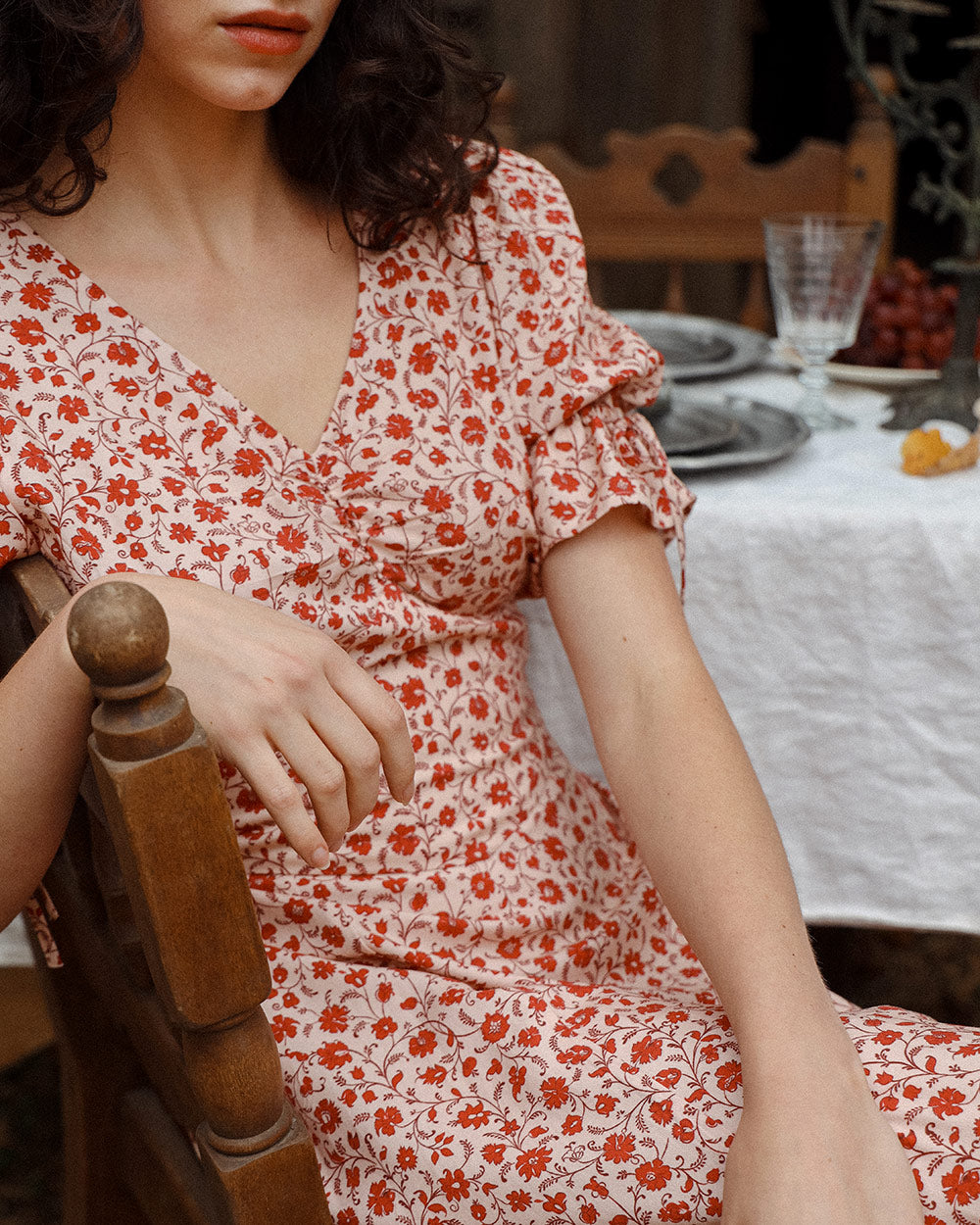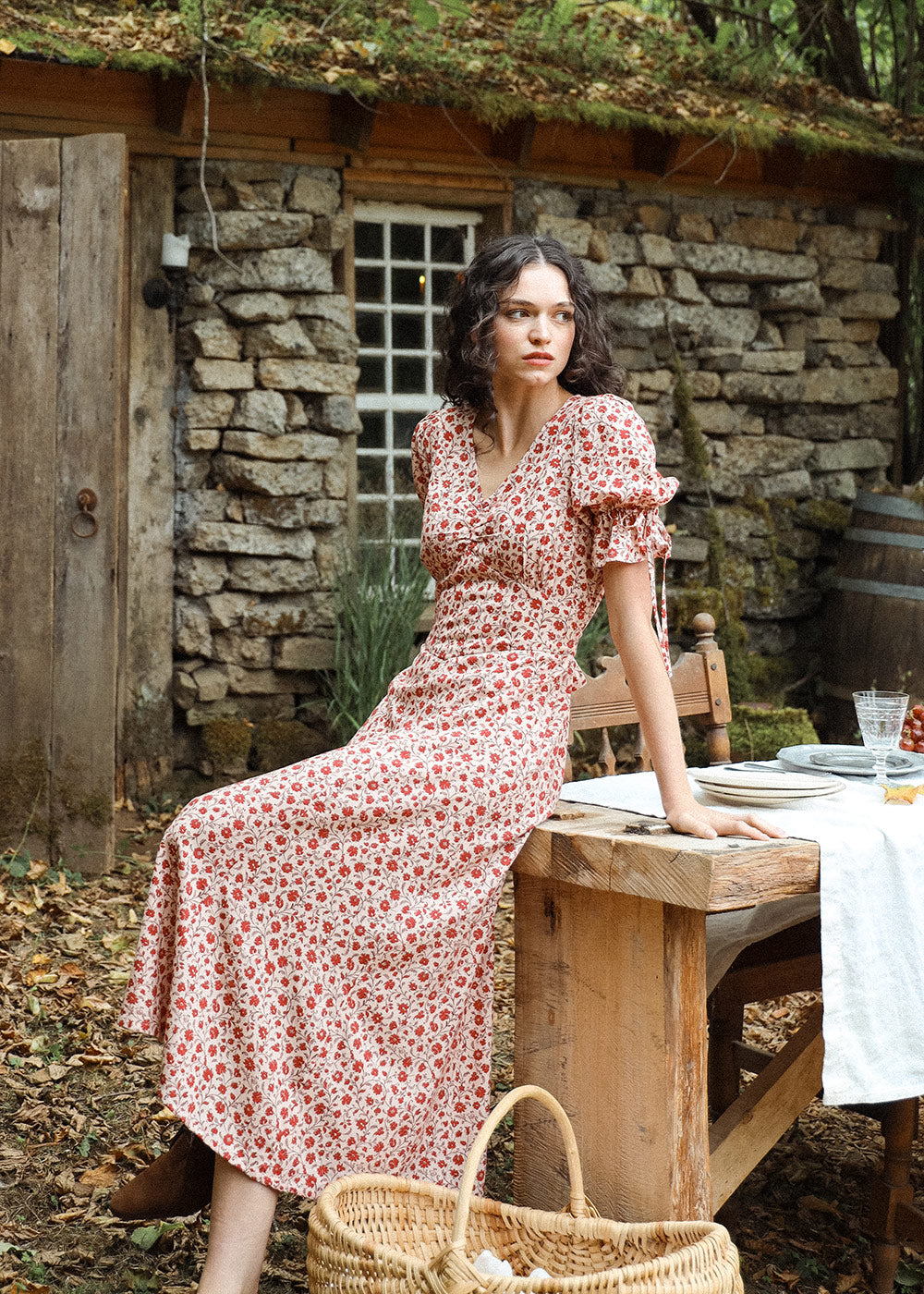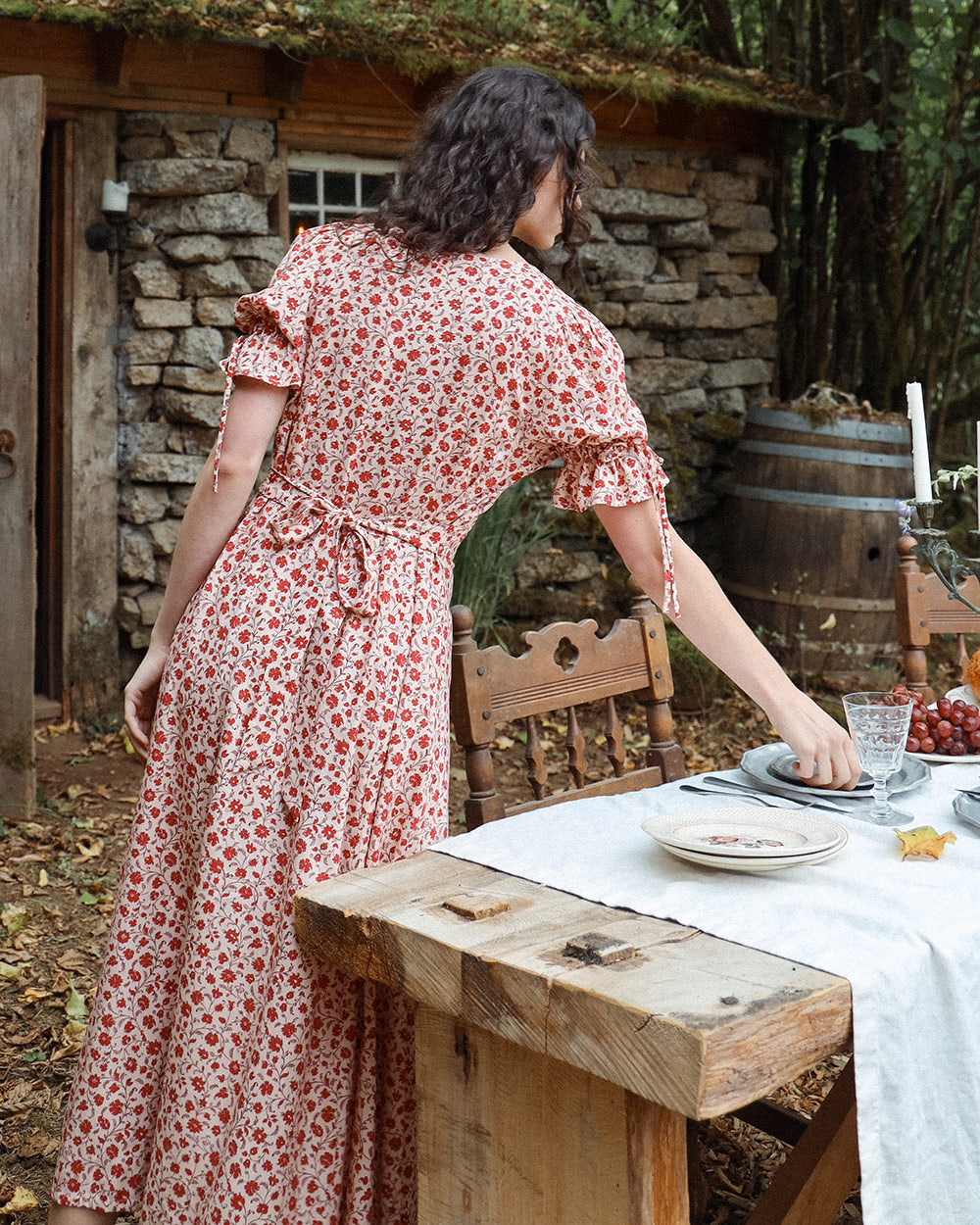 The Florenzia Dress - Atèlette
DETAILS & DESCRIPTION
Sizing & Measuring
Shipping & Returns
CUSTOMER REVIEWS
DETAILS & DESCRIPTION
Construction: Inspired by the silhouette of an early 1940s evening dress, the Florenzia features a sweeping bias cut hemline, v-neckline with light gathers at center bust, and diamond waist. The elbow length puffed sleeves feature functional drawstring ties and sleeve hem is finished with a light flounce ruffle. Self ties extend from the sides of waist and garment features hidden side zipper.
Fabric: Custom 18th Century Swiss reproduction fabric in a softly weighted rayon that handles like well worn cotton. Fabric is sanforized and dye has been tested for color fastness. Fabric is not sheer. Garment is unlined.
Care Instructions: Hand wash on its own in lukewarm water with color safe gentle detergent. Gently wring out water and hang or lay flat to dry. You may also choose to Dry Clean this garment.
Origins: Consciously Made in India in a Smeta & Intertek Audited Facility. This facility is Woman Co-Owned.
Production: Design to final sewing -- 13 months
Size & Fit Details
Sasha is 5'8 (32/24/35) and wearing the size small
XS | Length: 48.5" / Bust: 17" across / Bodice: 15.5" / Waist: 15.5" across / Hips: Open
S | Length: 49" / Bust: 18" across / Bodice: 16" / Waist: 16" across / Hips: Open
M | Length: 49.5" / Bust: 19.5" across / Bodice: 16.25" / Waist: 16.5" across / Hips: Open
L | Length: 50" / Bust: 20" across / Bodice: 16.75" / Waist: 17.5" across / Hips: Open
XL | Length: 50" / Bust: 21" across / Bodice: 17.5" / Waist: 19" across / Hips: Open
Sizing & Measuring
At Adored Vintage we curate timeless and feminine vintage inspired clothing from many independent brands and makers therefore sizing can vary from each maker. To help make your shopping experience easier at Adored Vintage, we provide measurements of every size available. 
Common Measurements We Take
Length: Measured from top of garment to hem
Waist: Measured across waistline then doubled
Chest: Measured armpit to armpit, in some cases doubled. For sweaters and loose fitting knits we will put "across chest (relaxed)"
Bodice (Dresses): Measured from top of garment to waist seam
Shoulders: Shoulder seam to shoulder seam
Sleeves: Shoulder seam to hem of sleeve
Hips: Measured approx 7" down from natural waistline, measured across, then doubled
How We Measure
Our garments are measured laid flat and relaxed and we may make recommendations for sizing with notes like "best for" or "best up to". We recommend comparing these measurements to a garment you already own. To do this, lay your garment on a flat surface and measure your garment with a clothing tape measure and take the necessary measurements. 
On occasion we may recommend to size up or size down on certain garments. Remember, just because you are one size in one store or brand does not mean you will be the same size across the board. Pay close attention to the measurements given. 
Shipping & Returns
We offer easy returns for items in new, unworn, unaltered, unwashed condition within 7 calendar days of the delivery date of your order. You will have the following options for your return:
A) Return your product(s) for store credit. Receive the full cost of the product(s) as store credit for future use minus pre-paid return shipping label fee.
B) Return your products(s) for a refund to payment method minus a 10% processing fee and pre-paid return shipping label fee.
International Returns:
International returns are processed in the same way as domestic returns but please note that all return shipping fees are the responsibility of the buyer. We are not able to provide a prepaid return shipping label as our carrier is the USPS and is not available outside of the United States. 
STORE CREDIT & REFUNDS
Once we receive and process your return (please allow 4-6 business days), we will issue you your store credit / refund.
Store credit never expires and is connected to your Adored Vintage customer account.
If you make multiple returns, your store credit will always be applied to your account and act as a "store credit bank."
If you have available store credit in your account, it will automatically apply to your shopping cart but you can choose to not use it at checkout if you want to "save up" your store credit.

Unfortunately, you cannot use your store credit code

and

a promotional discount code at the same time. This is a Shopify platform policy that we do not have a work around for.
Refunds will be issued to the original payment method(s) used at checkout.
Please note that if you used a combination of payment methods (e.g. credit card and store credit) the refund will be issued to each method respectively. 
RETURN FEES
Returns are subject to a 10% processing fee for any of the following criteria:
Refund to Payment Method

Used store credit as payment & returning for store credit

Postmarked past 7 days after return label was issued
This fee helps our small business recover some of the fees that we incur when processing returns.
FINAL SALE
Products purchased during a storewide sale, noted as final sale in the product description, or purchased in our Sale section or As-Is Charity Sale are all considered Final Sale and are not eligible for a return. 
Items That Cannot Be Returned:
All accessories (bags, belts, jewelry, socks, etc - the exception is shoes), intimates (garments in our "Intimates" department such as bralettes, robes, sleepwear, etc), bodysuits, leotards, apothecary, sundries, and consumable items that expire cannot be returned.
Shoes are returnable for store credit only. Please be mindful of trying on shoes in a carpeted area. Shoes returned showing signs of wear will incur a 50% restock fee.
Gift Cards:
Gift cards cannot be cancelled or refunded.
ORDER CANCELLATION
We do not accept order cancellations so please shop responsibly. In certain special cases (if accidentally purchased the wrong size) we can swap out a size for you or color if you notify us before your order is fulfilled and if we have stock on hand. 
DEFECTIVE ITEMS
We carefully inspect each product before we sell it in our shop to ensure quality. In the off chance you receive a damaged/defective item, we ask you provide photos in our return portal. 
Normal wear and tear is considered "damage" and not defective, including but not limited to trying on garments that are too small therefore damaging/straining garment seams, stains from makeup, and torn seams/rips from trying on will not be accepted as they cannot be resold. Our garments go through a rigorous inspection when we receive them from our vendors (we check every single piece for flaws!)
Items that are sent back to us in damaged condition or have clearly been worn are subject to a minimum 50% restock fee and will be at our sole discretion.
UNAPPROVED RETURNS
If you attempt to return additional items not included in your return request using the issued shipping label, there is a high possibility your package will get rejected by USPS and rerouted back to you. There is also a possibility our company will be charged the additional fees for the weight difference.
If the package is rerouted to you, we can no longer accept your return and the sale is considered final. If charges were incurred due to additional items being returned that were not approved, customer will be charged the additional postage fees. Unapproved return items will be subject to a minimum 50% restocking fee and only issued as store credit.
More from this collection