Kindred: Cadie on Creating Precious Memories
Posted by ADORED VINTAGE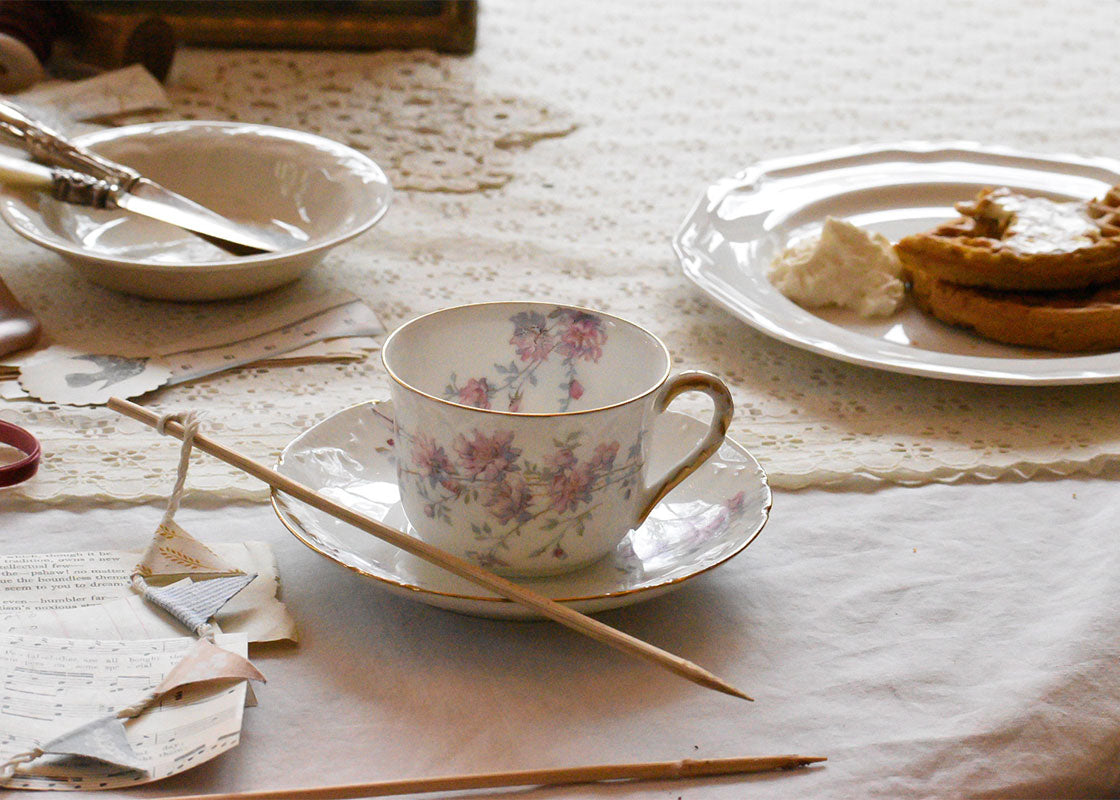 One of our values here at Adored Vintage is creating a community for kindred spirits and women who endeavor to live lives of simple attainable beauty. Several months ago we received an order for mini flower bouquets with a special note attached that it was for her daughter's birthday party. Hannah and I crafted these mini dried flower bouquets and had so much fun choosing the ribbons for them. What a lovely surprise to see one day that we were tagged on Instagram of the photos from the party. Our hearts burst and we knew we wanted to start creating an online space for our community to share their stories for all of you to get to know one another and connect. 
 Let's Get to Know Cadie Rogers
1. How do you take your tea or coffee? With far too many spoonfuls of sugar and a splash of cream, please!

2. What is your favorite flower? I can scarcely choose just one but, if I must, I would pick cabbage roses… and peonies… and dahlias. Oh, truly I adore the whole lot of them!

3. If you could live out one 90s rom-com movie for a day, which movie would you pick? Oh goodness. This is more difficult than anticipated! You've Got Mail perhaps. Mostly because beautiful bookstores are such a lovely place to spend ones day.
4. What are your three main simple pleasures in life? In no particular order - The quiet moments of a day just begun, before anyone else has awoken, with a steaming cup of coffee in hand. Looking my children in the eyes and truly seeing them. That utterly pleasing sense of accomplishment when a room has been tidied and all has returned to its proper place. Come to think of it, maybe there is an underlying order there, a reflection on the ebb & flow to my days – one beginning with peace, filled with presence and ending in a sense of accomplishment.
Creating Precious Birthday Memories During Covid
Unpopular as it may be, hosting a themed large birthday party fills me with a particular sense of dread. In the past, it has been both financially and mentally draining. Due to the distancing restrictions this year, it was a welcome discovery to find that the party planning pressure dissipated as soon as we established simple but safe plans to gather with each of our respective families separately. An afternoon stroll through the park and a visit to local botanical gardens meant that my daughter experienced multiple occasions to celebrate her special day, which was the icing on the cake, so to speak!
Rather than allow this year's inability for a large-scale social gathering to diminish the day, we embraced the limited guest list (just us!) and resulting intimacy of my daughter's birthday.
From the darling Adored Vintage floral bouquets bloomed the idea of a wonderfully set tea party soiree. As most soon-to-be six years olds are wont to do, my daughter delighted in the notion that her newly acquired age meant an elevated sense of maturity. To reinforce that notion, she personally chose a new dress and hair bow to don on the occasion.
I set out straight away to muster all the feelings of feminine folly for a prettily clad table. Fancy heirloom silverware, old family tablecloths, French porcelain teacups, an embroidered apron, ironstone butter pats, paper fairy dolls – all items that would far outlast the celebration itself since sustainability is on the forefront of my mind these days. I scoured our home for items we already owned and visited local antique stores for the rest. On the morning of our celebration, we listened to French music, lit beeswax candles, indulged in too many sweets much too early in the morning and generally just enjoyed each other's company! 
A New Found Appreciation for Support & Community
In the past, I prided myself in independently managing quite well but oh how I've come to appreciate the support, both mental and physical, received from loved ones. It's even more clear to me now that I've had to lean so heavily on my husband and have longed for the opportunities to be more physically present with extended family.
Starting New Traditions
To host a tea party for my daughters may just become an annual occurrence! That special time set aside solely for the occasion, surrounded by a beautifully set table, feels like a connection to the past and a celebration of all that is feminine. I do adore the idea of inviting one or two honored guests – perhaps some neighborhood friends – to enjoy in the future festivities. Delivering handmade invitations and baking homemade cookies and cakes would be so lovely. The possibilities are endless!
Thank you so much Cadie for sharing your time and words with us! We really hope you dear readers have enjoyed getting to know Cadie and are inspired by her. 
Get In Touch: Send her a warm note and say hello and follow along on her journey to restore the cottage charm on their early 1900s home on Instagram @rosyrilli
All photos were taken by Cadie and shared with us to share with all of you. 
Comments (1 comment)
Through our stories, imagery, and products we offer, our hope at Adored Vintage is to inspire you live life a bit slower, to celebrate the everyday ordinaries, and to live the life you have always imagined. If our posts resonated with you or you found them inspiring or useful, won't you leave us a comment below? We love knowing you and want to foster connection. Collection 2019 Sale 70% Off Title for image