Vintage Fashion Inspiration: 1940s Overalls
Posted by ADORED VINTAGE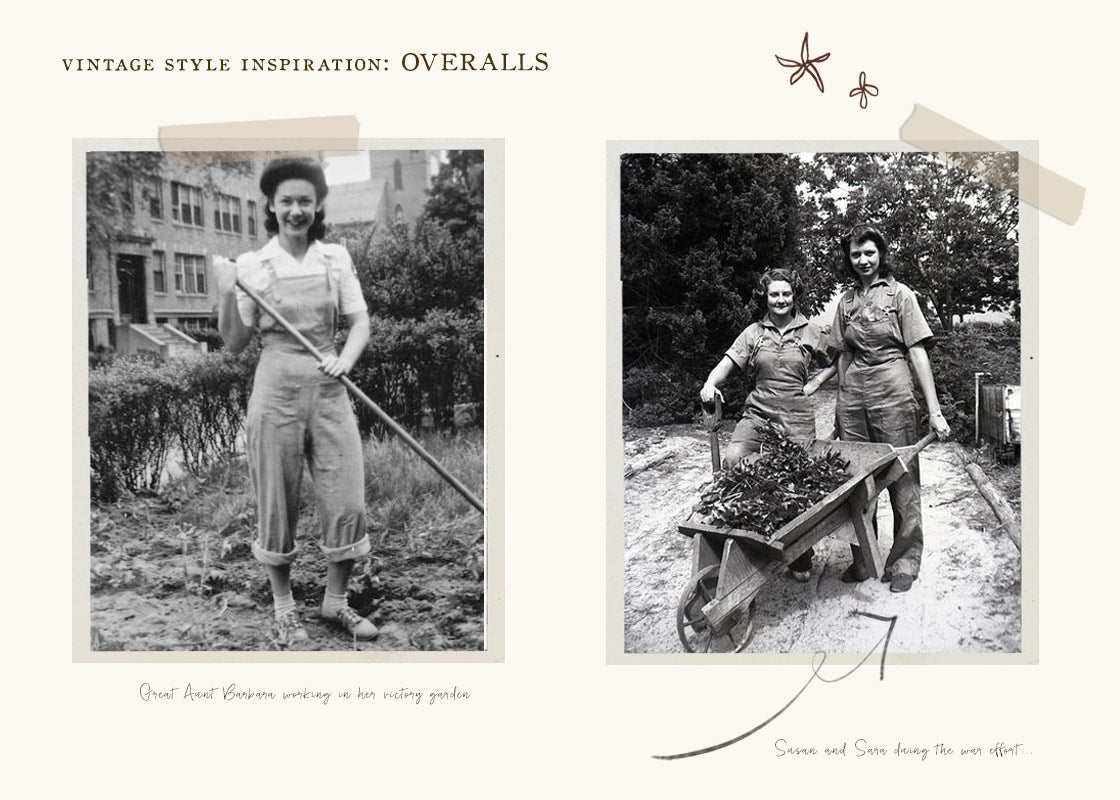 Here at Adored Vintage we rarely look to modern trends and current fashion fads to inspire the garments we choose to grace our online shop pages, instead we often turn to the past to see what the everyday woman wore as she went about her life doing simple, ordinary things. We've recently added some cute vintage inspired overalls in the shop, so we wanted to share with all of you the vintage photos we have collected that were our source of inspiration and reference.
We've gathered together a few inspiring vintage images of women from the past (mostly from the 1940s though) wearing overalls.
In those days wearing pants and especially overalls was much more common place amongst men, but during the war effort, many women took over men's jobs at farms and factories and during this time women's fashion forever changed, again. In the previous World Ward, women's fashion had changed significantly because the entire world changed. Hemlines became shorter, clothing became less fussy, and corsets were no longer worn.  
A Brief of History of Overalls
Before the second World War, women were hardly seen wearing overalls. They were made to be worn over your own clothes to protect your garments and were often made of sturdy denim or canvas as they were quite utilitarian. The first patent for overalls was filed in 1873 by Levi Strauss & Company. Many men who worked on the railroads or panned for gold often wore these sturdy garments made of thick denims as they could handle the rough daily wear and tear.
But as more and more women entered the workforce during World War II, their everyday garments were not deemed safe for factory and farm work and so new designs were created and produced. Eventually more feminine details such as waists that could cinch and more feminine pockets emerged eventually paving the way for overalls to be worn as a fashion garment and not just for utility and work. Now you can purchase overalls in a variety of fabrics and in various prints and patterns and different weights of fabrics too!
Vintage Style Inspiration: Overalls
Get The Look
We were inspired by this vintage 1940s photo of a woman wearing a puff sleeve short sleeve blouse and printed wide leg overalls. Our Leighton Floral Overalls paired with either the Cloud Pagoda Top or Seeking Clouds Top would make a perfect vintage inspired outfit without looking too much like a period costume.
Through our stories, imagery, and products we offer, our hope at Adored Vintage is to inspire you live life a bit slower, to celebrate the everyday ordinaries, and to live the life you have always imagined. If our posts resonated with you or you found them inspiring or useful, won't you leave us a comment below? We love knowing you and want to foster connection. Collection 2019 Sale 70% Off Title for image