Outfits For Kindred Spirits
Posted by ADORED VINTAGE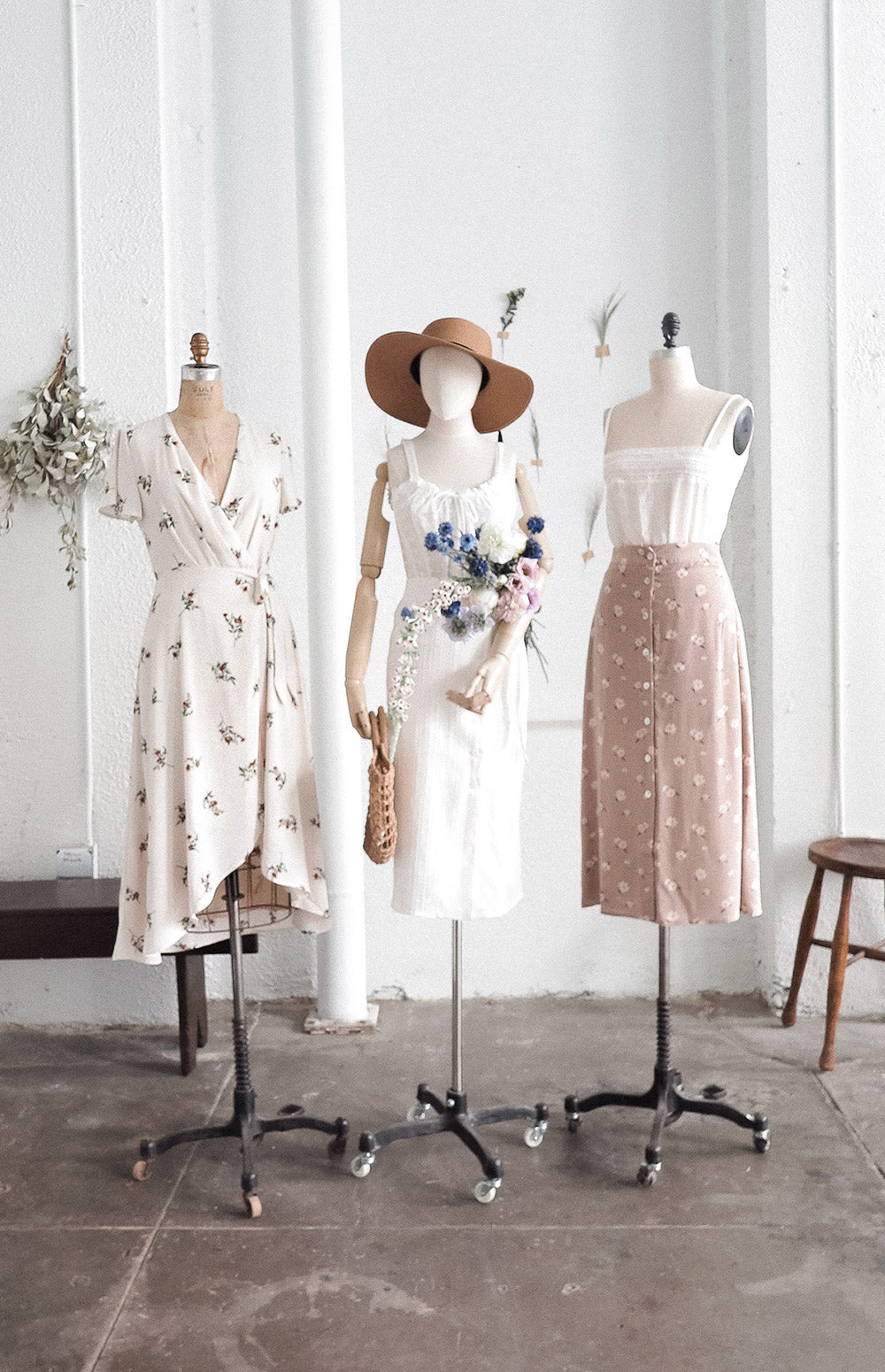 It has been such a wonderful journey so far selecting vintage inspired modern clothing for the shop that is in alignment with the feminine and romantic sensibilities of the Adored Vintage girl. 
The Adored Vintage girl is a romantic. She's feminine. She's nostalgic. She adores soft colors, straw hats, wearing white dresses, and basically any outfit straight out of Green Gables. 
These three looks feature all vintage modern pieces. Curating the dreamy wardrobe of the AV Girl has been SUCH A TREAT! I have to let you gals know that I spend HOURS combing through linesheets from designers to select each of these pieces. I am VERY SELECTIVE when it comes to choosing styles for Adored Vintage. Sometimes I'll go through about 200 items before I find one that I'm kind of excited about. 
As I mentioned in a previous blog post, there are some shops where you can get pieces here and there to create the Adored Vintage look, but I want my shop to be the one stop place where all of the AV Girl's favorite things are in one place. 
So, my shop will always have feminine floral dresses, pretty white tops with eyelet, lace, and ruffles, a-line skirts in soft colors... 
The Adored Vintage girl isn't into trends. She may entertain one or two here and there because it's an ode to something from the past, but she doesn't follow what's hot or happening because for her, she wants to look timeless and feminine.
Also, when wearing timeless silhouettes, colors, and styles she knows she won't have to keep buying new clothes all the time. That floral wrap midi dress can be worn next year and the year after and the year after that because the print and colors won't be dated. 

The Adored Vintage girl is near and dear to me because partly I aspire to be her. I want her to be (to borrow Anne's words) "my bosom friend". She's the gal that has the pretty apartment (that's a little bit messy sometimes) and when you go visit she'll make you a cup of tea and you just love being in her world.

I hope you are loving the new vintage inspired styles I am selecting for the shop. And I hope you are loving the world I am creating online. I think we're kindred spirits you and I and I think the Adored Vintage girl is in all of us.
(2 comments)
Through our stories, imagery, and products we offer, our hope at Adored Vintage is to inspire you live life a bit slower, to celebrate the everyday ordinaries, and to live the life you have always imagined. If our posts resonated with you or you found them inspiring or useful, won't you leave us a comment below? We love knowing you and want to foster connection. Collection 2019 Sale 70% Off Title for image