What She Wore: The 1930s
Posted by ADORED VINTAGE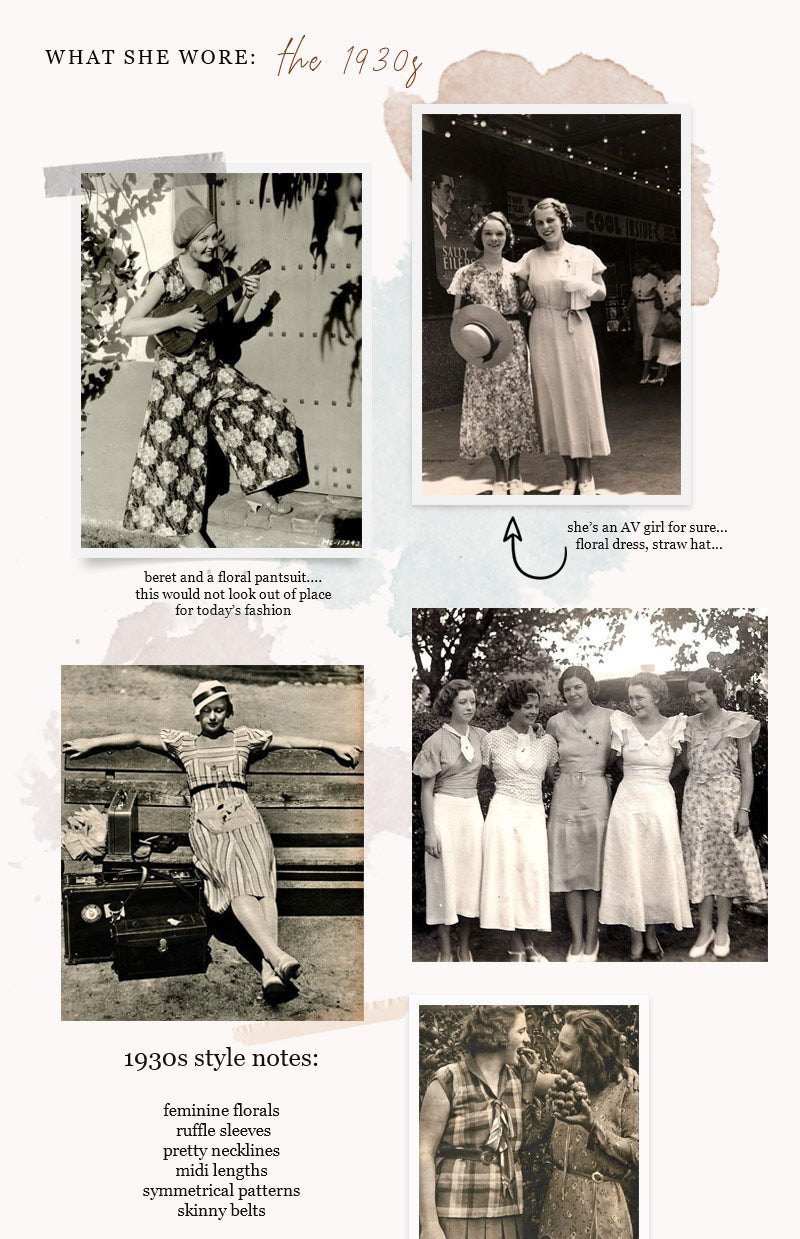 The 1930s is one of my very favorite eras for fashion and I find most of the modern day clothing I gravitate towards tends to have notes and hints from the 1930s fashion era. Above are just some examples of what real women wore in the 30s. Wouldn't you agree that the gal playing the ukulele is wearing an outfit that would not look out of place on today's fashion blogs or fashion instagram stars? From the floral pantsuit to the beret... very modern.
Next let's move on to the two gals in the pretty midi length dresses. Notice the soft flutter sleeves on their dresses. And HELLO...the gal in the floral dress? That outfit is straight out of Adored Vintage...or Adored Vintage is straight out of this photo is more the case. 
Next we move on to the Cool Chick. She just looks cool to me. I'll never exude this much coolness, but I am in love with her striped dress and you bet I'll be on the hunt for a modern day dress for the shop inspired by this striped 1930s frock. 
Next let's move on to the group of ladies! There are SO MANY details here that I am seeing a lot of in modern day fashion. First the midi length and the soft a-line silhouette. I am SO happy that midi dresses are like a THING now. But the detail I really want to focus on is the gal in the middle... notice the horizontal alignment of the buttons on her dress? 
Now don't tell me you're not seeing THAT detail everywhere...
And lastly the photos of the two gals on the bottom. I think the patterns they're wearing really illustrates what 1930s prints and patterns were all about. Most of the prints and patterns had symmetry to them. Which I'm quite a big fan of, looks much more timeless and classic this way. I also love that they're both wearing matching skinny belts. 
Image Source: All images were sourced via Pinterest. You can see these and many more in my 1930s Vintage Fashion Board.
Through our stories, imagery, and products we offer, our hope at Adored Vintage is to inspire you live life a bit slower, to celebrate the everyday ordinaries, and to live the life you have always imagined. If our posts resonated with you or you found them inspiring or useful, won't you leave us a comment below? We love knowing you and want to foster connection. Collection 2019 Sale 70% Off Title for image