Wear to Where: A Day in Cornwall
Posted by RODELLEE BAS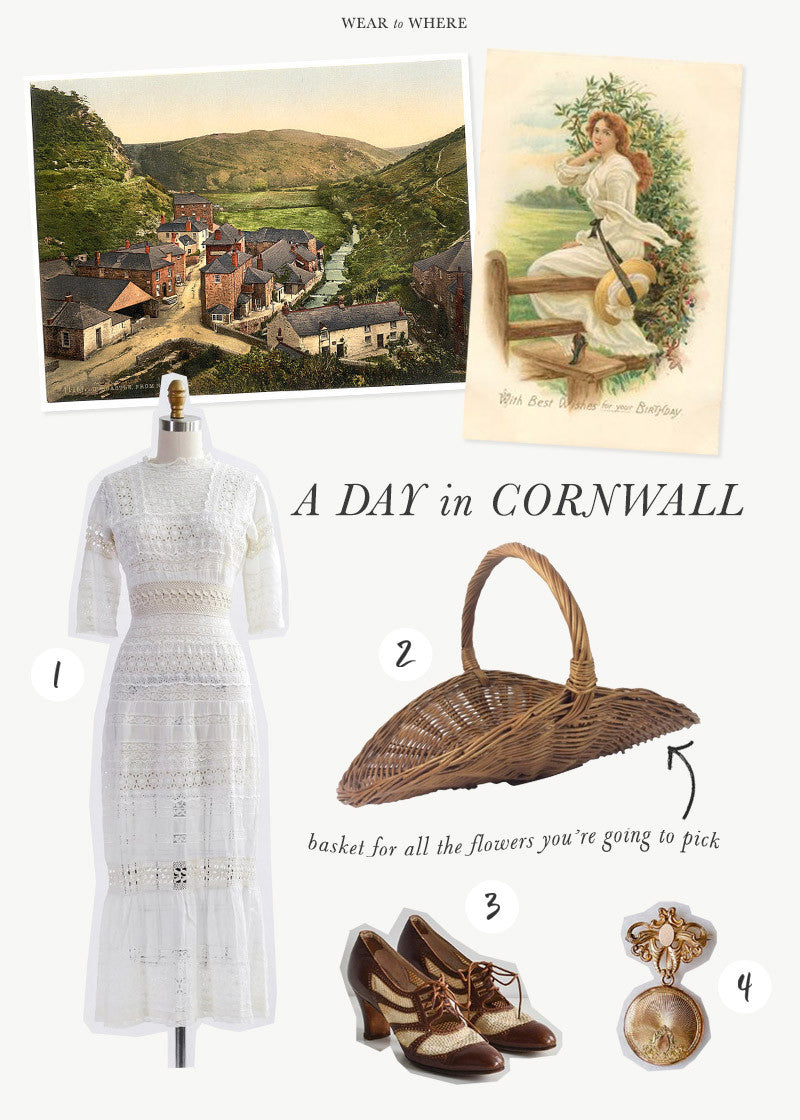 I've been to England twice now. To Heathrow that is (I've never once left the airport) So, technically I haven't been to England. 
Which is kind of odd since I love so many British things. Miss Marple, Hercule Poirot, Downton Abbey, Absolutely Fabulous, Keeping Up Appearances... just to name TV shows.
Then of course there's Jane Austen. 
Oh and Colin Firth...Hello, Mr. Darcy! And DUH, Harry Potter!
Anyhow, England is very high on the list of places I want to travel to next (with Scotland & Ireland) and so when I thought about starting this series, my first thought was England. What would I like to wear to the English countryside?
Now, you may think this outfit seems rather unrealistic. But if you followed along during my trip to the South of France this past Spring, you will know I wore an Edwardian dress with vintage heels out in the country while wandering through a field of overgrown white flowers. (Here's the proof!)
A few years ago I use to contribute to the blog Oh My Drifter with a featured called "Imaginary Outfits", I stopped doing it because my vintage business was starting to really pick up and I could no longer commit to the weekly feature. It's interesting seeing my old outfit idea posts... not much has changed. I still like feminine, vintage, and romantic styled clothing. With a dash of whimsy, of course.
And so, I am starting the WEAR to WHERE series in the AV Gazette which is a spin off of the column I did for Oh My Drifter and the instagram outfit ideas posts I do called "Wear to Where" which I post a diptych featuring one item from the shop next to a place. Check back weekly for a new installment!
A Day In Cornwall / Links + Such
1. Antique 1900s lace dress / 2. Vintage French straw basket / 3. Vintage 1930s Oxfords / 4. Vintage 1940s locket brooch
The locket brooch should be pinned at the neck, that would look very Edwardian!
Comments (1 comment)
Through our stories, imagery, and products we offer, our hope at Adored Vintage is to inspire you live life a bit slower, to celebrate the everyday ordinaries, and to live the life you have always imagined. If our posts resonated with you or you found them inspiring or useful, won't you leave us a comment below? We love knowing you and want to foster connection. Collection 2019 Sale 70% Off Title for image