Adored Vintage Brick + Mortar: Progress Photos
Posted by RODELLEE BAS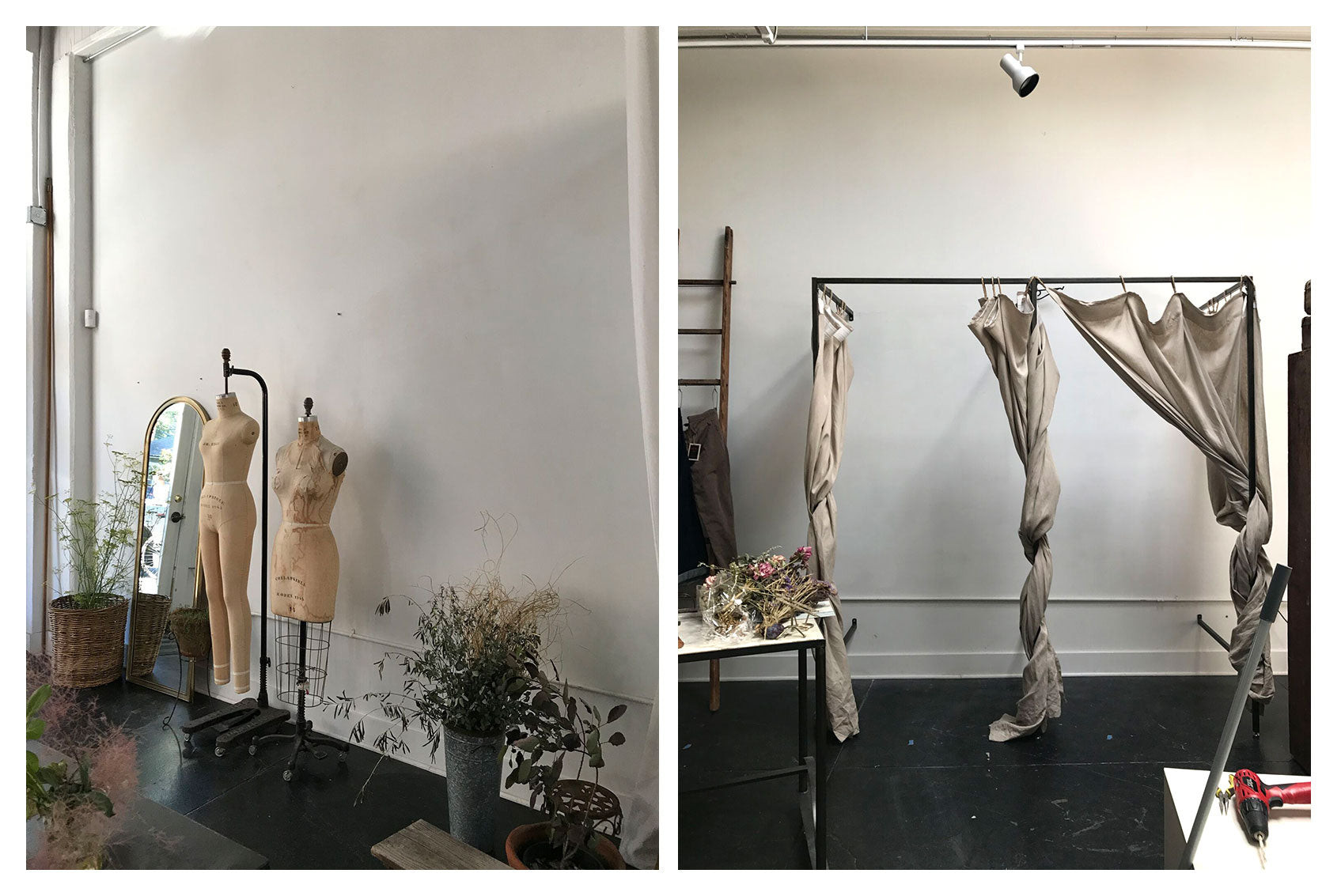 I'm slowly getting our Portland shop/atelier space set up for Adored Vintage. I've always said Portland doesn't need another vintage clothing store... there are quite a few in town already although sadly several of them have closed in the past couple of years. However, I must have taken several swigs of crazy juice the past month because I've decided to open up an Adored Vintage women's boutique in Portland. (Craaazzzy)
SO... let's take a journey through some progress photos, shall we? It will be fun to look back at these when I'm more done with the shop!
We moved the fitting rooms from the back of the workspace into the center of the shop and also removed several of the wall shelf pictures from the wall right by the entrance. This wall will serve as my product photo and staging wall although there will be racks on wheels going here too and we re-installed a more industrial looking faceout. 
The large fixture installation on this wall was removed and I sold it to a shop in Seattle. It's so nice to have a big blank wall space again! This is where my 10 ft farm work table will go that will serve as my desk, shipping station, and cash register. 
I also have made a couple dried floral arrangements for the shop. This one is in a beautiful terra-cotta pot that features garlands on it. I found it at my favorite thrift/resale shop in Portland and had to get it knowing I needed to use it somehow in the shop!
There have been a lot of small projects that I've done before I can really start tackling the bigger things. For instance I wanted to stain several of my antique fixtures and cases so they all had a similar tone in wood. I also needed to organize the stock room and mezzanine for all of the vintage back stock before I could really set the shop up.
The challenge of having a lot of inventory in a not so huge space is that I want to keep the space light and airy and KIND OF minimal looking (HA, who are we kidding, we all know I'm not really a minimalist, try as I might!) so organizing the stock room was a larger project. I'm still not quite through... but now at least I could start setting up the shop.
I drew up quite a few different floor plans before settling on the current one and because my space is limited and I have several functions I need to happen, it's highly unlikely I'll really move any of the fixtures around as much as I used to. 
There are still so many things I need to order and do for the shop! I figure even when the shop is open and functional, it's going to always be a bit in progress and you my darling friends will hopefully enjoy following along on this journey of mine. 
Through our stories, imagery, and products we offer, our hope at Adored Vintage is to inspire you live life a bit slower, to celebrate the everyday ordinaries, and to live the life you have always imagined. If our posts resonated with you or you found them inspiring or useful, won't you leave us a comment below? We love knowing you and want to foster connection. Collection 2019 Sale 70% Off Title for image